American Sabbatical 100: 4/23/97
End of the Trail
---
4/23... Oklahoma Mountains.

Spanish voices awoke us in Texarkana. We were crossing boundaries again. The instructions in the motel room were in English, French, and Spanish, and the local cuisine ranged from longhorn burgers to crawfish to Tex-Mex. The kind of place where you might learn about diversity. Hope, Arkansas, is only 30 miles away. Boulder is a thousand and thirty, however, so we didn't go looking for Hope, or take the cure at Hot Springs. We were galloping toward Eastern Oklahoma. The end of the Trail of Tears. Indian Country.

The road ran uphill. We'd crossed into sedimentary uplands, where layered orange outcrops break surface, and three woodland domains overlap. The great Eastern woodlands, the Southern forests, and the Texas brush country. Hickories and maples and the whole tribe from Tennessee mingled with the low country evergreens, pines and live oaks, while the edges were tangled in hackberries, buttonwoods, scrub oaks. Not at all my image of Texarkana.

Logging country, big rigs in your face, and a Georgia-Pacific megamill sulfuring the air.. waters too, no doubt. I'd assumed that our homegrown paper plantation was relatively unique. Nowhere else but Maine was the pulp trade so pernicious. Now we've seen that money grows in trees everywhere trees grow. Deep South, Pacific Northwest, and now in Arkansas and Eastern Oklahoma. These wooded hills stink of papermaking just as bad as Plantation Row smells of oil refineries. Whenever Peggy rhapsodizes about the lovely pines, I see monocropping, and get nervous. I remember the spruce budworm in Washington County, and the resulting fastbuck economy of liquidation clearcutting. Which excess will we choke on first, petroleum or paper?

The woods ARE lovely, though. Not all pine plants, either. As we elevate, we're rolling the calendar back again, to young pastel leaves and blooming hardwoods, to Spring. An occasional pecan grove, even, to hush my mouth. In Arkansas the pecans are in bloom. Not showy flowers but dense bronze droops, and the groves are carpeted in blue and scarlet flowers.

North of Texarkana we followed a red road until the heavy breathing truckers made us want to hang up. Then we cut west on lesser arteries, and crossed into Oklahoma. Red flashes flicked across our peripheral vision: courting cardinals. Egrets policed the pastures among Red Angus and crimson clover. Every dozen miles or so the shoulder flowers would change, mingle, permute.

Fifty miles north of Broken Bow our ears started to pop. We were climbing into serious mountains. In Oklahoma? Sure enough. The Kiamichi Range of the Ouachita Mountains. You might be in New Hampshire. Leaves just peeking on the northern slopes. Sweeping vistas across crooked lakes at receding rows of peaks. Mr. and Mrs. Hillhungry pulled down a logging road, and let the Owl cool, while they stretched a limb or two. Communed with the orange god. Broke bread. And finished the morning tea. I put on my vest. So long sultry sunlands. Hello hill breezes.

If you squint, the country from Big Cedar to Poteau could be highland Georgia or Alabama, and we kept encountering Choctaw Nation sites. I was quickly modifying my image of woodland Indians being driven out onto treeless prairies. Granted, the Choctaws removed here early enough to get first dibs, but the hardship of leaving rich familiar lands seems less cruel when you see how fine upland Oklahoma is.

Now these lakes and mountains are trying to attract tourists as recreational resort areas, and the sideroads invite us with wave-runner rentals, and bait for sale signs. Maybe it's early in the season, but this Native American destination looks a bit seedy and down-at-heel to me. We didn't want to buy a pontoon boat, either.

We'd climbed out of the Red River Valley. Now we descended toward the Arkansas, and another visit to the Mississippian era. The westernmost outpost of that far-flung culture sat on a bend in the Arkansas at Spiro, Oklahoma, circa 1000 AD.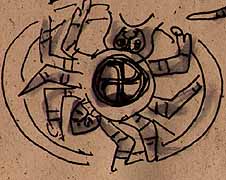 Spiro Spider
---
(Memo #96)
Apr 23 Spiro mounds

Who? Mississippian peoples

What? population center with 9 platform mounds

When? height of development 800-1200AD

Where? flatland by Arkansas River

How? wide system of trade and tribute under a Chiefdom

Topics: prehistory, mound sites, Mississippian culture

Questions: What are the common characteristic of Mississippian peoples? What are the differences between the far flung sites? What happened to the Mississippians and how do they relate to the tribes the English colonists found?



Spiro Mounds Gorget

| | |
| --- | --- |
| Face Motif | We've been to four other Moundbuilder sites before Spiro (spy-row). Cahokia (in East St. Louis), Ocmulgee and Etowah in Georgia, and wonderful Chucalissa (the reconstructed village at Memphis, Tennessee). We were excited at the prospect of seeing Mississippian mound sites in the West and had targeted Spiro in Oklahoma. Spiro is located on the flats by the Arkansas River surrounded by fields and woods. As we drove in by a country road, we saw the clean lines of the big dirt pyramid beyond the trees and felt at home. |
| | |
| --- | --- |
| The entrance building is tiny and the museum is one room full of exhibit cases. The contents are wonderful: incised conch shells from Florida, incised gorgets (large pendants), elaborate coppers, effigy figures, pipes, pottery of many shapes, flint and bone tools, jewelry (beads and gorgets and ear plugs), evidence of a variety of weaving techniques with cane and textiles. It was very exciting when I discovered that a stylized raccoon I'd sketched at Ocmulgee in central Georgia has a twin on a piece here at Spiro, hundreds of miles away! The exhibits pointed out other design motifs that are shared throughout the Mississippian area (a sun circle, a cross). Archaeologists prove contact between peoples by clues like this. There are also trade goods that show the distances knit together in Mississippian times, conch from Florida, copper from the Great Lakes, lead, quartz. The quarries for many of the important rocks and metals have been found by Archaeologists. | Figure |
| | |
| --- | --- |
| Spiral Dots? | Spiro was at its height from 800-1200 a.d. Its rise is explained by its location: it's a "gateway" to the system of rivers that flow into the Arkansas and it is rich in natural resources. Flint is available, the soil is rich (both upland and bottom land), and there was a lot of game. Spiro held together 15 village centers in Oklahoma in a Chiefdom. It must have been fairly peaceful as Spiro was unfortified. |
| | |
| --- | --- |
| We watched the slide show and our hearts sank. Apparently the Spiro Mounds had been "mined" literally by a COMPANY organized to uncover and sell artifacts in the 1930s. The pictures showed the destruction at the site, huge trenches dug through the mounds, the dirt simply sifted for goodies and dumped. The narrator stressed the loss to science from bad techniques. No one knows how many artifacts were found or where. The remaining ones seem special enough to make us sigh. | Eye Boomerangs? |
| | |
| --- | --- |
| Turtle in Lifejacket | My grad school advisor Dwight Heath did a study of grave robbers in Costa Rica that estimated their share of the GNP at 10%. The grave robbers later used his statistics from an anthropological journal article to lobby the national assembly for recognition as a union!! |
| | |
| --- | --- |
| The slides also showed the archaeological digs stripping down the mounds. Hmm. We got a battered guide booklet and set off across the field. There are paths to the two mound groups with observation spots. Unlike the other three Mississippian sites we've visited, there are no stairways up to the top of the mounds. It's look-at-from-a-distance at Spiro The numbers on the tour points are almost unreadable and the information boards warped and leaning. The whole place had an air of neglect that was very sad. The photos made it obvious that the present mounds had had to be partially reconstructed. There seems to be uneven lines to most of the mounds from all the disturbances. The biggest one is the size of the small ones at Etowah and Ocmulgee. Near the woods there is the unfinished skeleton of what obviously was to be a reconstructed dwelling, an interrupted project . For whatever reason, Spiro has not been maintained as a vital tourist attraction and it's the only archaeological site noted on my Native America guide in Oklahoma. | |
---
4/24.. cont.

Peggy's memo doesn't do Spiro justice. It looked like the Memphis of the Mississippian. Gravediggers have looted the pyramids, and the city fathers have torn down all the old buildings. Collapsing signs in flat fields described mounds that HAD been there. What lumps were left were deeply gnawed and eroded. The one staffer guarding the entrance for the State of Oklahoma was busy watching a gameshow on his portable TV, and couldn't answer a single question about the collection or the site.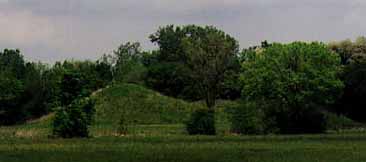 Spiro Mounds
| | |
| --- | --- |
| Effigy | The site stands deep in last year's hay, glinting bronze and iridescent white, except for a few mowed paths, and some cut acres that are coming back in green grass. The mounds are covered with a whole botanical of flora, half of it in bloom. The three biggest mounds are being encroached on by a grove of trees, and the black locusts among them are covered in clusters of blossoms, white pea-shaped blooms perfuming the ancient grounds. A mild wind is shaking the straw and the locusts, and a dozen different wildflowers are shaking among the grasses. The quiet beauty of this place makes us smile. The hokieness of the presentation makes us laugh. |
| | |
| --- | --- |
| And another thought rises up in the meadow. If, as is now believed, the civilized tribes are the descendants of the Mississippian people, their resettlement from the southeastern quadrant of their ancient culture area to this, the western part of that empire, has a certain symmetry.. if little justice. | Mounds of Flowers |
| | |
| --- | --- |
| Spiro Incisions | We have time for one more visitation today. Sequoyah's House, just across the Arkansas in Sallisaw. You may remember that we flew through here last December, hurtling home for Christmas, and I promised Peggy we'd come back to Sequoyah's. (You don't? There WILL be a final exam on all this.) Now we've finally crossed our back trail. First time in 25,000 miles (not counting the home turf). And Peggy has pin-pointed these Cherokee sites as some kind of culmination. The end of the Trail of Tears is her last "BIG ONE".. ending our Southern Journey. |
If Kate Chopin's House was a Mom Museum, Sequoyah's is a Pop Shop. The caretaker took Peggy around the sacred ground. But I'll let her tell the tale.
---
(Memo #97)
Apr 23 Sequoyah Home

Who? Cherokee man who invented alphabet

What? house where he lived in Oklahoma

When? 1820's

Where? eastern Oklahoma

How? moved from East

Topics: literacy, alphabets, Cherokee history

Questions: How did Sequoyah develop an alphabet? What inspired him?


Cabin in a box
It is an astounding story. Sequoyah was an illiterate Cherokee who learned about reading and writing from missionaries and decided his people needed to have them. He clearly saw the connection between literacy and empowerment. So he invented an alphabet (some call it a syllabary - more on that below). It took him twelve years. Sequoyah is said to be he only INDIVIDUAL in history known to invent an alphabet.

Although his alphabet is shown at every site associated with Cherokees in Georgia and Oklahoma, the only site I've seen associated with Sequoyah himself is his home in Oklahoma. We had been unable to stop on our fast trip east in December and I have been looking forward to a promised return ever since. The Cherokee sites in Georgia were so exciting (see Memo #85) that Oklahoma seemed an ideal end to our second trip.
Sequoyah's life shows the complexity of Cherokee history. His mother was Cherokee and his father was white. He was born in Tennessee about 1775 and known in English as George Guess. He fought in the War of 1812. He was one of the Cherokee who moved west before the Removal, to Alabama in 1800, then to Arkansas in 1822 (having visited first). He apparently had a salt making business in Arkansas. He signed the Treaty of 1816 and was a representative of the Arkansas Cherokee (known as "Old Settlers") who went to Washington in 1828. The Cherokee immigrants were forced out of Arkansas (another removal!) and Sequoyah came to Sallisaw, Oklahoma around 1828. Sequoyah exchanged his Arkansas salt works for one near Sallisaw Oklahoma that he operated until his death. The Dwight Mission was located near Sallisaw and Sequoyah apparently used its press. He died in Mexico (!) where it is said he had gone to locate a "lost band" of Cherokee.

We drove out the roads from Sallisaw. The small lane to the homestead is marked with a sign in English and Cherokee. The site has stone walkways and a romantic bronze status of Sequoyah. The D.A.R. has a stone fountain by a walkway.There is a separate office in a log cabin, the spring that Sequoyah dug still bubbles at the bottom of the hill and a small "Sequoyah" tree is fenced in nearby. The California trees were named in his honor - I'm not sure why a tree.

Sequoyah's cabin is in a "shrine", a stone building that totally encloses it and was built as a CCC project in the 1930's. Far from sitting in a bucolic clearing or field, Sequoyah's cabin is in a temperature controlled stone container like a second skin that only allows you to stand about fifteen feet back from it (so you can't take a full picture). It was weird especially since the building is way out on a country road in Oklahoma ranch country. It is definitely a museum with an exhibit rather than a "site". After the buildings at New Echota dispersed along dirt roads in woods and fields, it was very disconcerting to tour a cabin by artificial light inside a building. There are a number of exhibit cases. The most interesting held a Cherokee typewriter with his characters. There are a few objects he made, including a plow and a spinning wheel. The cabin is simply but completely furnished with "period" items - table and chairs, bedstead, frontier items like a gun and churn. You see it from the doorstep. There was a chart showing alphabets of the world.

Sequoyah's 1821 system has about 85 "characters", some are from English, some look Greek, some are unique. There are ones that are identical in form to the English letters D,R,T, L,G,V (although they stand for other "sounds" in Cherokee). Usually Sequoyah's invention is called an "syllabary" because each written symbol stands for several sounds. For example, the curly E symbol stands for "que" (three English "letters" make up the "syllable"). I find the argument (alphabet or syllabary) silly. It is an example of categories which divide and perhaps devalue. WE have an "alphabet", the Cherokee have a "syllabary" (they also had 95% literacy long before we did). Some call it an "alphabet" as I will.


Whatever you call it, Sequoyah created a written system for a language that was simple and effective. The manager said it was basically "Hooked on phonics".The system was adopted by the tribal council in 1821. His people became literate in ten years and started publishing a newspaper (still published today), books and pamphlets, Bibles and laws in their own language developed by one of their own people. The Cherokee taught his system in 18 schools and two seminaries (colleges) by 1851! The Creek have adapted his system for their language. The Cherokee use his system today and you see Cherokee writing everywhere in eastern Oklahoma..


It is an achievement unique in history.
---
4/24.. cont.

Peggy came back to the Owl biting her lip. She began giggling uncontrollably as we pulled away from Sequoyah's shrine. All the anticipation for an historical climax, and whatdaya get? Another roadside attraction. What should lawn ornament connoisseurs expect?

We might have suspected. We'd started seeing yardart this morning, and it got thicker all the way up Eastern Oklahoma. Whirligigs and outlandish metalwork. Even the houses were outspoken. The older ones are faced with large flags of the local orange sedimentaries, and we'd OOed and AHed over hill and dale.

On the way back into Sallisaw Peggy began reading from a state brochure of attractions in Oklahoma she'd picked up at Sequoyah's. "The Central High School Museum, with the Class Ring Collection, yearbooks and photos; The Timberlake Rose Rock Museum, a house build of thousands of stones from historic places.. dedicated to Oklahoma's official State Rock (the barite rose); Showman's Rest/Mt. Olivet Cemetery, unusual monuments of circus performers.. burial place of champion bull riders Freckles Brown and Lane Forest; the National Lighter Museum, firestarters of all kinds; the Higher Education Hall of Fame; the Lee Way Motor Freight Museum, Inc.. memorabilia from a trucking corp... featuring tire irons; the USS Batfish, a WWII submarine; the Oklahoma Prisons Historical Museum; the Percussive Arts Society Hall of Fame; the Laverne Museum, with Miss America Jane Jayroe items, and a 1000-plus shoe collection.." Peggy was laughing uncontrollably.

We decided to simply stay in Oklahoma, and report on all these sites for you. There's really too much to see here, so what's the point of rushing on to "see America?" THIS IS IT. Special events coming up are the Rattlesnake Roundup, and the Annual Outhouse Race. We think Bowdoinham should institute the Annual Smelt Shack Race, and invite Oklahoman outhouse race winners to come as a special attraction. Oklahoma obviously has a lot to teach Maine about tourist attractions. Who says the Indians stopped raiding the wagontrains?

Our Trail of Tears ended here. We laughed so hard we cried. To cap it off we recrossed the Arkansas in Sallisaw to chow down at another restaurant recommended by the roadfood guide. The Wild Horse Barbecue. Pork ribs (we hoped) and hot sauce with beans, served on styrofoam at picnic tables. MMmm. We've really found the heart of America.