American Sabbatical 97: 4/19/97
New Orleans
---
4/19.. New Orleans.

The eager campers next to us by the lake were up, splitting kindling, at cockcrow. As were all the city dogs that had never heard a rooster. We conjugated oat cereal and bananas with caffeine, and restuffed the Owl. On the road by 7 AM.

Big day. Deep down the river, down to New Orleans. We were quivering with anticipation, like new puppies in the woods. EVERYONE says N.O. is too dangerous. Don't go out at night. Hide your plastic. Be scared. It must be part of the advertising. It's The Big Easy. The lowest low spot in the whole sluice, where upcountry folks have come for a good time since LaSalle.

First we had to get out of Mississippi. We were jogging east and south like the Mother River herself, trying to get longitudinated with the beast. Our meanders carried us into more ranchland, Black Angus under the shade trees, in fields of mustard and vibrant green. More of that Southern cowboy stuff. There were a fair number of ratite ranches, too. Emu, ostrich, and that lot. Back in Georgia the Ratite Raisers' Association puts out a brochure inviting tourists to hear the love call of the emu and investigate other ratite mysteries. I roll down the windows every time we pass an ostrich farm.

Today the sky was filled with billowing Gulf cumulus, and the humidity plumed in the open windows. The prophets were preaching rain, and everything reflective was glinting with pewter. We kept stopping for housekeeping details. Shipping accumulated paperwork, raiding an ATM, checking the Owl's air, gassing up. Getting our hatches battened down for a blow, or a walk on the wild side.

New Orleans, the Crescent City, was originally sited on a rare bit of dry ground in a bend of the Mississippi, looking south (or "west") across the flood, with Lake Pontchartrain at its back, surrounded by swamps. Hydraulic engineering has made the modern city plausible, if only just. This is still a toehold in a watery world.

We see it coming, due south across the big lake. Up on the 28 mile causeway you can see the skyscrapers of the new downtown slowly rising up out of the heat shimmer and smutch. A few day-sailers were out sporting along the southern shore, but the rest of Pontchartrain was barren. No boats, no birds, no nada. We'd sunk Seattle into Puget on our way to the Olympic Peninsula. Now we were raising Storyville out of Pontchartrain.
Metarie and the outer city are the usual scenes of devastation, and we applied our practiced method: change over from rural roads to major arteries before you get bogged in the fringe-city blight. Then off-ramp in the city center. Coming in on the elevated roadway you look down into cities of the dead, Voodoo City's aboveground mausoleum metropoli. Extremely spooky. In the ominous gray light the stark white crypts, and the mossy and mildewed ones, gleam unpleasantly along their narrow alleyways. I was glad the Owl was flying high.


Marie Laveau
Queen of Voodoo
Then we were on Canal Street and into the French Quarter. Our first impressions weren't promising. It looked like the morning after, and smelled worse. A mix of horse manure, rotten fruit, and stale beer, with a dash of essence de Mississippi. Only a few people were on the street at 10 AM, and obviously tourists. "Honk if you see a local," Peggy muttered.

| | |
| --- | --- |
| Teen Memories | When I hitched down here as an impressionable youth in 1964 I'd thought New Orleans the most beautiful city I'd ever seen. Of course I'd had a Lucky dangling from my lip, and didn't draw a sober breath for a week, which might have colored my impressions.. or masked them. Now it just appeared tawdry and down at heel on an overcast morning. I'd remembered trolleys on Canal Street, but the tracks were paved over. I had an image of arching green trees, but the narrow streets we nosed along seemed bare. |
We circled into the modern skyscraping downtown and encountered a demonstration spilling out of a small park. Hispanics and Vietnamese waving placards: "IMMIGRANTS PAY TAXES,TOO." A message someone ought to hear in this city, this polyglot gateway to America for almost 400 years. Although the bull-horned voice in the crowd sounded angry, everyone was smiling and bantering with the police. Owl was getting heated up, though, so we decided to get on our feet and mingle.

We'd been recommended to a couple of small hotels, but they were booked solid or had no secure parking, so we'd found a place via AAA, at the heart of the Quarter, half a block off Bourbon Street. We pulled the Owl into the inner courtyard of the Prince Conti, and gave ourselves up to the Big Easy. In half an hour we were seduced. This aromatic old burg puts her arm in yours, lets you look down her blouse, and winks. How can you resist?


Leaners
---
(Memo #93)
Apr 19 New Orleans sights-sites

Who? locals, tourists, performers

What? old area (French Quarter) of the city

When? last two hundred years

Where? fifteen block square area on the river

How? probably strict architectural preservation

Topics: New Orleans, French Quarter, jazz, Mardi Gras

Questions: How do you best preserve old parts of cities? How do you preserve and exhibit the performing arts?


Mardi Gras
Costume
| | |
| --- | --- |
| | Most southern cities suffered from the wars - the Civil War and the war on poverty in the 1960's - fire and shells and urban redevelopment gutted many urban centers such as Memphis and Vicksburg. A few have been rebuilt with glorious post-modern skyscrapers (Nashville, Atlanta, Miami). This makes the French quarter of New Orleans even more wonderful - it is a large area (100 square blocks more or less) of colonial structures that has been magically spared and transports visitors into another world. I fell in love with the Quarter. |
| | |
| --- | --- |
| The small details are wonderful, wrought iron and gingerbread on every house picked out in lovely colors. A lavender house trimmed in pink and slate and white, a peach house trimmed in teal, a gray house trimmed in burgundy. There are large churches and a few four or five story buildings and some parking garages, but mainly, for me, it's streets of houses, some tiny one-story shotgun affairs no more than fifteen feet wide that give right into the street. Most are of old, weathered brick that is usually stuccoed and painted. The windows are all long and shuttered. Many large houses have balconies with wondrous wrought iron railings overhanging the sidewalks.There are tiny courtyards to be glimpsed and flowers everywhere, in pots and trellises and urns. At most corners you can look down a vista of old houses with all the pastels imaginable. | Fortune's Told |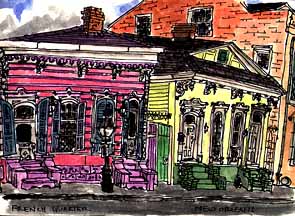 Pastels
| | |
| --- | --- |
| Street Scene | It is definitely a tourist area, with hundreds of couples walking and shopping and sightseeing. Mules and horses pull carriages. You can buy endless T-shirts and antiques and ornate jewelry. Some of the stores are only six feet wide but go way back to interior courtyards. Every street has bars with the long windows open and the music (often live) pouring out. There are musicians and artists everywhere, quartets with accordions and guitars and washboards, saxophonists and clarinetists, pastel artists doing portraits by Jackson Square. There are many psychics in the stores and under gaudy umbrellas. Many Afro-American children are tap dancing for change. You hear taps and music everywhere. At the market you can buy a praline goody or gaudy Mardi Gras beads. There are restaurants and food vendors throughout, you can get a wonderful spinach pie for $3.00 or a gourmet meal that costs the earth. |
| | |
| --- | --- |
| It seems very European except for the music. Charleston has the same ability to transform you in its old section, but the French quarter is more active with performers and stores throughout, old Charleston is more strictly residential (and sedate). There is a honkytonk tone to the Quarter, it's a bit raffish and some of the paint is peeling and there are many odors. Many people have costumes and makeup and wigs. | Action |
| | |
| --- | --- |
| NOPD | We were warned about New Orleans, be careful, put your money in your shoe! Yet I never felt threatened in New Orleans (ask me about Memphis on the other hand). Granted we stayed in fairly touristy areas and I do have city smarts from growing up in New York. We didn't sport expensive jewelry or a camera. We crossed the street a few times to avoid drunks and had no trouble warding off the panhandlers. It seemed averagely safe for a city. There is a visible police presence but fairly low key. Bourbon Street on a Saturday night was party time with hordes of college students. Mainly the French Quarter streets are a parade of people with many artists and street performers and that's where we spent most of our time. |
You can stroll the waterfront or Riverwalk, shop in the renovated Jackson Brewery, watch the artists in Jackson Square, visit grand houses, tour the graveyard
"cities", catch a ferry. There are a number of small museums and we chose the old U.S. Mint which houses a display on the mint as well as both the small Jazz Museum and the Mardi Gras Museum upstairs.



Sachmo
| | |
| --- | --- |
| Costumes | The Mardi Gras museum has several small rooms. The first had two wonderful aquamarine and sequin seahorse costumes and a merry old Neptune. There is special Mardi Gras fake money thrown from the floats into the crowds and bright beads. There were masks and feathered head dresses and cases full of the scepters and crowns worn by the King and Queen and court. Photographs and engravings showed you the revelry back to the first parades in the early 1800's. The Carnival balls and parades are organized and funded by private groups called Krewes. Some are very exclusive and acceptance as a member or an invitation to be a princess is a mark of great social prestige. The individual Krewes have private balls and their own parades through the Quarter. A daughter of the family on one of the plantations I visited was a princess TWICE, a great honor. There was one huge paper mache figure that reminded me of the wonderful work of Shoestring Theater in Portland or Bread and Puppet in Vermont. There is a big Carnival warehouse-museum across the river which I'd like to see. |
| | |
| --- | --- |
| The Jazz Museum had displays of instruments and show bills and records and photographs of the great figures of jazz. Jazz plays throughout. There are several timelines showing the development of jazz in New Orleans. One wonderful wall of photographs showed how the jazz tradition is handed down, with the "greats" next to children they were teaching. Many of the names of performers and ensembles were new to me. One strong impression you get from the museum and the streets is that jazz musicians keep on playing actively until they die. Many players you see are quite old. It's nice to see that experience matters in a culture that worships youth. There were a number of foreign tourists in the museum, showing that jazz is an important and highly respected American export (jazz flutist Jeremy Steig has gotten more gigs and recording dates in Europe than in the US). | Jazz Greats |
| | |
| --- | --- |
| Corny Costume | Both of these small museums raise questions about preservation and display. You notice that the Mardi Gras costumes are quite flimsy, meant to be worn only once or twice. The scepters have cheap paste gems. The context is missing, the crush and noise of the crowd and the procession of masked giants. The figures and head dresses need to move to be fully appreciated (just as the instruments need to be played). Frozen in cases they seem lifeless and a bit tawdry. I had the same reaction to the Ringling Circus galleries in Sarasota. Mardi gras, a circus, a jazz combo are ephemeral magic, theater, performance. |
We went back to the streets of the Old Quarter for a better glimpse of New Orleans.
---
4/19.. cont.
| | |
| --- | --- |
| The tempo builds all day on the streets of the French Quarter. We walked our feet off trying to get a sense of the map, and the crowds kept thickening. It's a three-ring circus. The street acts encircle Jackson Square at the river end of the Quarter, then mushroom down the sidestreets. No matter where you are there are two acts in earshot. Dixieland combos with bass, banjo and brass. Blues with guitar, harp and vocals. Folk trios. Fiddling bluegrass. Anything acoustic you can imagine. With balloon acts, mimes, jugglers, magicians, and fortune tellers in between. Tarot and Palmistry must be especially prophetic in this climate. We've seen as many psychics as pawn shops in the South, and this is their capitol city. Gypsy ladies in heavy mascara and a thousand bracelets, and fat guys in sequined gowns and turbans. (Voodoo dolls in the market.) | Street Blues |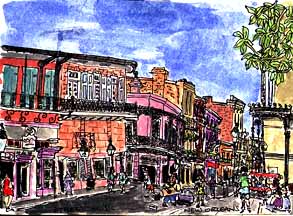 Street Music
| | |
| --- | --- |
| Mask | Peggy and I kept stopping and sketching. Architectural details and faces, acts and implausibilities. You'd never run out of impromptu subjects here. The sun had come out smiling, and I found a pool of light to sit in and do a watercolor with a hot blues duo close at hand. They had to break for 20 minutes while the street barricades were moved and a procession paraded through. A mounted caped figure in a mask of silver mail, followed by a brass band, succeeded by 40 or 50 round-bellied burgers wearing funny hats and capes, carrying drinks and cigars. Their staffs of office I supposed. Not a clue as to who or why. Just New Orleans on a Saturday. |
| | |
| --- | --- |
| The buskers, Frank and Mary, came over to see what I was up to, and we traded street stories. They've played all over North America, on corners from Vancouver to Key West. Originally from Eastern Kentucky, they did street time in Nashville and Memphis (which they concur is deadly), learning their licks. Mary, a wiry brunette in a short dress and high-heels plays a raucous soul saxophone. Frank, in baggy trousers and a fedora, picks a lowdown guitar. They both are tanned brown, and can belt it out. When we said we were from Maine, Mary said, "Oh. I used to live in Deblois." I told you you could learn the blues in Washington County. We agreed that was the end of the earth. | Frank & Mary |
| | |
| --- | --- |
| Back Bass | The street musicians are in court in a class action, they told us. New regulations requiring licenses and banning then from most of the Quarter have the buskers up in arms. For us they were the life of the city, but there are apparently new residents in the Quarter who would like it to sound like Charleston. Silence Jazz City? |
| | |
| --- | --- |
| Hard to believe as the Saturday sun goes down. The clopping of carriage horses gets overwhelmed by the beat thumping out of Bourbon Street. THIS is the New Orleans I remember. Strip shows, live bands, female impersonators, fast beer and "hurricanes" (rum and blended fruit drinks), and mobs of staggered imbibers. | Mr. Bassman |
| | |
| --- | --- |
| Hornman | JazzFest starts Thursday, so there aren't any big acts in the clubs this weekend, but that doesn't seem to have emptied the Quarter. It's mobbed. And the polite tourists in Bermudas who were rubbernecking this morning are outnumbered by the wild medley of fun, flesh, and fabric that passes for fashion on the city struttings tonight. The second and third story balconies are filled with partying collegians, or gawking customers, and unattached females (usually in pairs) on the street get a chorus of hoots and whistles. The girls wave and wiggle. We stand in the open archways and get rocked and rapped and soulstomped up and down Bourbon. |
| | |
| --- | --- |
| Frank and Mary told us about a bar on the edge of the Quarter where there's no cover, and the live brass band is hot: Donna's Dream. So we hoof across the district, but the place is empty. It's only 8:30. The Music doesn't start til 10:30. How stupid of us country folks. So we zig and zag down gaslit streets, just a bit eerie in the echoing night, back to where the air is throbbing. The animals are coming out of their cages now. Young boys are tapdancing up and down Bourbon, some barely waist-high, and there are sharp-eyed hustlers hanging back around them. We overheard one English couple confusedly wondering what had happened to his wallet. | Blow, man |
| | |
| --- | --- |
| All Kinds | In the middle of Bourbon.. among the strip club shills, the string bikini come-ons, the BOYS WILL BE GIRLS, the drunken Frathouse howlers, and the sleazeball club owners in silk suits and alligator shoes.. teams of Christian Youth in matching windbreakers trolled for sinners. Red jackets with white hearts emblazoned THE LOVE TEAM. Nobody was paying them the least mind, but they were crying and hugging each other like it was Judgment Day. |
| | |
| --- | --- |
| I didn't encounter myself stumbling out of Pat O'Brien's, or looking for Andy Raymond in some strip bar. There weren't any teenagers in evidence at all. YOU WILL BE CARDED the signs said, and I guess they mean it. The Quarter IS well policed, but very low key, and mostly plainclothed. What panhandlers we saw, day or night, were keeping on the move, and were never belligerent. Still, we had no desire to wander out into the darkness. | Duo |
| | |
| --- | --- |
| | I eventually got conned by a Dixieland band in the back room of a club. Maxwell's Dixieland Cabaret. You could see and almost hear the act out on the street, and we followed our ears in and emptied our wallets for a couple of drinks and an hour's music. Oldtimers playing oldtime tunes. Satchmo phrasings, Krupa licks, clarinet and banjo counterpoint, piano and bass syncopation. The same stuff that's been going down here since King Oliver. Gets 'em every time. And the faces were Beckman's and Breughel's. The lady piano pounder wore a sequined tophat and danced while she played, standing up. It was standup music, for sure, and middle aged Japanese tourists cakewalked up and down the club twirling little umbrellas. A jazz-thing in Tokyo? |
| | |
| --- | --- |
| By 10 PM we'd been on our feet long enough, so we snuck back to our hotel, feeling a bit like party poopers. And pooped out. The windows kept vibrating. | Crooner |
---
4/20.. More Bourbon.
| | |
| --- | --- |
| Watching | After months of cheap motels and primitive camp sites, waking up in an old hotel seems wonderfully sybaritic. We luxuriated in the Continental caffeine and baked goods, and poured over the Times-Picayune. Same bad old world out there, no matter which tongue-clacking you listen to in the morning. We couldn't get back on the mean streets quick enough. We loaded up our color boxes and set out to paint the town. |
| | |
| --- | --- |
| We had yet to stand on the levee and watch the waters of America flood past, so we hiked toward Decatur Street and the old waterfront. It had rained in the night, and many of the sidewalks had been hosed down as well, but you still want to leave your nose behind if you visit the Crescent City. We sidestepped last night's residua, climbed the levee, and walked into the end of a roadrace. Slinkies in spandex and muscles in baggies all wearing numbers and slugging Gatoraid. We breathed more deeply and got a whiff of the Mother River. | Mississippi Waterfront |
| | |
| --- | --- |
| Courtyard Buskers | A big green double-cantilever crosses to Algiers just downstream, framing the scene, tankers and towboats hurtle past at astonishing speed, and tourboats line the quay. One of them, the City of Natchez, is a full-sized steamboat with elaborate gingerbread and wrought iron. I realized how we'd been cheated by all the faux-paddlewheelers from Hannibal on south. Compared to the real thing, they are tubtoys. No wonder boys like Clemens dreamed of being river pilots on these queens of the river. We'd been stunned by the proportions of the gunboat Cairo in Vicksburg. Now the Natchez wowed us. I stopped to try and capture the waterfront, while Peggy put her pen to one of the wrought-iron galleries. |
| | |
| --- | --- |
| We had intended to find a table at the Cafe du Monde to watch the morning show, but by the time we had sampled the street music and navigated through the French Market the Cafe was jammed, so we bought some fruit and pastries in the market and nibbled and sketched our way to Jackson Square. From on top of the levee the Sunday morning parade in the square was wonderfully picturesque. The line of pastel mule and horse carriages, the colorful performers, the Cathedral St. Louis ringing the hours, the clouds billowing behind. Just about the time I was washing colors on the picture those clouds opened up. Everyone scattered for the galleries and awnings. It downpoured for about 15 minutes, then the sun came out and the crowds milled back into the steaming scene. | Peggy's Jackson Sq. |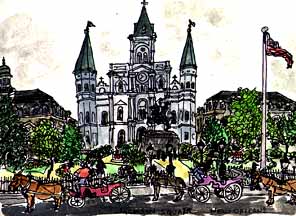 Bryce's Jackson Square
| | |
| --- | --- |
| | That's how the day went. We drew and ambled. Delighted in the faces and tunes and the antique buildings. Stopped for iced tea or bisque, crayfish or gumbo. Windowshopped the galleries and hung out with the civic art. New Orleans is full of sculpture. A bronze cat chasing pigeons here, a sunbathing girl there, an aproned shopkeeper around the corner. The fences around Jackson Square are a sidewalk show of oils and watercolors. And there seems to be a gallery down every street. Some of the work is tourist kitsch, and much of it is superb. If the cityscape itself wasn't inspiring, you would surely get charged up in some of the galleries. How could we have thought this was a sad town. Tawdry, maybe, when seen in the empty morning, but vivid with its glad rags on, and the crowds milling. |
| | |
| --- | --- |
| I was taken with some gaudy symbolist magic being hawked on the street, and a collection of wiremesh illusions in a gallery. Quarter-inch mesh black screening molded into figure drawings, individuals and couples, which came alive against a white wall as you walked past them. So simple. So effective. We both concluded we could spend a long time in this city, this Quarter, without running out of inspiration. | Deer Mask |
| | |
| --- | --- |
| Rubbings | All the conjunctions were a joy. A juggler squirting out a circle of starting fluid to commence his fiery act, while a blues band rocked their hearts out, and the cathedral doors flew open to a chorus of bells, the parishioners pouring onto the stage. A tumescent couple rubbed each other up against a lamp-post while a nun scratched her back secretly against the other side. Too many subjects, not enough ink. And as the sun declined the party revived on Bourbon Street. The vibes massage the air. |
| | |
| --- | --- |
| The Owlers hang out in a cafe across from Preservation Hall, but the line doesn't seem to move at all, and the crowd ebbing and flowing through Pat O'Brien's door begins to wobble and laugh louder. The night is young, but we're footsore again, and our party animals have curled up in their corners. Have we had a good taste of this city? Absolutely. Shall we come back for JazzFest, or to paint for a month? O please. | |