American Sabbatical 99: 4/22/97
Creole Country
---
4/22.. Creole Country.

Maybe it was the hot sauce. I had a rumpled night, full of anxious dreams. Tornadoes marching along the horizon. Running out of gas on desolate roads. I was just as glad to get up and face the lowery morning. Yesterday evening Peggy shocked the Army Reservists camped out at the Ramada with us by doing laps in the pool. They just shivered over their beers. This morning I felt a bit shivery in my Elvis T-shirt, but Peggy had another swim. I didn't put on my jacket. Us Yankees are tough.
| | |
| --- | --- |
| We were out of the Mississippi Valley now, going up the Red River toward Shreveport, but it's still bayou country. Down here in the alluvium the rivers have changed channels time and again, leaving rich black soil and isolated backwaters for the gators to sun in. Old plantations appear along the way, left high and dry, or inundated with swamplands, but the vegetation is slowly transforming again. The evergreen oaks are less dominant, the willowy leafage is giving way to broader leaves, and more upland habits. We are climbing out of the delta. | Louisiana Pecans |
This morning's ambition is the Kate Chopin House in Cloutierville, and the low stratus is blackening with clumps of nimbus. Spatters of rain. We hump up over a narrow bridge, look down onto a muddy red waterway snaking between mudcoated woodlands, the trees daubed shoulder-high. Down a sleepy sideroad, lined with modest brick houses surrounded with beds of flowers, is the Chopin House.
---
(Memo #95)
Apr 22 Kate Chopin & Harriet Beecher Stowe

Who? two women writers of the 1800's

What? Creole village where both may have gained "inspiration" for their books

When? mid to late 1800's

Where? the Cain River (formerly another "red" River)

How? sojourning in a rural Creole area

Topics: women writers, feminism, Kate Chopin, Creole culture, abolitionism

Questions: What were women's roles in Creole society? Where did Kate Chopin and Harriet Beecher Stowe get their inspiration? Were they rebels?



Kate Chopin at Home
Cloutierville is a village on a small river in north central Louisiana. You turn off a secondary road, cross a small bridge, and are on a main street with closed stores that show former affluence. The village is a mile long with a church and graveyard, a store, many houses, and the Bayou Folk Museum in a house where Kate Chopin once lived.
| | |
| --- | --- |
| Out of the closet | We use Kate Chopin's turn of the century book The Awakening in American Studies. It is a tale of a woman's growing self-awareness, feminist and quite modern. When I saw Kate Chopin's house noted in a guide book, I wanted very much to learn about her. There is a village named Chopin near Cloutierville on the map and I was curious. |
The Chopin house is a Creole cottage begun in 1805 by the first Monsieur Chopin, smaller but with the same plan as the grand plantations, a middle class house that is imposing alongside its small neighbors. It is white painted brick, with an outer staircase leading from the ground level floor up to the veranda and the real house. There are four large rooms, two with fireplaces, and two more rooms where the back porch has been enclosed, a large unfinished attic. The long shutters were blue. Unlike Laura Plantation, the house sits hard by the road with a bare twenty feet of yard in front and a grand live oak.
| | |
| --- | --- |
| Cloutierville apparently has long been home to three groups: Creoles, Creoles of color, and blacks. They live side by side and worshipped in the same church (sitting in three different sections). The guide said that Jews had been welcomed in the village, but not "Americans". English was not spoke by many until the 1950's. She distinguished between Cajuns and Creoles. Cajuns, the descendants of Canada's Acadians transported by the British in the mid 1700s, are more isolated, speak an antiquated French dialect and had few financial resources. Creoles, she said, were cosmopolitan, Louisiana's elite, and spoke Parisian French. | Chopin House 1997 |
The Bayou Folk Museum is hodgepodge of memorabilia stuffed into the house and yard. The charming doyenne told us that the lady who had spearheaded it gave people basically forty-eight hours to bring their treasures. There are World War 1 uniforms, old wagons, a doll and doll bed collection, some wonderful pieces from the old Catholic church that burned, grade school pictures, kitchen utensils. Out back there is a dusty blacksmith shop and a full doctor's office in a two room cottage with rows of medicine jars, prostheses, examining table and chairs. Fascinating! (He was apparently one of the doctors who killed Kate Chopin's husband - more below).
KATE CHOPIN
| | |
| --- | --- |
| Oscar | Kate Chopin is mainly represented in a case of memorabilia and the EXTENSIVE knowledge of the guide. This was Chopin's husband's town, he is the Chopin whose family came from the area. Both Kate and Oscar Chopin were (French-speaking) Creole (Kate from families named Verdon and Sanguient, Oscar from Condes and Cloutiers), but she was from one of St. Louis' founding families. Her mother had married an Irishman who was a financial genius and Kate was born Katherine O'Flaherty in 1851. During the Civil War a half brother died in a Union prisoner camp near Little Rock and Kate was removed from her convent school for a year. She suffered the first of the depressions that marked her life. Oscar was raised in Cloutierville and was sent for bankers' training to Uncle Benoit in St. Louis where he met Kate. |
It was a whirlwind courtship. They married and went to Europe, but their honeymoon was cut short by the Franco-Prussian War. They lived in New Orleans for nine years and Kate became an ardent feminist from influences in Europe and Louisiana. Kate and Oscar had six children. Business problems in New Orleans and his father's death caused Oscar to move his family back to Cloutierville.
| | |
| --- | --- |
| "Cloutierville was not ready for Kate Chopin!" our guide declared. She caused great controversy by her feminist habits: she crossed her legs at the knee, drank BEER ( a man's drink although women were "allowed" to drink wine and champagne), smoked Cuban cigars, and raised the skirts of her flamboyant Paris wardrobe when she went up the street exposing her ankles and lower legs!! All the men downtown would go out to watch Kate pass. Cloutierville mothers felt they had to shelter their daughters from her influence and Oscar's sister told him to "get that woman under control!" Oscar apparently approved of his sophisticated liberated wife. They had a romantic marriage (which I didn't suspect knowing the book, the guide says that's a common misperception). Unfortunately Oscar died in 1882 of "swamp fever" when he and the doctors decided to attack it with four times the usual dosage of quinine! Kate was a widow at 31 with six children under 12! | Kate |
Cloutierville had a strict set of rules for widows. "It was time for Kate to clean up her act!" It was expected that she would turn her property over to the eldest male Chopin to manage; she didn't. She managed her own property. The village, according to our informant, was "watching and waiting"! And Kate became "involved" with a man who owned adjoining property. Our guide says no one knows the extent of the relationship. The society was so strict that she may simply have been seen talking to him alone (a taboo for a Creole woman of any age). Gossip increased and Kate moved her young family back to St. Louis. Oscar was exhumed and moved too. She had been in Cloutierville perhaps five years.
| | |
| --- | --- |
| | When she was in her mid thirties, Kate lost her mother and went into a depression. Her doctor suggested that writing was good therapy. Her short stories, many set in Cloutierville, were an instant success and appeared in all the popular journals. Two collections of stories sold well. She also composed music and lyrics (the display case held the sheet music for the "Silk Polka" and "The Joy of Spring"). She was financially independent. |
Her 1899 book, The Awakening, "did her in," said our guide. It was banned in most cities (St.Louis was first!) and her third collection of stories went unpublished. There was so much opposition that Kate wrote an apology of sorts. Our guide smiled as she told us that Kate's "apology" in a literary newsletter said that "she had had no idea her character was to misbehave so badly"! Typical Kate apparently. She died in obscurity in 1904.
| | |
| --- | --- |
| In 1965 the village decided they'd "better do something for the hussy who put it on the map." There are her books and pictures of Kate and Oscar and the children and a fascinating scrapbook (invoices for cotton bales that Oscar signed, his doctor's notes, his will, Kate's petition to be "Tutrix' for her minor children). A Kate Chopin trove.There are also quotes from her stories that describe "Cloutierville." | Artificial Limbs |
| | | |
| --- | --- | --- |
| | One says: "They lived quite at the end of this little French village, which was simply two long rows of very old frame house, facing each other across a dusty roadway." | |
HARRIET BEECHER STOWE
Going through the dusty scrapbooks in the museum, I came upon the Harriet Beecher Stowe controversy. Apparently there are many people who believe that Uncle Tom's Cabin is based on locals here in Cloutierville. There WAS a slave named Thomas whose grave was marked. And a Mr. McAlpin hereabouts who is said to be the model for evil Simon Legree. Did Harriet Beecher Stowe really, as claimed in one quote from her, get the stories from her brother who worked in New Orleans? Did HE come to the Cloutierville area? Or did she herself come up the nearby river by steamboat and get stuck and stay at a local plantation as some claim? Or was it all promotion to catch tourists? A cabin said to have belonged to the local Thomas was taken to the 1893 Chicago World's Fair. It never came back and may even have been sold off in pieces to the gullible. (I love these peripatetic icons - TR's western cabin also went east for several fairs and is now happily set at a site 7 miles from its original place! See what happened to Sequoyah's cabin in the Memo #97 !! ) None of the Uncle Tom artifacts remain, the gravesite and McAlpin plantation are now privately owned. A neat tie for me between Cloutierville, Louisiana, and Brunswick, Maine, near us, where Mrs. Stowe actually wrote the book.
---
4/22.. cont.

The Chopin House is a one woman operation, and "Amanda" was a goldmine of lore and lies, who would wink when she saw your jaw drop. Someone should video HER act for posterity. All the while the heady scent of rising bread floated into the "museum" from her house nextdoor.

It was airy and cool in the "basement" of the house, 18 inch thick brick walls standing on the ground, cut by large shuttered French doors, open fore and aft. Rain now pounding down outside. The "house" itself was on the second and third floors. Our guide said the basement had often housed sick animals, or been storage for farm equipment. I'd just deduced that Southern houses were up on blocks to avoid flooding, but Amanda set me straight. For the cooling draughts, she said, and the termites. We had seen more exterminating ad billboards than seemed plausible. REBEL EXTERMINATORS. Suddenly the prevalence of middleclass brick in Dixie made sense. Back in the plantation days the upstairs "house" might be made entirely of wood. This old house would be a pleasure to live in, with an upstairs gallery all round under the low-sloped eaves.

We've been asking after bakeries all through the South, without much luck, and Cloutierville was no exception. But we were told that Mrs. Ruby's down the road had "the best crawfish pies you ever tasted." I think they still feel the old way about "Americans" down here. The pies weren't on the chalkboard menu, nor was their price, and Mrs. Ruby herself hovered over us, saying she wasn't quite sure if she hadn't mixed up the meat pies and the crawfish, and wanted us to try them for her. The contents were so fine ground and so spicy all you could do was inhale sharply and nod your head. Big pitchers of sweetened tea sat on every table, and Mrs. Ruby brought us glasses full of ice repeatedly.
| | |
| --- | --- |
| Good nuts, though | Everywhere we've been in Louisiana people get farther into our personal space than us chilly northrons are used to. I'll play any game, and tend to move closer still, but nobody backs off. At Mrs. Ruby's I began to wonder if the propinquity wasn't to pick your pocket. Everyone was smiling broadly when we pushed out through the screen door, smoke curling out of our ears, $13 lighter. We laughed half the way to Natchitoches. |
Natchitoches. (Nak-a-tish.) Oldest settlement in the Louisiana Purchase. A trading capitol up the Red River before New Orleans had a shed roof. Once as legendary a crossroads as Timbuktu, now a small city in the Louisiana rain. We got stuck in a traffic jam on its two main streets, and by the time we'd sorted it out we were out the other side, having missed the Historic District. If there was one. Falsefront brick stores, a groomed embankment, and gridlock at 2PM, was all we saw.
| | |
| --- | --- |
| A traffic jam along the Red River was wonderfully appropriate. When Capt. Henry Miller Shreve showed up in 1833 there was an ageold logjam in the river that stretched for 165 miles. It was so overgrown that travelers and drovers regularly crossed the river without knowing it. Like the Army Corps, he set at it with explosives, blasting a channel from end to end in a year. The jam immediately closed behind him. It took Shreve 5 years to clear "The Great Raft", and open the Red for navigation. | Flowers, too |
It only took us a couple of hours to amble up the Red, through sprouting fields of cotton and cane.. and nodding oil rigs. We were entering the great petroleum fields of Northern Louisiana and East Texas. When I hitched here in 64, I'd stayed with my friend Andy, and we'd gone out to his family's "place at the lake" for a barbecue. I remembered sitting with a mint drink on the veranda, watching a red sun set behind acres of reciprocating oil pumps reflected in the water. "Isn't it beautiful?" Andy's father had asked.

Approaching Shreveport the sky clamped down black and hail pounded on Owl, bounced high off the pavement, and slowed traffic to a crawl. Between assaults, the wind thrashed the trees, and nasty turbulent cloud wrangles roiled around us. I remembered my twisted dreams. When we got into the city it was a mess. Trees uprooted or downed. Limbs scattered. Power out. Standing water everywhere. There had been gusts of 140 mph here, and a cataract of rain.
| | | |
| --- | --- | --- |
| Peggy.. | The traffic was all jumbled, and so were we. The Owlers were searching for the R.W.Norton Art Gallery, but we got lost in the upscale burbs of a hail-stomped city. No signs, no clear map, it took us three tries to round in on the critter. | ..Sketches |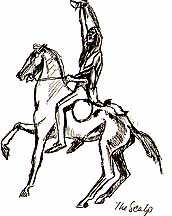 Remington
The Norton is oil money at work, noblesse obliging. A beautiful building designed for exhibition of this collection, on immaculate landscaped grounds, with a huge staff, and no hype, and no entrance fee. We'd come to see the touted assemblage of Western art. Remington and Russell in particular, and weren't disappointed. The more Remington I see, the more he is my master, in two dimensions. Yeah, yeah.. cowboy pictures. But such craft, and power. And no slouch at absorbing the modern techniques as they came along. His later paintings are as impressionistic as any by the Parisian tribe. After Remington, however, the rest of the Western genre looks pretty weak. Russell can sure paint skies like a Montana evening, but the master crosses the line from storytelling into mythos, while Charlie Russell just spins a dandy yarn. Remington's bronzes don't always work for me, though, mastery or no. He certainly balanced the masses of men and horses in all their violent permutations, but the dramatic excesses of his poses often overwhelm the haptic feel of the pieces for me. That's a perennial complaint against "narrative" art. That the story detracts from feeling the visual effects. I think that's bunk. You can have a tale and poetry, too. When the Remington magic works I'm galloped away. His action groups ride a fine line between technical excess and choreography. And sometimes they work best seen over your shoulder, across the room.

We came back out into bright sunshine and puffy cumulus, sated. And we didn't even look at the Steuben glass, or Norton's gun collection.
| | |
| --- | --- |
| Now we're trying to push our barge upriver as fast as we can, so we raided a blacked out bakery for breads and buns, and gobbled on toward Texarkana, next metropolis on the Red. I can't pretend to remember much of the jaunt through Ida, and Dodridge, and Fouke. Except for Peggy's sympathy toward a high school with the name of the last of these. "Think of the chanting," she mumbled. The land was rising and rollicking more, and pine plantations were pushing in among the field crops, but I was getting too dozy to pay attention. We cranked up some Dixieland to bid the lowlands adieu, and keep the driver awake. | C.M.Russell |
On the last long stretch between burgs I noticed the Owl's gas gauge was pegged out empty. Hadn't heeded those dreams. THAT jarred me awake, and we cruised into the outskirts of Texarkana on the fumes. Found a road-dive just over the Texas line, and sang the doggies to sleep.