American Sabbatical 103: 4/27/97
Boulder
---
4/27-5/1.. Boulder.
| | |
| --- | --- |
| This town is so healthy it makes your muscles ache. Approaching Boulder from the flats to the east you begin to encounter bicyclists in airflow helmets and spandex about five miles out. Sparkle-eyed and pink-cheeked couples on tandems peddling away furiously with grins on. Maine exercizists seem to have their faces fixed in grimaces of noble agony, but out here on the brink of a New Age a mild euphoria prevails. Of course nobody's above 30. | |
On our arrival the temperature wasn't much either. Seth's tribe had started planting their backyard garden, assuming winter was over. A couple weeks in the 70s, and everyone in tank tops, looks like summer to Maine exiles. Now, three snow storms later, the seedlings were repotted and huddled in a south window. Piles of snow under the budding trees. White-faced mountains.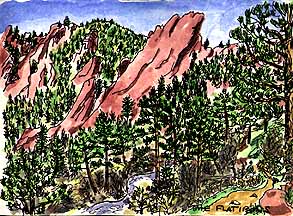 Flat Irons
This is where the prairie smacks into upthrust crustal deformations and you begin to gasp for breath. The big mountains lump up twice as high deeper into western Colorado, but these "foothills", the Frontal Range, put all our eastern bumps to shame. The prevailing shade of rock is a burnt purple sienna, fuzzed with the green of pines, now dusted with white. Outcrops of tilted strata in hot red and sour blue-green punctuate the scene.
| | |
| --- | --- |
| | Boulder is tucked right up against the foot of the mountains, and city parks fan up the canyons and climb into the scenic heights. The whole town seems to enjoy the vertical amenities. We joined them every afternoon. Climbing up an icy trail to steaming falls, then walking alongside squads of kayakers frolicking in white water. Doing rolls at the foot of tumbling drops. The kayakists, not us. Making our lungs sore legging up well trodden trails. This is a throw back your head and watch the raptors lofting locale. Thump-thump-thump.. another jogger trudges by. Blue-black and white patterned magpies. Power-walkers. Huge squirrels. Long-striding mountain hikers. |
By Monday afternoon the snow is gone, and balmy Spring temps prevail. But pockets of cold air and penetrating freshets can woof down a canyon anytime. The extremes of climate on an afternoon ramble in this place are remarkable. Most of the sportsmen are in T-s, regardless, and the ladies in power bras. A land of feminist midriffs. I can't seem to get the layers right. Exposing my belly-button doesn't do anything for me, except draw amused glances.
| | |
| --- | --- |
| One PM I climbed up to the Flat Irons, the best local example of tectonic activity. Free-standing purple strata tilted at 80 degrees from horizontal, standing in a domino row. After cobbling a rough sketch, I came down out of the grandeur and was greeted by a lonely widow-lady and her squirrel-chasing Pekingese. She invited me into her "cottage" to see her husband's paintings of the Flat Irons. Honest. | Mt. Watcher |
This ultimate row of houses at the top of Boulder is part of another Chautauqua. One of only three remaining and still hosting summer programs, she said. (We had been charmed by the original in New York State last September.) The land for this summer intellectual retreat had been granted to the Chautauqua in perpetuity, for a dollar. Now the City of Boulder is reconsidering. My hostess told me the cottage next door sold for $300,000 last year.. to a CALIFORNIAN, she whispered. She was from Louisiana (can't you tell bhy mhy accent?), and her husband had retired here from Texas. THEY used to complain about the Texans, she confided, but now it's the Californians. So the Chautauqua Association and the City are squabbling. Echoes of Fairhope, Alabama. So much for civic agreements with intentional communities in perpetuity. As long as the rivers run, Kemosabe?
| | |
| --- | --- |
| | I escaped from Chautauqua with my inflection unaltered. Back downhill Boulder is a mix of small turn of the century houses, now worth a king's ransom, a brick Western downtown, and a modern mall-burb expanding rapidly. Seth and his lot are renting a split-level ranch on the southeast outskirts, which means they're a ten-minute drive from Pearl and 13th, or about the heart of town. House rentals at the core run in the thousands per month, for minuscule (if romantic) houses. Seth is sharing a larger sub-division house with four others, and still having to come up with a large lump each month. Illegally, at that. Boulder ordinances outlaw more than three unrelated adults domiciled together. A curious restriction. We arrived at an anxious moment. The city inspector is due to check the house out, and everyone is shuffling beds and belongings to disguise the obvious. When the landlord and inspector arrive, it becomes obvious that housing conditions are being eyeballed in the tenant's best interests, actually. Wiring safety, plumbing and furnace functioning. Still, the violation of privacy makes me uncomfortable. But I bite my tongue, and watch the landlord sweat. Nobody gets thrown out. |
Seth is working for the local healthfood giant , Wild Oats, at their branch in his nearest mall. More nutritious possibilities than you can possibly digest. Seth is tending the juice bar, and tells hilarious tales of wheatgrass junkies lining up for their morning squeeze. I tried a jolt. It tasted just like your average lawn. I didn't start spouting poetry.. or anything.
| | |
| --- | --- |
| Although Wild Oats is buying up all the big alternative marts, you can't turn a corner here without being offered a natural this or an organic the other from some vendor. Hiking, camping, cycling, rafting, kayaking outfitters. There are bike paths and lanes everywhere, rollerbladers on the pedestrian paths, hiking boots and running shoes on the other foot, everyone striding out. City planning envisions maintaining green space and a pedestrian ambiance to the far edge. It makes for a very attractive community, and a more humane settlement pattern, but the yuppieness is almost cloying. Fact is, this is a VERY upscale burg. Veggie burg. | Parking at Wild Oats |
Colorado U, dominates the economy, and the ambiance. It really is a young town. And all ugly women and brutish men are turned away at the border. This is the future, America: drink your wheatgrass. But it's awfully lilywhite after the South, and surprisingly monolingual. Hispanic Colorado starts somewhere down the road to Denver. Seth has mixed feelings about this place. The music scene, the vegetarianism, the whole youth culture thing.. is his meat. But the classism ruffles his hackles. He says there are two kinds of people in Boulder. Those who don't care how much it costs, and those who do all the work. He says it's easy to get a job and quickly climb the wage scale in the service industries, as a Mainer. "We know how to work," he says. And employers know it. Seth is astonished that most of his peers haven't a clue about doing a day's work. Hello? Middle America? Boulder is the epitome of Middle America on the millennial cusp. Self-improved. Driving Cherokees. Self-satisfied. Sporting designer labels. Only raising a sweat to stay fit. Ready to go shopping. Gorgeous.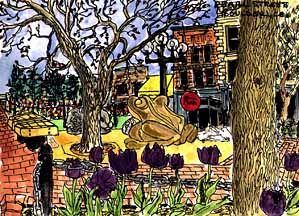 Pearl Street
The downtown pedestrian mall, along Pearl Street, is lined with quaint storefronts displaying chic clothing, fancy arts and crafts, exotic coffees, the usual BMW boutiques, outdoor cafes. Brick sidewalks, massed tulips in bloom, select street vendors, and vetted musicians. No panhandling. I saw one guy quickly busted for spare-changing the tourists.. by a bicycle cop. There are also great bookstores, new and used, record stores, ditto, instrument stores, and salvage clothing stores.. in concentric rings out from the epicenter. All the cultural necessities.

| | |
| --- | --- |
| Oasis Band | And music. The lineup of performances on tap every night is impressive. Lots of venues for local bands, where Seth hangs, and more pricey clubs for name acts. One night a bunch of us go to The Oasis to hear a jazz-funk sit-in session at this micro-brewery. Tongue-tangling stout and a driving beat. I do my ink-sketch act, and the band comes round to check out their portraits. Everyone knows everyone else. I see familiar young faces from Maine, and shoot a little pool while the room pulses. No smoking in any club here, and what a relief it is to catch a gig without having to wash your hair and take antihistamines after. We closed the place down, then sat out front discussing the characteristics of different drum combinations. Or the musicians did. Then Seth boogied us all home in the Vanagon. |
The next night Seth bought tickets for him and me to see Maceo Parker (longtime saxman for James Brown) and his funk band, at The Fox.. the big club in the middle of CU. What a scene. The old theater has been remodeled as an SRO bar, with narrow bar rails sectioning the floor, and to put your drinks on. It has the feel of the old English football (soccer) stadia. Those beery places were designed for chanting louts to let out a little aggro in. No furniture or decor to rip up and use as a weapon. Where you can sway in unison and abuse the bobbies. At the Fox all the synchronous motion was shaking to the funk beat. Packed. And half polluted. Loud stomping undergrads with their hats on backwards, and slinky Boulderettes in their wriggling peachy innocence. Not a single face of color on the floor. Up on stage six middleage black guys and a balding organ player were making the walls pulsate. Without a break for 4 hours.
| | |
| --- | --- |
| You realize what a debt funk owes to James Brown. Maceo pulled out every one of his old standards, and they didn't play an unfamiliar lick all evening. Mustang Sally. Better slow that Mustang down. The kids loved it. Screamed for more. You couldn't NOT dance. Stand still and you got jostled rhythmically until you were boogeying with the rest of them. I was amused by the careful politeness with which they treated the old man among them. There was always a small space around me sanctifying my antiquity, and a courteous apology when I got bumped. If this is monstrous youth, I say clone them. | Bar Scene |
When Maceo tried to shut that Mustang down around 1 PM the crowd refused to quit, hooted, whistled, and pounded their feet for 15 minutes until the band came back for more. That was when we made for the exit. As Seth said, "When security starts filing in, it's time to ease out." MAC-E-O. Tonight it's the Reverend Horton Heath. Screaming Texas Guitar. Sorry we missed it. Tomorrow night Mumbling Douglas, featuring Andy Palmer from Brunswick, Maine, on lead and vocals, is playing another theater on 13th Street. And the beat goes on.
| | |
| --- | --- |
| Seth's Place | As I write this, the Thursday night poker game is upping the ante in the next room. Life in the mountains. But it's too high for us. Seth and Klara are taking a couple days off, and leaving in the morning for Moab. Very tempting. But WEST? We're ready for the downhill run. Headed EAST, one last time. |
---
5/2.. South Platte.

It's never easy to part from your kids. Even when they're grown and on their road. We did some hugging, said ritual words, bit our lips, and turned tail on Boulder Friday morning.
| | |
| --- | --- |
| (Another Turle Island Vehicle parked in Boulder. The text reads: "The daywe see the truth and refuse to speak out is the day we begin to die.") | Road Machine |
The gurus at NOAA, up on Table Mesa, were prophesying snow, but it was just sullen and blustery out of the north northwest. I'd gotten a faceful of snow the day before. I'd clambered to the top of the Red Rocks to do a drawing. Watched as the backdrop behind the Frontals filmed to a pale gray. Then the clouds leapt over the edge and wrapped me in swirling white-stuff. Wet and biting. I stiff-legged down to the Owl, and finished the colors at "home." Then we'd gone out for a truly superb Taiwanese dinner downtown. Now we were winging out onto the hungry highway again, without a hope of fresh vegetables this side of July.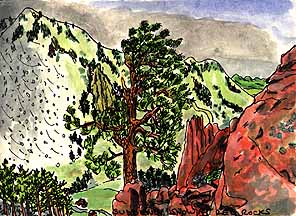 Snow Squall
The ceiling was high enough to show us Long's Peak as we pulled away from the foothills. A proud white cone lording over the local peasants. I thought of the umpteen volumes of Long's journals I haven't read, and was delighted to realize that there are libraries full of American journeys still to read.. now with a new sense of the terrain.

Slanting northeast, to avoid the Mile High City and strike the Oregon Trail up on the Platte, we were crossing Denver's exurb. Polished old brick main streets and shiny new malls. What will our tasteful burbs look like a generation hence? We've seen a slew of dead 70s malls, outdated downtowns, and superannuated suburbs. Not pretty sights. Here on Denver's leading edge the sailing is quite attractive, for now.

Heaven forbid you should walk, though. Even Boulder, with all its cycle lanes, is too spread out to be truly non-automotive. I went banking with Seth, and there were 12 lanes of driveup and a ten minute wait at the gate, pedestrian mall notwithstanding. Not to worry, the New Age still burns petroleum. Your futures are secure.

Then, poof, we were back on the Great Plains. Over a couple of rises, and the mountains vanished behind us. The arid spacing of sagebrush and bunch grasses knubbled the ground carpet, and tumbleweed bounded across the road, hurdled the barbed wire and sprinted off. It was blowing HARD, now. Gusting 55 from the North. On the fourlanes the semis were hogging the upwind lanes. My left hand was locked down tight.

"LaSalle. Greeley" the sign said. Centuries of history in two names. Eastern Colorado was worthless desert in the 1850s. Trapped out early by the mountain men, the fur trade headed for extinction, it was hostile territory to be avoided. Until that hint of color in Cherry Creek in '58. Suddenly the descendants of LaSalle who had married this land were cuckolded by young men who heard Greeley's cry: "Go West." Denver has hardly stopped booming since. The gold dome on the state house is the real McCoy.

But a lot of disappointed dreamers went back east over the years. One of those currents of history not noted in the almanacs. Our plan is to follow these waters back to St. Louis, more or less.. downstream, but against the flow of history, as told. Boulder Creek and Cherry Creek both feed into the South Platte, then it snakes into Colorado's northeast corner. Thick bands of cottonwood rise up along the sand-choked and braided waterway. It looks like you could walk across it anywhere. Reisman, in Cadillac Desert, tells of one boondoggle dam in these parts where the water simply ignored the impediment, plunged into the gravels below, and resurfaced downstream. Like untold migrations in the American story. Like the undreaming.

Slammin. A serious wind. Even turned 90 degrees to it, the ranch windmills are spinning madly. The walking irrigators in full spray look like cresting waves on the plain, clouds of water pluming downwind. Where the big tractors are plowing, it looks like they are launching topsoil for delivery out of state. Yellow dust obscuring the country, like memories of the 30s. We had sung along with Woody, from Oklahoma across Kansas: "So long, it's been good to know ya... this dusty old dust-storm is takin my home, and I gotta be movin along." Now we watched economy recapitulating stupidity. Is it genetic?

Listening to the Ag News on the Marconi. September Beef up 50 cents. Spring pork is down a fraction. "Farming is more about silicon chips than about cow chips." Improve your throughput (another euphemism for side-dressing?). And the smell of money keeps insulting us. Feedlots upwind. Millions of acres of rangeland lying fallow and all the beef is jammed into stinkyards that make your eyes water. Cowboys riding jaded horses around the fenced containments. My spontaneous sympathy for the cow-punchers is probably misplaced. Parties to a travesty. Enjoy your Big Mac.

Fort Morgan. Julesburg. Ogallala. Nebraska! We've now touched on every state except Wisconsin, Minnesota, Alaska, Hawaii.. and Utah.. this journey. Our last new state, and we're still way out here in the middle of somewhere. We're rolling downhill, though, and can sense the subtle transitions. Marginally more moisture. Less desert veg, more and thicker grasses on the rangeland. Greener tints. And we've merged with the main drag. Route 80, the transcontinental biggie, running alongside the Union Pacific tracks. Tractor-trailers in convoy and mile-long piggybacks stacked two-high. I count 60 piggybacks behind three tandem locomotives, figure the five loco trains run 100 cars. Train after train. Mesh enclosed car carriers covered in spray graffiti, black tankcars, mixed freight, and mile after mile of coal cars mounded high.

There are more hills than I'd expected. Low black chains along the horizon, folded khaki convolutions approaching the road. There's plenty enough flatness to go round, but the windy plains sidle up, undulate, and wave bronze grasses at us.. between the agribiz. Wheat yielding to corn. Irrigated circles. New plowed ground.

East of Ogallala the North and South Platte run parallel, separated by a narrow band of sand hills for 50 miles. All the way to North Platte. We'd seen reference to a grasslands preserve here, and crossed the narrow neck between the branches looking for old prairie. No signs. No indication of interrupted economics. We stop to ask at the local Chamber of Commerce. The lady gives Peggy a puzzled look. "Sand Hills? Yes, we have Sand Hills. No preserves, though. Just go anywhere north of town to see the hills."

Sure enough. There are rumpled-blanket hills. With grazing cattle, barbed wire fencing, ranch houses in groves of cottonwood, cedar windbreaks. We shrug and turn east again, following the north bank of the Platte. On the Mormon Trail now. Keeping ourselves separate from those hostile gentiles emigrating along the south bank. Rolling beside the endless coal gondolas headed east. And the hills move in closer. The grasses rise up. Dancing bronzes shimmying to the gusts. It could be another century. Bring on the buffalo.

We smile all the way to the hundredth meridian. Cozad, Nebraska. Where the East begins. We set off two months ago to discover the South. Now we are leaving the West. Go figure. We figure it's time to stop slamdancing the Owl, and go looking for bed and board in Lexington.

The victualers seem to have divvied up the day in Lexington. The diners we check out are either breakfast diners, or lunch diners, and have closed. The dinner diners aren't open yet, although the staff at Dotty's tell us we can eat now at the Irish Bar on the edge of town. They don't even mention the Mexican Restaurant we discover a block away. Where the enchiladas are tender, and the burritos excellent. Were we on the wrong side of the tracks?

The Super8 has just been remodeled, and the wind is ripping shingles off the new roof as we drive up. Can't look any stranger that the two dumpy statues of Liberty and Justice on top of the Lexington courthouse. Or the collapsed grain elevators next to the Happy Leprechaun. This town looks a bit unsteady on its pins. Just the sort of place to sleep it off.