American Sabbatical 91: 4/11/97
Nashville
---
4/11.. Chattanooga.

Today we are just going to take it slow. Not drive all over creation. Spend a leisurely day in a Southern city. Woowoo, Chattanooga. But first there ARE two nearby destinations. The John Ross House, and Triple-A.
Ross was another Cherokee notable who owned the local ferry here, which undoubtedly endeared him to the "civilized" interlopers. There's a Bolshy argument that the Cherokee hierarchies produced a class stratified society, so a rich Indian was an affront to the classless pioneers.. like Jackson. Hah.

The reason we were pointing at AAA was our lousy maps. The outdated 3A atlas we're using has turned us upside down in recent days, and we have no large scale maps for Tennessee, and no guides. The old atlas shows the AAA office within blocks of the Ross House, in Rossville, Chattanooga's Georgia suburb. I use the term loosely. Rossville is as dogeared urban as Roxbury.

Anyhow, we follow the morning traffic into the Chattanooga metro, and start going in circles at once. Instinctively we follow the brown tourist signs to the Chickamauga National Battlefield. Actually pull into the official lot before Peggy asks, "Do you really want to tour a battlefield?"

I'm speechless. Not tour? Not immerse our poor shriveled bodies in yet another historic soup? Not honor the Rock of Chickamauga? Is this my faithful mentor and guide speaking? "Nope," I managed to choke out.

In penance Peggy read aloud from her roadtext on the battles around Chattanooga. Back in January I had read both Grant's memoir covering this ground, and Raintree Country, an historical novel in which the protagonist fights through here. Missionary Ridge and Lookout Mountain were both in sight. I should be resonant with echoes, thrilled with recognitions. My historical sinewave is flat.
| | |
| --- | --- |
| So we drive all over Rossville looking for his brown sign. All we see is pawn shops and adult bookstores. I've never seen so many golden balls as there are in the backstreet South. Peggy says there seems to be more compulsive materialism here.. which is a fine distinction in the USofA.. so there's more stuff to hock. PAWN YOUR TITLE AND DRIVE YOUR CAR. Is this like bookie banking? We actually saw an old wooden barn with BANK OF COMMERCE (Member FDIC) painted on the side of it, like a chewing tobacco ad, on a backroad, but the downtown of Rossville is solid sleaze banking. I start to wonder what I can get for Red's title. | Dog Trots Again |
Lost. I pull into a gas station on the corner where Triple-A is supposed to be. "Nope. Been gone for years." And I'm given a convoluted set of directions to a new mall on the modern outskirts of Choo-Choo City. I ask where the Ross house is, and get another set. I shuffle them together and head out again.

It didn't use to be so hard to find your way into or around Chattanooga. This was the rail crossroad of the South, which was its strategic importance. All through ways led here. The Union's grand plan was to cut the Confederacy in half by controlling the Mississippi, which Farragut and Grant accomplished, culminating at Vicksburg. Then to capture and destroy the South's internal lines of supply, the railroads. That meant seizing and holding Chattanooga, which Grant did in 1863. Then he cut Sherman free from HIS lines of supply, and sent him tearing up the tracks to Atlanta, and the sea. Even as late as the 1940s Chattanooga was a grand terminus of America. Glenn Miller had a generation blowing A to the bar about that Chattanooga Choo-choo. We've heard locomotives blowing through every Southern city and town we've been in. Railroads are still a vital presence in Dixie, but now this rail hub has been chopped up by interstates. Southern commerce still blows through here, but mostly on eighteen wheels. We keep getting switched onto sidetracks.

Back through Rossville. It's beginning to take on comic overtones. Disappearing destinations on the Georgia line. We can't escape the deep South. Stop for directions again. This time in a bakery, where we feed our confusion with peach fried-pies.. another gustatory discovery... the English would call them peach pasties. Trying to tempt us. Almost worth getting lost in Rossville for. The buttercrust bread is fine, too.

Yes. We're within blocks of the Ross House. And there it is. A classic two story dogtrot made of handhewn logs, in a back alley by a weedy pond full of geese. And it's closed. Locked up. No tour. Peggy starts to giggle.

An elderly couple having a bag lunch on the steps tell us that the house was moved to this site some years ago. First Triple-A, now the historic sites. We decide we'd better get new maps. But two hours later we are still wandering greater Chattanooga hunting for AAA. The burb strips are in gridlock on a midweek mid-day. Peggy may be right about compulsive consumerism in Dixie. We keep getting deadended in mall lots. A new vision of hell.

Triple-A is at the corner of Gunbarrel and Shallowford, if you're ever lost in Chattanooga. And they are just as confused as we are. Was there ever a more over-bureacratized, less organized institution than AAA? The right hand never knows what the left is doing, and it takes three people in the office to answer a simple question. In this one nobody has ever been to Nashville, I swear.

We had circled outer C from south to north, and the thought of bucking the jams to downtown was more than we could face. We'd imagined walking from the railway museum to the art museum, reputed to have a rooftop sculpture gallery with views of the river. A graceful tete a tete over hush puppies, perhaps. No road frenzy.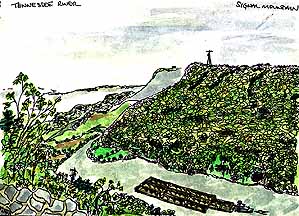 Signal Mountain
Hah. We followed our new maps into rural Tennessee as fast as our wings could beat. Across the river itself and up onto the overlooking heights. The crests of Missionary Ridge and Lookout Mountain were lined with upscale architecture instead of Confederate artillery. Now in Union territory the same class hierarchies prevailed. We followed signs for Signal Mountain, reported to have a spectacular view, and find ourselves in a tidy bedroom community. Street lined with cherries and dogwoods in multicolored bloom, abandoned trolley track through town. And the local police station has a dozen shiny new cruisers. Either this town is a lot bigger than it looks, or they have an exaggerated notion of public safety.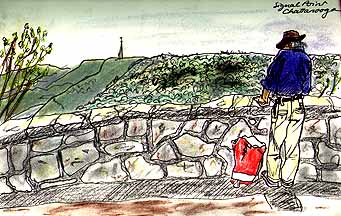 Artist at Work
The view from the overlook IS grand. The winding Tennessee far below. Receding escarpments east and west. The foreground filled with canopies of pastel hardwoods, climbing all the slopes. A thin haze bluing the far ridges into a disappearing distance. A towboat pushing 11 barges full of crushed rock inched upstream. We did rituals with colored implements, and rolled on, restored.
| | |
| --- | --- |
| The roads across central Tennessee make steep ascents through stratified sedimentary roadcuts, ancient walls laid down in forgotten seas, then run for miles along plateaus where the trees are just beginning to bud, only to plunge down serpentine descents into warm valleys where everything is in full leaf and blossom. We have come into the Mississippi basin and crossed into another forest kingdom, what's left of it. The scattered pines are different than on the coastal plane, and the broadleafs are all deciduous. Grand tall trees clothing the steep slopes. Vertical outcrops edging the peaks. | Over his right shoulder |
There seems to be less rural poverty in this section, although we did pass one cyclone-fenced trailer compound flying the stars and bars, and bragging BEWARE OF DOG. It was nextdoor to the Mountain Top Saloon which had two bloated-tire pickups in the lot, and no windows. Peggy didn't want to drop in for some local culture.

We had given up on a pedestrian day in Chattanooga, but we're now plotting a weekend in Nashville. Some local music. The Opry. A downtown hotel. Some meals at the acclaimed restaurants in our roadfood guide. The kind of thing most people do when they tour a city. Peggy reads menus aloud, and I howl.

We pass through the compressions of McMinnville and Woodbury and stretch out the miles toward Murfreesboro. We are crossing a great valley here and the rich farmland is being invaded by new housing and the joys of affluence. We are eager for a place to walk and forget the road, but Nashville is a goal too far. Hungry and tired, the Owlers give up the chase in Murfreesboro.

Murfeesboro Courthouse

Another courthouse town, with ornate falsefront stores all around the square. The ones with fancy doors and brass fittings say LAW FIRM over the lintels. A small "Mediterranean" restaurant faces the courthouse, with its extravagant clockfaced cupola. We nod at each other and go Greek. Check into a local hotel.

All day a south wind has rocked the owl on the inclines, while raptors spiraled up the thermals. The high haze has thickened, and the air warmed. As we check into the hotel the rain starts to fall. Good planning. Except for the high school prom in the ballroom and the children's pageant that fills the lobby with tutus. We ride the glass elevator to the 4th floor and put it all beneath us.
---
4/12.. Nashville.

Hollow-eyed teens with runny mascara, and grim-faced parents with armloads of pageant costumes greeted us in the hotel morning. Ads for prom dresses, and chiffonettes (I think) were pasted up in the glass elevators. The place had the flavor of Uncle Henry's, our weekly yardsale magazine in Maine. "FOR TRADE: One wedding gown, size 24, never used, in exchange for 30/30." There was a Sheriff's cruiser cocked sideways at the entrance, door ajar. We snuck out before we got accused of anything. Getting into the county music thing early this morning. Getting up on the big highway with the rolling cowboys. Headed for Nashville to have a good time.
| | |
| --- | --- |
| We've got an accurate map for Music City, but it's easy to find your way into the heart of Country music. Nashville Skyline rises up from the rolling Cumberland flood plain and tolls you in. It's a glory. Fanciful new glass astonishments glittering among stone weddingcakes of old. Dominating all is the soaring post-deco monstrosity headlined "BELL South," sporting two radio towers like demonic horns. The reflective blue-glass facade looks like a mask out of Sci-Fi: the Darth Vader Building. Other space-age architectoons play peekaboo with Darth as you spiral in. | Darth Vader |
But before we sank into the nearest honkytonk, we had to charge up our culture batteries. If we started on Broad Street, we'd have nowhere to slide down to. So we climbed that psychic Acropolis in Centennial Park to visit the Parthenon. Nashville's full-scale replica out of our Attic past.
| | |
| --- | --- |
| | The time-warps wrench you fast and furious in these urban vortexes. There was a Medieval fair going on in the park, with the Society of Creative Anachronism in full costume cavorting around the foreground. Behind the gentle knights and fair ladies stood the great temple of Athena, circa 480 B.C., surrounded with yellow scaffolding. That's right: the resurrection (1897) is under reconstruction. The Greeks built better, but had less job security. |
| | |
| --- | --- |
| This crumbling copy is still uncanny. The absolute stolidity of classical Doric impressed itself onto the facades of American aspirers for an hundred years, so the temple front is absolutely familiar, but the scale knocks you back. This baby was Herculean. John Ruskin, the seminal Victorian art theorist, argued that the proportions and details of classical architecture work on us at an intuitive level. We feel secure with post and lintel, because all that mass aloft stands on massive legs. The Doric is the ultimate four-square composition. But lift that pediment atop 55 foot pillars, and your intuitive comfort is dwarfed. This building is very human, and awesome. Neat trick. | The Parthenon Is Open |
| | |
| --- | --- |
| Peggy's Athena | The temple precinct is cordoned off with cyclone fence, and instead of climbing up the reverent steps you are channeled into glass doors at a cellar entry. Into a Greco-tourist boutique. Attic mythology on boxer shorts. Parthenon gift boxes. After paying your dues you can ascend through levels of gallery display until you actually enter the temple proper. And there she is. Athena herself, 42 feet tall. Those old boys knew how to honor a lady. Armed with spear and shield, she has a serpent companion, and holds a winged Nike aloft in her right hand. Not a running shoe, dummy. |
| | |
| --- | --- |
| Full of smoke and ritual, the original must have resounded with Greek drama. The plaster repro doesn't quite hack it. The scale and the forms may be exact, but the fire and the textures are missing. There's a museum hush in the temple, but the reverence is museumatic genuflection, not the real juju. The place has the sterility of a Disney set, but a fertile imagination can leap you over the millennia. Peggy curled in a corner and drew. Greek art does that to her, regardless. | Bryce's Athena |
| | |
| --- | --- |
| To Scale | All that invocation had made us hungry, so we backpedaled away from downtown momentarily, to a cafe touted in our roadfood guide. MMMmmm. Meat Plus Three. Fried chicken with a choice of hot-table veggies, plus cornbread muffins or biscuits. We had both, and circulated black-eyed peas, turnip greens, green beans, creamed squash, and whipped spuds. The squash was astounding. The peas, beans, and greens were all flavored with ham or bacon, and a hint of vinaigrette. Honey, this Southern cooking makes you hum all over. |
| | |
| --- | --- |
| We contentedly vibrated down to music row. At least that's where we were headed. We ended up circling the center of Nashville, ogling the architecture, and grinning at the street scene. Broad Street deadends at the river park, where the reconstructed Fort Nashboro defends the waterfront, and the tourist hustle creeps uphill from there. We'd been seeing the ads for Western gear from 50 miles out, and here was the place to get fringed vests, rhinestone accouterments, lizard boots, and Garth Brooks hats (at his very own store). At premium prices. | Ft.Nashboro |
The music bars were spilling vibes onto the sidewalk, and we'd have joined the throngs, if the effluvia of beer and cigarettes out front didn't make us sneeze. Guess we'll never get discovered at Tootsies. I hunkered down across from Planet Hollywood's neon entry to try and catch the Darth Vader, and found the sketch-artists' cloak of invulnerability works in Music City, too. The pan handlers worked everyone around, but just traded collegialities with me. The young drifters hanging blew harp for me, and shared their dreams of making it in the arts. "Just do it," I urged. Must have been that Nike talking. Even the pigeons making parcel drops on the parade didn't rain on me.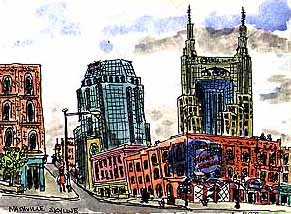 Nashville Skyline
Nashville feels like a place where they'll honor your idiosyncrasies. The downtown locals look just a bit raffish. I jawed with two gents in front of a salvage store. One of them was wearing an untucked uniform shirt and had the red nose of a regular guy, while the other's suit was rumpled and his hair was a trifle shaggy. Both pushing 60. I was looking for a secondhand clothing store. A place where I might find musical clothing. You know, glitter vests and subtle shirts. "The kinda place where a musician might try to cash in his costume."

"Never happen." They assured me. "Those kind never give up. They'll hold down three day jobs just to feed their habit." The last thing they'll do is sell the dream clothes, they told me. The secondhand is strictly farm clothes.
| | |
| --- | --- |
| "You know, most of them are a few bricks shy of a load," Rumpled Suit told me. And they started to gossip. Red Nose contended that it was more fun that way, specially when it came to the ladies. He puffed his cheeks and fluttered his shirtfront from up underneath with both hands, referring to a current beauty working the music bars. I could see he was an aficionado, as anyone might get to be in this town. There seemed to be a certain amount of talent on the street. | Nashville Scene |
"Smell that rain?" Rumpled said, jerking his head toward the river. I did, so my honey and I got back on the bus and went to check into our crash pad. Out toward Opryland. You betcha, we had tickets for the 9:30 show, and wanted to get dudded up for the event.

Opryland USA. A Country music theme park in its own precinct, surrounding the (new) Grand Ole Opry itself, in a bend of the Cumberland, well watered with highway access. Tour buses and acres of hot-top where you can tie up the horses. The air is filled with that drawling music and the driving beat. A live band is belting out covers of the classics in a shell, and out of earshot of that, hidden speakers are pumping out your favorite tunes. Dolly and Johnny, Willy and Tanya. Peggy traced the vibes down to fake rocks in the landscaping. Even the stones sing at the Opry.

Lion on door
of Parthenon

The park is a faux-suburb, a shrunk and clustered Greenwich by the Gooseponds, perhaps, with separate estates for the Willy Nelson Hall of Fame, The Grand Ole Opry CD store, junkfood. There's a kewpie contest carny at one end, with a miniature choo-choo ride, and stupid hats and T-s. But kids are beside the point here. This is a mature crowd. I mean we're the kids.

Lining up to get in for the second show we are jam-shouldered with Country fans from all over creation, and if they have red necks, they're hidden under the polyester. And the gray hair. So much for expectations. There are a few loud guys with personal mugs, but the gent in front of us is in a handmade suit, and has a laptop bag over his shoulder. He's busy trying to impress his date by discussing the advantages of retiring to Ireland, or Spain, but she's trading him snoot for snoot. More like chatter at the Metropolitan than at the Grand Ole.
Then we're herded into the new hi-tech Opry, and given the full treatment. Neither of us really know what to expect. I admit it. Daddy didn't sing bass. We came to Country late, barely willing to admit our adolescent flirtations with Johnny Cash, or Roy Orbison.. let alone The King. But, if we were secret Country fans before, on the road we've found that it's the quintessential American music.. and you can sing along. Peggy has a severe case of Lyle-tremens, compounded with Willymania. See the risks you take when you travel. But this Opry thing?

The Grand Ole Opry is one of those live broadcast radio programs that's gone on forever. For a long time it was the ultimate showcase for Country performers, and you hadn't made it until you'd gone out on the airwaves from Nashville. The Friday and Saturday broadcasts are still live from the Opry, advertising and all, and if this is no longer the stud horse in the paddock, it's still alive and kicking.. as the ultimate nostalgia ride. And they put on a.. well.. a heck of a show.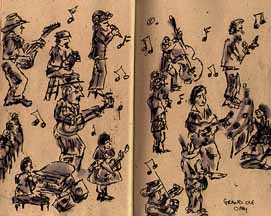 Live Radio
Glitter-suits and big hair, highheel cowgirl boots and rhinestone guitars, slide guitar and dobro. Cajun squeezebox. Fourpart harmony. Cowboy ballads. Lost lovers and Sweet Jesus. DooWah backups. Cornball slapstick. The whole Vaudeville. This is classic variety radio, with something for everyone, and a non-stop presentation. Every 15 minutes there's a new MC, usually some known headliner, who leads off with his own act, introduces and sometimes joins followup acts, and wraps the segment with a tune he/she made famous.. or a hopelessly dogeared old favorite. Ghost Riders in the Sky. Little Bitty Baby.. Born in Bethlehem. Folsom Prison. Schmaltzy Country Classics.

Three solid hours of proven memorable, and utterly forgettable, music.. trotted out by a carnival procession of mutually congratulatory professionals. Grandpa's jokes, Porter's testimonials, Slim's yodeling, Ricky's mandolin picking, and the hair tonic ads, seamlessly stitched together. The staging is radio format laid back, and the grips are militarily efficient. Never a dead mike, or a short chord. Phosphorescent pink suits and sequin slit dresses spin into the kaleidoscope, shimmer, and spin off.

There's a circle of the original Opry stage inlaid center stage on this one, and everyone gets his 15 minutes of fame on it. And we all get to say we've been there. Ricky Skaggs' bluegrass band diddled us out with a jump tune, and we were ushered into the blustery April night, sanctified.