American Sabbatical 81: 3/30/97
Everglades
---
3/30 .. Everglades.
| | |
| --- | --- |
| Easter Sunday seemed like a good day to make some miles, so we put our bonnets on in the Cayusa Campground, and made an early getaway. In fact the pavement was relatively bare, although there's always a heavy breather in the rearview. That's a given in Florida: there will always be a leadfoot leaning on you in the no passing zones. | (After Fiasella) |

The Supper At Emmaus

We followed the endless line of 80 foot tall cement power pylons toward the mainland. It's nice to see all those doug fir poles being outmoded. You can hear the sighs of relief all the way from the Olympic peninsula, but the running fence of hurricane-proof pylons makes the drive to Key West just that much more industrial.

As for Florida City and Homestead, the first municipalities on the mainland, Hugo was an act of grace. Only it didn't wipe them clean enough. Two more soul deadening places it's hard to imagine. Abandoned trailer parks and cinderblock hooches, where men drink and women take their clothes off, are the dominant motif. When we got lost trying to find our cutoff to the Everglades I had a momentary vision of being trapped in Homestead with a boiled Owl and the whole town shut down. I gunned it up onto the turnpike. Better a toll you know than a troll you don't.
| | |
| --- | --- |
| Then the Tamiami Trail across the sea of grass. Highway 41 straight as a die with raised levees paralleling the road, and a canal full of blooming water-lilies steaming alongside. When you could see north and south it is WAS a sea of grass, with wading birds stalking, and family groups waving wands and watching bobbers on the edges. Pitches for airboat rides and alligator wrestling loomed up every couple of miles. There's no billboard law in Florida, which is just as well given the alternative in most places, but here the adverts seemed less overbearing, as if this immensity of marsh was loud enough to drown any human huckstering. And the signs were often falling down, the tourist traps baitless and boarded up, the airboats rusting quietly. We only saw one canal branching into the swamp where there were outfits with those huge caged propellers in obvious use. Do you suppose people have finally figured out that roaring past at umpteen miles an hour isn't the best way to experience a wilderness? Or have they been superseded by jetskis? | (After van Cleve) |
| | |
| --- | --- |
| (After Mainardi) | We crossed into the Miccosukee Indian Reservation and more trees began appearing. Young cypress poking up and fronding out. Now the road was lined with thickening woods, often covered with bushy epiphytes, now shouting with scarlet blossoms. Through the trees we could occasionally see thatched roof buildings alongside contemporary bungalows. The farther west we traveled the bigger the secondgrowth cypress got, more intermixed with hardwoods. More black buzzards, evil dark-headed leathernecked things, hopped and flapped on the roadside, exclaiming over the raccoon delicacies. Sarcophagus Macabre prototypes. Signs proclaimed panther crossings, but they weren't following instructions. Two big lolling alligators in a ranger station pond was all the megafauna we encountered. |
The Owl turned north on the edge of the preserve and bisected the Big Cypress Swamp. There was a subtle shift going on, from the tropical vegetation we'd been overwhelmed by these past days, back into the pine and palmetto province we'd encountered in Georgia and Northern FLA. It was still cypress swamp, full of butterflies and wetfooted unfamiliars, but you could sense the land rising, starting to drain.

By Imokalee the drainage had been engineered with a vengeance, and another agribiz empire had churned dust over everything. Imokalee is right up there with Bakersfield and central Illinois for the ooglie award. Reclaimed deserts, prairies, and swamps being mined for groceries are not pretty pictures. And the migrant labor ambiance doesn't make you want to sing like Woody. Everything looks worn and secondhand. A few women in Sunday dresses coming out of church. A lot of men standing around or walking the shoulders with tired faces. All you will call them...


Monk

Prelate

But, put that out of sight, get onto the golf links. Twenty miles farther on the flats have been transformed into greens and sand traps, and the boys are wearing white shoes and carrying their staffs of office. Try the 9-iron, George. We were reentering coastal Florida, the Grand Codgerdom. Fort Myers, beside the Caloosahatchie.

Of course you have to wade through miles of malled suburbs in stuccoed pastels before you can plunge into the metropolitan deeps of Fort Myers. The claims to fame in this burg are the winter palaces of Ford, Firestone, and Edison, and we passed them in review as we paraded down an avenue of palms leading to the better neighborhoods. But after Imokalee we didn't have the stomach for tours of the rich and famous. We tried to find the amenities of downtown, but Fort Myers is like Oakland.. there's no there there. We couldn't even find an alternative to the chain chow houses. Our introduction to the Gulf Coast was proving inauspicious.
We were hot and frazzled, and resigned ourselves to the strip across the river, a motel with a phone jack, and a heated pool. We supped in a franchise joint next door, and were the kids at the party. The place was liver-spotted and palsied, and all dressed up for Easter. But it was cheap. Those oldsters scrimped and saved for their retirement, and aren't going to blow it all at Hog Heaven.

Peggy and I played tagteam with the laptop. One problem with camping is you tend to fall off the log without AC power and lights.. not to mention phone hookups. After three days offline we had a pile of mail to respond to, and a whole lot of wind to bag up. Huffa Chuffa.


Knight
---
3/31 ... Sarasota.

Trying to stretch out the miles now. Get out of FLA and into saner latitudes. A good scalding in March makes North a preferred heading. But there's a lot of Geezerland between there and there. And strip malls.
| | |
| --- | --- |
| We've avoided the super highways all across the USofA, to spare the hypno and not spoil the landscape, but it's a tossup which is more deadly down here: highway or byway. Rt 41, the Tamiami Trail, from Ft. Myers to Sarasota is uninterrupted miracle mile. How many WAL*MARTS does the Sunshine Coast really need? Or Badcock Furniture Outlets? Food Lions? Chevy dealers? | Glances |
| | |
| --- | --- |
| Gorilla | What happens to your sense of place, if you grow up in this environ? Do you become a Nowhere Man? Or do you feel at home anywhere in the great burb of America? I'd expect more raging non-conformity in costume, or wheels, or something, to maintain one's sense of identity here. But it's the bland leading the bland. Peggy keeps telling me to stay calm. Not to act out. Even the automotive rudeness is pro forma here. A glazed-eyed aggro. Has everyone's brains been addled by the unrelenting sunshine? Wooh. |
We were shooting for a couple of targets in Sarasota. The Ringling Museums and a piece of Dionart in a restaurant. The long mall fades imperceptively into Sarasota, another town bought and paid for by illusionists. The circus is always in town here. The Ringlings made this the winter quarters for their railroad circuses, and invested in public amenities, and private collections.. now on display.
---
(Memo #73)
March 31 Ringling's Museum

Who? John and Mable Ringling

What? fine arts museum, circus museum

Where? Sarasota, Florida

When? 1920's and 30's

How? built great fortune and became patron of Florida's Gold Coast

Topics: art collecting, entertainment industry, circus

Questions: How did Ringling make his money? Why and how did he create an art museum? How does the art museum reflect Ringling's personality and values?


Circus Lion
| | |
| --- | --- |
| | "Ringling Brothers, Barnum and Bailey Circus" was one of the first long phrases I learned to say. My family saw the circus in New York City, driving in from the country. When I was ten, coming out of ether nightmares after tonsillectomy surgery, I heard odd shouts and clomping outside my New York hospital window. I got to the window, looked down, and saw elephants and wagons and people in peacock feathers and sequins. The circus parade was lining up in the street, just for me! Madison Square Garden was a block away. At one point I decided I wanted to be a trapeze artist and I practiced endlessly on a small tree swing in our backyard; I had no idea where to go from there (no career guidance, although I knew that star David Nelson was a trapeze artist). Some years later I met a young journalist at a party and he invited me to go to the Ringling Brothers circus on his press pass. We did, and that circus date has lasted 28 years. Now we are in Ringling's home territory. |
| | |
| --- | --- |
| John Ringling was one of five sons (Albert, Otto, Alfred, Charles, John) of August and Marie Salome Ringling of Baraboo, Wisconsin. Although he is identified with entertainment, he always identified himself as a "capitalist" and built his fortune by financial investments in a number of fields: ranches, railroads, oil, real estate. Whatever he did, he did in a big way. By 1925 Ringling was one of the twenty wealthiest Americans. | Circus Wagon |
| | | |
| --- | --- | --- |
| | "Approach a circus in the spirit of throwing away age and becoming a child for an hour or two" - John Ringling. | |

Courtyard at Ca d'Zan

The brothers founded a small circus in 1870 which they expanded, buying Barnum & Bailey's circus in 1907 and the American Circus Corporation in 1929. Ringling bought his brothers out and by the 1930's his circus empire alone employed 3500 people.

John Ringling became the patron of Sarasota. He spent millions to build the causeway, he paid for landscaping and statuary throughout the city. He planned a residential area and organized the School of Art and Design. His museums and mansion (Ca d'Zan) were laid out on a huge property by the bay that was obviously intended to be the centerpiece of the city. A college center for the arts abuts the museum property. Ringling gave his art collection and entire estate to Florida.

| | |
| --- | --- |
| Ringling and his wife became serious art collectors in the 1920's and 30's, buying 74 Dutch painting in twelve years. One description of Ringling said that he was drawn to Dutch values shown in their art that combine a glorification of capitalism with a sense of "respectability and pious restraint" (though the last hardly describes the visual world of the circus!). He felt a sense of noblesse oblige, he and his wife consciously planned and built their legacy. So many American moguls created legacies for the public: Carnegie with his libraries, Stanford with his university. The Ringlings bought European art, primarily Medieval and Renaissance. French, Dutch, Flemish, Spanish, and Italian masters are represented in their museum. | Athlete |
| | |
| --- | --- |
| St. Gregory | Vincent Van Gogh fantasized about a city matching a building and a room and the frames around his pictures; Ringling came close to attaining this. Having built an art collection, Ringling hired architect John Philipps to design the museum to house it, a building designed to frame specific works. The art museum is huge with high ceilings and many classical details. Twenty-one galleries form a "U" shape that surrounds a long formal garden with statues and groomed flower beds, covered galleries edge the gardens. At the end of the garden is a raised terrace with a view of the water. A line of statues tops the museum. |
The most famous paintings in his collection are five huge "tapestry cartoons"
(perhaps 8 feet by twelve feet each) by Peter Paul Rubens that use allegory and history to create huge complex scenes. "The Four Evangelists" shows larger than life figures each with many symbolic details - the ox for St. Luke, the lion for St. Mark, cockleshells at the bottom to symbolize resurrection, a fruit cornucopia to show sustaining abundance. Philipps constructed a gallery space around them with columns and details that derive from the paintings themselves.


Jesus in the Garden of Olives
| | |
| --- | --- |
| Interior Courtyard | The smaller galleries house art by the century and area - Seventeenth century Italian, Eighteenth century French and Italian. I found myself drawn to the beautiful faces in the works by Bassano and van Cleve, and to the rich religious groups of the Renaissance. A special exhibit showed Dutch baroque Portraiture. Two richly decorated rooms from Astor's New York mansion (designed by William Morris Hunt) were transported entirely to the museum and show the "American renaissance" in interior design. |
| | |
| --- | --- |
| It is ironic that, while Ringling chose to be memorialized as a European arts collector and patron, the state of Florida built a museum extolling his circus success after he died. Perhaps this is why the circus museum seems half-realized, several large rooms full of bright circus wagon and costumes and a diorama of a whole circus camp. In a small open workshop volunteers carve from circus models. The bright gilded woodwork of the wagons and props, the sequins and glitter of the costumes hint at a Ringlingworld possibility (visitors could try circus tricks, see performances?). There are photos of famous circus performers and a case full of the props of clown Emmet Kelly. The diorama of the circus city and parade is surrounded by several excellent displays on circus life. The "rolling city" of 142 wagons required a huge number of people, from busboys for the cooktents to animal trainers. One cook wagon exhibit explained the work of preparing three meals a day in 45 special steam kettles (135 food people by 1945). The cook wagons moved at night so that meals would be ready at the next site). Another area showed the blacksmiths who did all the circus' iron work with traveling forges. The first electric welding machine was provided for the preeminent woman blacksmith. | Clown |
---
3/31..cont

Renaissance Prince

The Ringlings' taste in art has much of the flavor of circus hype. Huge tapestries, baroque excess, big names. Very American, too, the impresario imperative. Makes you wonder what those Renaissance men would have done with railroads and elephants. How does the Sistine Chapel compare with the Greatest Show on Earth?

O gees, I'm in the soup now. I know there are fellow travelers who think Renaissance art is the nuts, but, folks, it doesn't do it for me. Too many tangled anatomies the size of billboards. It's what I'd expect from a Barnum, or a Ringling. And you know what P.T. said.
| | |
| --- | --- |
| To perfect my prejudice against the grand gesture, there were some absolutely breath-taking statuettes and small carvings in the collection. Poses and faces that froze me in meditation and admiration. Peggy and I both got lost in sketching again, and some hours later found one another limp with immersion. My museumitis is as much a result of empathic sensory overload as it is discomfort with the enshrinement of art, grumble as I may. | Cloaked |
After being disappointed by the scanty displays at the Circus Museum, Peggy chose to go back for more sketching in the art collection, while I stayed out in the sun to broil, and did a colored sketch of the Spanish gate to the estate.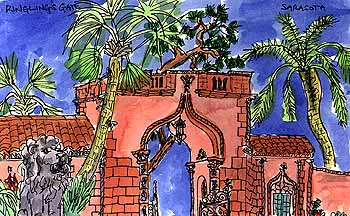 Ringling's Gate
Then we circled back around to the bridge to Longboat Key. One of our E-companions is Dion Wright, sculptor emeritus of Flagstaff AZ, and he's been sending us site locations to investigate. Said he had a piece in a Chart House Restaurant on the Key.
| | |
| --- | --- |
| Dion Art | It's fun to go barging into a place with a camera and ask the management where the famous sculpture is. They probably haven't looked at the art on the walls in years. And it's damned good art in the Chart House. Someone with taste, and bucks, did a thoughtful job of choosing it. Dion's brazed leaping tarpon is a grand fish, and you can look past it out huge window walls out the pass and onto the Gulf. We counted coup with Kodak and backed out gracefully. |
| | |
| --- | --- |
| When they stomped on interior Florida, this is where the money squeezed out. The prices on the menu are scary, and the affluence tiled up and stuccoed along the shore makes you realize how very wealthy we are as a country. West Palm is the gold coast, to be sure, but these silver linings seem to follow the coastline for miles and miles. The Fords and Firestones were the rare capitalist princes of their day, but now we are a land of princes.. and promises. Some get to be one, the rest get the others. | Boy |
| | |
| --- | --- |
| Stone sneer | We got stuck in a traffic jam headed north along the silver coast, but there was a public beach next to the road, so we pulled off and barefooted up and down the crushed-shell littoral. The amazing pale green waters were frothed up in a churning turmoil by an onshore wind, and we were content to dig our toes in the middens and shout at each other over the surf. It was almost cool enough to put on a shirt. |
| | |
| --- | --- |
| Eventually we tired of these luxuries, and made footprints for St. Petersburg. And, joy, the 11 mile causeway to St. Pete is capped with a slick new bridge. If the Talmadge in Savannah is the HAHA bridge, this Sunshine Skyway Bridge over Tampa Bay is the IAIA bridge. Another non-catenary suspension structure, instead of having two great H towers straddling the suspended roadway, this one has two monumental I-s with the decks arching outboard of the A-line suspension cables (in Florida blue). | Carved lion |
| | |
| --- | --- |
| Text | From the south you approach along a curve, and can gape on the engineering in profile, then you climb up headon, with only the single vertical structure in view. As the massive cables (more like rigid pipes) fan into sight to one side of you, it's very weird to look the other way, up the bay at ST. Pete and Tampa, without being enclosed in a web of engineering. Like standing on the edge of the GW or Verrazano, considering a leap. In Petroski's book he warns that bridge engineers always push their designs beyond the envelope of proven experience, and it takes a catastrophe every generation to keep them honest. And he predicts that these modern wonders will have their Galloping Gerty within 30 years. We tiptoed over and found lodging in St. Pete. |