American Sabbatical 80: 3/29/97
Key West
---
3/29.. Key West.
| | |
| --- | --- |
| Exotic birds and small children cried the sun up on Key Largo. I took my color box to capture a canalside cottage while Peggy did laps in the pool. Here we were at the last corner of contiguous America, drenched in sunlight.. and a thin sweat.. before 8AM. And the highway was still roaring. | Banyan Tree |
The message on Abbie's machine said she was working another long day, and wouldn't get time off until Wednesday, so this teacher-student reunion isn't going to happen, and we get to roll the dice again. We could pack the Owl and take our chances on another pitch out by Key West, but considering how hard it had been to get accommodations last night, betting on a berth in the Keys on Easter Saturday was long odds. We decided to leave our tent here and do the 200 mile roundtrip before they close the gate. Another flying tour.

Can you see ALL of America in 8 months? No. Just get quick glimpses of the passing parade. Everywhere we go there is more to see than we can possibly encompass, and the messages we get back from our fellow E-travelers often start: "What? You didn't see..." We are resigned to the quick sketch, the short take, the brief taste. Part of this ritual, this squeezing everything we can remember out into E-grams, is to empty the sponge every day so we can soak as much as possible up the next. There are places we could happily linger indefinitely. Galiano Island, San Francisco, Granite Creek in the Tetons, Flagstaff, Charleston.. and Key West. But, oops, gotta go. We pretend we're window shopping. We'll come back to this place. Well, maybe, but... gotta go.

We nosed out of the lush vegetation into the sizzling mayhem of Rt. 1.. the Overseas Highway. Already cheek to jowl and hellbent for holiday-making. Redfaced moms shouting over their shoulders at squabbling offspring, tires squealing at the green lights as machomen in Blazers jockey for the fast lane, Monroe County Sheriff's deps doing stop and frisks on the shoulder (young dudes in manacles.. for being smartmouth?), Winnebagos weaving lane to lane, and rubbernecking vagabonds in a red Festiva.

The jolts along this alley can turn your head around. Down the center of each key the highway runs a gauntlet of sandal and T-shirt outlets, dive shops, shell stores, minimalls, sunglasses emporia, and purveyors of other necessities. At the ends of the islands you look out onto pastel waters to far horizons. Garish hustles in cinderblock outlets punctuated with explosions of flowers and profusions of palms. An hundred mile strip mall down the middle of paradise. Another caricature of America.

Key Largo. Plantation Key. Upper Matecumbe Key. Lower Matecumbe Key. Fiesta Key. Long Key. The air cooling as a sea wind stirs the fronds and roughs up the pale turquoise. Sport fishing boats are whomping up the channels, their poles and antennas whipping the sky. Indian Key Channel. Channel Two. Channel Five. Guys with rods and buckets line the waters edge. Old black men in straw hats, young tourist kids in logoed billcaps, family groups getting out of rusty beaters, tanned sports with gold chains unloading fancy tackle from Broncos. The old tressels and causeways of Flagler's Folly are now no-rent fishing platforms over the rich brine. Long Key Viaduct. Conch (KONK) Key. Grassy Key. Key Vaca. Marathon.

Henry Flagler was the genus who invented Florida as we know it. He constructed railroads to Nowheresville, built hotels on the beach, and sold surrounding shorefront for millions.. and vacation excursions to millions. He dreamed of extending this commercial idyll all the way to Key West. Out where the daytime temperature varies between the low 80s and the high 80s year-round. But the big winds in Hurricane Alley tore up his schemes. Now sections of railroad bridges parallel Rt 1, some are isolated perches for pelican and shags, others a poor man's Boardwalk and Park Place.

The Keys are nothing if not democratic. The three state parks are low budget entry, and if they are full up or still too dear, you can just pull off beside the mangrove thickets and find your way to the water. Public boat ramps, paved pull-offs, and Flagler's Folly.

Seven Mile Bridge. A road between sea and sky. A view to forever. Just getting there IS there. Ohio Key. Bahia Honda Key. Great beaches at the park, or at the ends of the island. Spanish Harbor Key. Big Pine. Traffic beginning to slack a bit as the daysports peel off for their favorite spots. Millions of dollars of fiberglass toys rocking at their berths, jetskis buzzing on the edge of hearing. Ramrod Key. Summerland Key. Just a hint of military presence, down here near Castroland. Fat Albert, the monstrous white tethered radar blimp is visible for 40 miles, hanging in the sky like a hi-tech kite. The odd helicopter gunship chuddering along the Straits of Florida.

Cudjoe Key. Sugarloaf Key. We were feeling caffeine deprived, so we wheeled into Coco's Cantina along the strip. Faded linoleum decor, busted shell art and neon beer signs, old stuffed fish. Two wellfed Nicaraguan women delivering groceries, and a 10-year-old boy clearing and setting up. Tables and a long bar, with as raffish a crew of regulars lined up as you could get from central casting. Faded flowershirts and longbilled caps, treadbare shorts and flipflops, frizzled hair and milky eyes. In for their morning wakeup at 11AM. This IS the last waystation on the road to Manana. We were slowed right down to a slow amble.

Boca Chica Key. Salute when you say that, sailor.. and Key West. Last stop. All out. One end of town basic automall, all the above poured out the end of the pipe (and all the H2O comes that way, too). But the rest of the island has a terminal case of the quaints. Hold onto your wallets, kids.
| | |
| --- | --- |
| We actually made a wrong turn and found a shady parking spot on the fringes of the tourist attractions. We wandered among charming cottages with our sketchbooks cocked and our eyes loaded. Tropical plantings, vivid blossoms, balconies, courtyards, louvered shutters, striped awnings, old schooners, scenic flotsam, playful paintjobs, your dream of a Carribbean-American town. | Key West Cot |
| | |
| --- | --- |
| Duval Street | We were hunting for Hemingway's house, but we had to navigate the length of Duval Street before we found it. Headshops and chain art galleries, tie-dyed rainbows and designer chics, street hustlers and watercolorists, processions of purple rented scooters buzzing, tourist trolleys belling and broadcasting guided recitations, tacky trinkets.. and T-shirts. MEN ARE LIKE FLOORTILES: LAY THEM RIGHT THE FIRST TIME, AND YOU CAN WALK ON THEM FOREVER. A poet's town.. or maybe a novelist's. |
---
(Memo #72)
March 29 Papa H's Place in Key West

Who? Ernest Hemingway

What? longtime home

Where? Key West, Florida

When? 1929-1951

How? bought, renovated, modernized house

Topics: 20th century literature, Ernest Hemingway

Questions: How central was Key West to Hemingway's writing and life? What books, stories, themes derive from his years there? Is the Hemingway House a
preservation or restoration?


Papa's Room
The southern most point in the United States is Key West at the end of an incredible highway that links key to key and sandspit to cay for about one hundred miles. The large town of Key West (the last key on the highway) has drawn people who love sand and sun and fishing for decades, perhaps the most famous of these was Ernest Hemingway. He made it his principal home for over twenty years.

In places there is only fifty feet or so of land on either side between the highway and the water. The biggest key is only a mile or two wide and you are never out of earshot of the highway. The long bridges sweep you up and over channels and cuts - you see green and turquoise and every shade of blue there is in the water and the sky. Small boats dot the endless sea. The sand is fine and white, the vegetation is low: mangrove and shrubs and some palms and pines and mahogany and many flowering plants. The houses are pink and yellow and blue and white.

There is basically Route One (the strip) and back lanes, and the traffic was bumper to bumper. The strip has six million T-shirt - beachwear-sandal stores, six thousand scuba shops, and assorted shell art stores, marinas, boatyards, restaurants.
To be honest, much of the Strip is ugly and smelly, but there is always a gorgeous view coming up at the next bridge and lovely Key West at the end of it all.

The keys are democratic, you see resorts with lush lawns and private beaches and palm shade, and endless trailer parks with ten feet between airstreams. There are two state parks with waterfront camping and trailer-camper-tent parks like the one we found (we were told it was "lovely back just a few years ago"). Fishermen's shacks with huge piles of rectilinear wooden traps back on huge pink haciendas with crushed shell drives and waterfront piers. Every bridge has a boat ramp adjacent to it and day trippers fishing on it. One key has a refuge for the tiny species called key deer. We saw and heard an endless series of birds. They line the telephone wires, nest on the big electric towers, stand in the shallows and serenade you from every tree and shrub.

Key West resembles many sea front tourist-focused towns like Kennebunkport or Edgartown, with cottages and hotels and boarding houses and huge manses on streets and tiny lanes. Key West is all in wood with verandas and shutters and gingerbread. The vegetation has gone wild, vines and flowering shrubs everywhere, much lusher than in the other keys. The downtown features souvenir shops and jewelry and more T-shirteries.
Papa Hemingway's large house sits in a huge lot on a streetcorner in downtown Key West surrounded by a high wall and lush grounds. The palms and banyan trees give large areas of shade. There are curving walks and endless nooks and crannies with wrought iron furniture.. and cats. Cats are everywhere - on the small lawns, in the ivy, under trees, on the verandas, by the pool. Tabbies and tortoiseshell, five and six-toed. Visitors are warned to keep off the catted grass (you need to watch your step on the walkways too). All are descendants of Hemingway's numerous felines (he had 65 or so in residence at any one time!). They all have literary-VIP names - Archibald MacLeish, Truman Capote, Ezra Pound, Marlene Dietrich (recently deceased). The staff keeps the population stable by selective spading, and names the offspring. They now eat 40 tons of catfood a year, but Hemingway - remember - had lots of big fish from his expeditions to feed his kitties! The original feline was from Sloppy Joe's a bar in downtown that Hemingway frequented.
| | |
| --- | --- |
| The steep entrance fee gets you a tour (with amusing nonstop commentary) of both floors of the large 1851 house plus grounds plus the carriage house attic where Hemingway wrote. It is a stone house with high ceilings and floor-to-ceiling windows. Many of the furnishings are original. There is a wide veranda all the way around on both floors. Downstairs there is a huge livingroom, diningroom, and kitchen (with original fixtures including a truly wonderful antique 1929 GE refrigerator). Upstairs is the huge master bedroom, two smaller bedrooms, and an ornate bathroom. | Papa's Writing Tower |
| | |
| --- | --- |
| | The house (from the days before water was brought over by aqueduct to the keys) has its own cistern system. Hemingway's writing place is a large dormered room overlooking the pool with stuffed big-game heads on the walls, bookcases, large easy chairs, and the central writing table. He went there every morning from the main house across a second story catwalk and wrote until lunchtime. He was a slow careful writer. The guide said his spare style meant that you cannot take a single word out of his sentences without making them confusing. |
Some of the objects are delightful - the conquistador's sea chest in the master bedroom, a scale model of the boat from The Old Man and the Sea under a picture of Hemingway and Senor Fuentes (the actual old man who just turned 101 !!). The 18th century Spanish diningroom set has original leather on the chairs and a place behind each to put your sword. Photos of Hemingway in Paris, lying wounded in World War 1 (he was the first American wounded on the Italian Front where he worked for the Red Cross), with various luminati; photos of his two sons, four wives, friends. One bookcase (locked) has first editions of all his books. He had a liquor safe (a "tantalist") that literally kept his prized alcohol under lock and key. A Joan Miro painting called The Farm used to hang over the master bed but is now in the Museum of Modern Art in New York.
| | |
| --- | --- |
| And there's the porcelain cat. Somewhere after Hemingway died and the house was sold and the new owner bought it and died and it became state property, the porcelain cat was found in several pieces in the cellar. One of Hemingway's wives came to visit and was asked what it was. It was a PICASSO, she " remembered when Pablo have given it to Hemingway"! The cat - nicely repaired - lives on top of an armoire. | |
| | |
| --- | --- |
| Marlene's House | The house is roomy and comfortable and homey. Hemingway and his wives spent care and effort creating it. Also money. The 1937 pool (the first in the island, supplied by water from a 165 foot well) cost $20,000 mainly in human labor (the house itself cost him $8000). When Hemingway heard what the "surprise" cost him, he gave his wife "his last penny" which is cemented into the walk near the pool. A marble pissoir from Sloppy Joe's is a cat drinking trough underneath a fountain (Papa H. said he deserved it since he had ----ed so much of his money away in the bar!). The bricks on the walkways are labeled "Baltimore"; apparently as U.S. cities switched from brick and cobblestone to asphalt, the bricks and stones left cities as ballast on boats bound for the keys. Some of the Key West bricks may have originated in the brickyards in my hometown of Bowdoinham, Maine! |
The Key West home was central to Hemingway's productive life. 70 % of his published writing was done here.
---
3/29.. cont.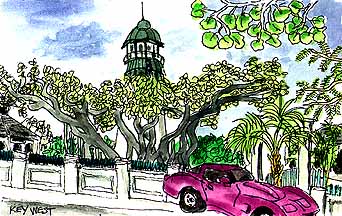 Key West Light
We had one more quest in Key West: the ultimate Key lime pie. Having sampled our way down the coast, we now had to ascertain if the best Key lime pie IS to be found in Key West.

O my, yes. In fact Key limes are a different fruit. Tiny, soft skinned and more succulent than your ordinary lime. We sniffed around a couple of vendors, but finally had to try the wares at The Key Lime Company, purveyor of the finest in pies. And they spoiled it, of course. We'll never be able to eat Key lime pie elsewhere, because it can never be that good again. Here at last is the explanation why people give up searching for ineffables when they reach Key West. Why they pawn their long clothes and take up lolling. We'd found IT. The perfect Key lime pie (refrigerated almost to the freezing point, I might add).

All we could do was throw off our clothes and jump into the waters at the southernmost beach in America. And bob about in the hot salt bath. Holloweyed beach bums with disheveled faces sleeping in the palm shade. Come to the end, and eaten too much pie, I guess.
| | |
| --- | --- |
| I was ready to let go of all the hectic striving, too. We asked our way into the lower rent district (nothing we saw was wearing emeralds), and found a used clothing store run by an Elvis impersonator. I swear. Peggy picked out a pair of highcut shorts and some sandals for me. I feel like a damned fool in shorts and sandals. Like I'M impersonating someone, but this is Rome. Pass me that fiddle. | Matched Pair |
I was now garbed for the life. And got a taste of its possibilities. Twice in that rag shop I came face to face with women who'd taken their clothes off. My god this is too sybaritic for me, even in shorts. I rushed to the Owl and we scuttled back up the Keys. I'm simply not ready for Margaritaville.

Peggy was bemused by the ambiance. A couple of frosted Northrons, way out of their element. We had to jump into the salt water repeatedly, Gulf and Atlantic sides, on our way to Key Largo, to cool our brains. Got back to hibachi hangout just as the sun was reddening down into the Gulf, and we gratefully crawled into our tent. All the way to paradise, and back. And to sleep by salsa music and the highway roar.