American Sabbatical 052: 11/14/96
Getty
---
11/12-11/14 .. Los Angeles.

Our first day in the City of Angels was a teaser. Mild, sunny, only a hint of smutch. You could sea the blue Pacific beyond Santa Monica from the modern pueblos on the mountains. We even ventured into Nina and Bill's unheated pool.. for a gasping moment. The ravens were courting in love spirals over the canyons, and the big raptors hovered above as we lolled in the warm sun. Tuesday morning LAX was socked in with a cold fog off the sea and the air was clingy on the upslopes. Wednesday was even jacket weather. And the days are starting to bleed together here as we grope about in the humidity.
I'm totally disoriented. Even after three days of driving back and forth and around and about, I have only the crudest map of this metropolis in my head, and as soon as I'm out in traffic I'm lost. Matters aren't helped by the intense hustle of traffic. The pace is hard and fast in New York, but it's like football on a gridiron. Once you know the rules, it's almost fun to play in traffic. Here the intertwined maze of arteries and the hardcharging abandon of Angeleno drivers gives you whiplash without collisions. I actually woke up Tuesday with a sprained neck, and had to drive like a turtle. The Owl is squeaking with uncertainty, but you wouldn't know by the outside audio that you were in megalopolis. Nobody honks, and only the rare siren assails the airwaves. Only the hurtling streams of gleaming horsepower braiding around you tell the tangled tale: this is the big time, stranger. Keep up or get cut out. So you sprint to the lights and try to guess the next turn.
| | |
| --- | --- |
| Siren | And it got to me. Gallery anticipations gone sour, auto-anxiety, the bedeviling busy-ness, and a cold fog, gave me a case of the grumbles. Lucky there was no dog to kick. Actually there were lots of dogs to kick. These Angels are animal lovers, and the intown-suburban plan means there is roverturf and catprowl for all. Dalmations appear to be the chic beast, although I saw at least one leopard-spot hairdo (does that count?). If the American Dream is a plot in the burbs and a detached domicile, LA has made it possible to live the dream downtown. It's startling to confront highrise cityscapes towering out of the endless bungalows, every mile or so, though. Santa Monica, Hollywood, Burbank, Pasadena, Culver City, Glendale, etc, are all skyscraping archipelagos of steel and glass rising out of residential seas. As if your local mall was Cedar Rapids. |
But what really pleases the dogs are the trees. This sprawling metroburb has the most glorious trees. Streets and Boulevards, Drives and Lanes are lined with single species, so you will crackle through an overarching maple autumn (yes, LA is finally getting around to "fall"), turn into a processional way of fat-bolled feather-palms fanning overhead, round a corner and wind along a sculptured linden promenade, get lost and find yourself hunkering along under lines of 150-foot coconut palms. Sycamores, coral trees, pines, eucalyptus, and parades of unfamiliar glossy greens and fuzzy needles. And lurid vegetation bursts at you from every cranny, fragrant with flowers. A city that blooms in November might even cure you of the grumbles.
| | |
| --- | --- |
| Now don't get me wrong. This isn't Eden West, although you might think so, high up the canyons. Down in the flats there's plenty of sorry looking turf, and a homeless population that would rival Dubuque. And terrify her. Bicycles and shopping carts are the transport of choice for your discerning beachflopper, and no shorefront neighborhood is free of idle campers pushing their wheels. Maybe life IS too complicated. A warm beach, a jug of wine, and thou? As for East LA, we didn't. | Getty Detail |
Peggy went to court, though. She spent a day with Aaron at Juvie, while I went down to Venice to get an eyeful of the wild side. On a foggy noontime in midweek it looked like the AM side of any local bar district. Redeyed, unshaven, plainspoken, and smelling of old suds. I didn't stop in for a waker-upper. I just rolled on in the fog, and got turned around among boat basins. Billions of dollarsworth of fiberglass and aluminum bobbing in slots in the heart of Cinema City. Yachts are like house pets in two-worker households. They spend most of their time waiting for some attention, are eager to get out, and sometimes make an expensive mess. The hired crews were enjoying morning cappuccino in their topsiders and deepwater tans, while massa was off toting his bale. Maybe there is some justice.
Waiting for Peggy, I walked around in Beverley Hills for a bit, but quickly realized I was an object of curiosity. Nobody walks in LA. Jog. Skate. Exercise the dogs. Yes. But just amble along looking with interest? What's wrong with this picture? The only other pedestrians were anxious elderly women and latinos in uniforms waiting at the bus stops. When the private security cruiser came around slowly the third time I headed back to the Owlshade. The private cop cars have a full light array on their sleek black horsepower, with ads for "Instant Armed Response," and 800 numbers on the side. Makes you feel a lot safer, don't it?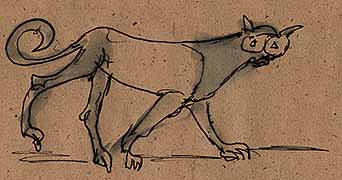 Vase Creature
The ultimate question of security slips just below the surface all along this coast: what about THE BIG ONE? We were repeatedly told that the last major quake, "Really scared me." David in Santa Barbara paid to have boulders removed from the public lands above his house, and wants to move to a less vertical locale. Maureen boasts that lining their pool with tiny blue tiles makes it easier to repair after the earth moves. Nina gets hyper-anxious when she sees water gushing out the hillside near home. Maybe aggitatus angelenus is a perpetual state of pre-quake jitters. Living in Edge City may feel like being at the center of the universe, where it all happens first, but that may just be the psychic upwash of epicentrality. Woah, what's that shaking? Whew, it's just the dryer.

Our time in Tinsel Town was spent mostly with family and old family friends, so the days were a mix of personal intimacy and public alienation. Warm welcomes and get out of my way asshole. Street dress may be I-am-casual, but keep out from underfoot. The only public places where strangers aren't likely to get trampled are the tourist venues, if you can find parking. We had toured the big sights in a previous incarnation: Disneyland, Universal Studios, the Hollywood stuff, so we avoided the cattlecar experiences and park-by-the acre. At the Getty in Malibu you have to call days in advance to book a parking space. Up in Pasadena at the Norton Simon the lot was empty at 11AM, and SRO by noon. One thing about LA, don't expect it to be open before 11, and don't expect convenient parking after. Angelenos spent most of THEIR days hunting a place to park.
Despite my severe case of museumitis we had to DO a couple or be branded total Philistines by kith and kin. You begin to realize that certain institutions depend for their survival on being the place you send visiting relatives. Without these cultural venues cities might be mistaken for soul-less hives of commerce, and robber barons would have no places to endow their redemption. The comic irony of a marble bust of J. Paul Getty, a saggyfaced capitalist in jacket-and-tie, among the heads of Marcus Aurelius and other Ceasars must be lost on today's high and mighty. The 19th century convention of posing your great men in toga and sandals at least had the distraction of anachronism, this Getty among the Greeks and Romans is simply absurd.


At the Getty
(Bryce)
But I'm torn by the museum experience. Getty recreated a Roman villa, which had been buried by Vesuvius, on the quaking slopes of Malibu by the sea, and it's a splendid refuge from the automoted tremors of LA. Aircraft on final for LAX and the rising roar from the Pacific Highway somewhat dilute the antique Mediterranean ambiance, but you can close your ears and bask in the refined elegance of those ancient times. Pillared atria, reflecting pools, formal gardens of sculpted shrubs and trees, geometric wonders of inlaid marble, noble but human proportions to buildings and courtyards, lifelike mosaics, bronze and marble statuary everywhere. You realize how much Italianate styling has informed the California look, down to the least bungalow. And how much "Spanish" architecture derives from Rome. Sneer as I may, the chance to stroll for half a day through a semblance of antiquity does ease your spirit and give some perspective. The Greek statuary, in particular, reminds me that the beauty of human form isn't about crotch-hugging bodysuits, exercise machines, and all that tumescent perspiration at the beach. No one has shaped lasting expressions of the human spirit better than the Greeks. Thank you, Mr. Prissyface.
| | |
| --- | --- |
| Vase Details | The Getty also has rooms full of decorative embellishments, baroque and beyond, which are startlingly out of place. But this will be cured when the collection moves, next year, uphill to the lamasary on high now rising on canyon walls above the Santa Monica Freeway. The villa will reopen in the year 2000 with strictly Greco-Roman antiquities on display. I'm glad this place will still be accessible for those who need respite. It has all the magic of the Cloisters in NYC, or the Isabel Stewart Gardiner in Boston. I now understand why Paul Monette came here so often in his last days. |
After sampling the gilt jangle and the requisite Impressionists upstairs, Peggy and I became immersed in sketching details from Greek pottery. Mythic personifications, and comical cats and dogs; heroic figures, and owls at hoot. I felt my eyes opening again amid these old messages, where the sensory bombardment of Los Angeles had shut me down like a periwinkle in a storm. And the sun was breaking out again.
---
(Memo #45)
Nov. 15 - Roman Villa in Malibu

Who? J. Paul Getty, billionaire oilman

What? Art museum in replica of Pompeii villa

Where? on coast, Malibu, California

When? now

How? copied villa in area he felt was like Mediterranean to house art collection

Topics: Getty Museum, Roman and Greek art, philanthropy.

Questions: What makes an effective museum? Can ancient buildings be effectively reproduced in different settings for modern purposes?


Getty Museum
Today we spent the day in a Roman (actually a Pompeiian) villa with a parking garage underneath and climate control within on the Pacific Ocean in Malibu, California. The villa was the creation of J.P. Getty a billionaire oilman who died in 1976. Getty was a brilliant businessman and art connoisseur who amassed an incredible collection of artifacts (statues, paintings, manuscripts). He built a replica of the Villa dei Papiri (found at Pompeii) on 65 acres in the oceanside community of Malibu on the border of Los Angeles to house and display his art collection. He felt Malibu resembled the Mediterranean and landscaped the museum with plants thought to be from the Mediterranean region of two thousand years ago. There is very limited parking so that you need to make a reservation, but there is no entry fee.
| | |
| --- | --- |
| Long Pool | The building is spectacular! The first impression is of symmetry and simplicity, then you notice the details. Intricately patterned marble floors, painted murals on the outside walls, lovely sitting nooks, tiled roofs. Patterned on the Roman plan, the building has modern conveniences cleverly (and unobtrusively) integrated. The lights, for example, are electric but are in authentic Roman lantern form. The garage is beneath the garden. The bookstore is in a small room of the villa. |
You enter from a terrace with ocean view that faces the main peristyle garden with the villa beyond. This first long garden (a hundred yards perhaps) has a long rectangular pool with fountains and statues in it and columned cloisters around it. There are beautiful small gardens on the sides set with copies of bronze statues . Beyond the outer wall on the north is an equally long herb garden with formal beds (we were encouraged to nibble to our heart's content). Wide stairs and a massive door lead to the villa proper with many small rooms surrounding its own inner peristyle garden.
| | |
| --- | --- |
| The first floor houses the Greek and Roman collections (statues and pottery and jewelry and carving). The rooms were divided by medium (several pottery rooms, for example). The collection is well spaced without the jammed-in feel of many museums. A room might have only three cases or four statues. The marble statues convinced us again that no one has sculpted the human body as well as the Greeks. There were lifelike busts of Greeks and Romans of all ages. A particular poignant bust was a memorial sculpture of a three-year old slave child who lived in the second century A.D. A braided lock of hair above his right ear (the lock of Hermes) was to ensure good luck (!).There was delicate gold jewelry (for example, a laurel leaf crown) and bronze horse trappings (head coverings and nose guards). The pottery room had wonderful buff and black vessels, many with mythological scenes. We were struck by the many whimsical animals on the pottery, including a large crab. | Greek Smile |
The upper floor has the more recent collections, paintings and illuminated manuscripts and rooms in a variety of decorative styles (the Baroque room and the Rococo Room etcetera). It was a jolt to leave the classical floor and suddenly encounter ornate bureaus and lush oil paintings.
| | |
| --- | --- |
| Interior | The manuscript room is kept in semi-darkness to preserve the delicate hand painting of the illuminated works. The manuscript exhibit on display featured medieval and Renaissance works on Alexander the Great. It was odd to see the history of Alexander in Latin script with medieval or Renaissance figures in beautiful vivid colors. Alexander was made into a moral example in the Middle Ages with application drawn to contemporary times. The illustrations showed fantastic stories about him: one portrayed him during a descent of the sea in a primitive diving bell (!). |
One room showed sketches by masters accompanied by photographs of the completed works (usually large oil paintings or altar pieces) that followed. The texts described the drawing materials used and the history of the final product. It was fascinating to see how master artists worked. Changes often appeared on the sketches, two different leg positions or varied placements of a figure. It was interesting to compare sketch and final work. A small Michelangelo sketch ("The Holy Family with the Infant St. John") was done in black and red chalk with pen and brown ink over stylus etching. It was superb and showed his brilliance even in the quick strokes of a first effort. Then on to the oil paintings.
The sketch exhibit made us pay attention to technique. There was a fabulous Andrea Mantegna oil ("The Adoration of the Magi") which had a subtle muted quality to the colors; it turned out that there was a different technique ("distemper on linen") used. Some of the paintings seem incredibly modern in subject and pose. "Head of an Old Woman" by Michael Sweerts and "Saint Bartholomew" by Rembrandt could be mistaken for twentieth century portraits. Both were casual, realistic, and highly individual in expression.


Adoration of the Magi
Andrea Mantegna

Head of an Old Woman
Michael Sweerts

We didn't stay long on the second floor even though there were many masterpieces to see. It was much more wonderful to see the first floor Roman and Greek works in a Roman villa. We lingered among the pottery and statues, staying longer than at any other museum. We had a delicious and inexpensive lunch on a shaded terrace by a small babbling fountain outside. It is an enchanted spot.
The Malibu villa will be closed next summer. Most of the museum's work will be moved to the huge modern Getty Center being constructed in the Santa Monica mountains. You can see it from the freeway, a cluster of white curvilinear buildings high above the city, their shapes breaking the empty mountain skyline.They will be reached by a five-minute ride on a specially constructed monorail. Its track can be seen snaking up the mountain. This new center which is closer to downtown Los Angeles will draw huge crowds. The Malibu Roman villa that we visited will reopen in the year 2000 as a center devoted solely to Greek and Roman art. I can't wait.
---
11/15-16.. LA continued.
| | |
| --- | --- |
| We also spent time in the Norton Simon, in Pasadena, which was less conducive to curing my jadedness. Here the emphasis was on Modernity, and I felt the big yawn rising. But I was soon jolted awake by Maillot and Barlach. Maillot's "River" could only be glimpsed from an angle through a glass door into the closed sculpture garden, but that was enough to shut my mouth. Here was nothing like Greek idealism, but the power of raw sensuousness in this rolling nakedness has all the impact of Niagara. POW. I'm sorry, but all the Rodins in the museum, and they were legion, don't stir me like this one Maillot. The second jolt was a modest-sized Barlach in dark bronze: "The Avenger." A hurtling figure in flying cloak wielding a long scimitar with arched-back arms. The very image of furied retribution, and the figure hurls itself forward in absolute stillness. WOOSH. After that the Rembrandts and other masterworks were just icing. | Getty Bust |
So I want my cake, and criticize it, too. How else could I get up close to the power of these expressions, if there wasn't all this effete apparatus, these institutions of self-importance-by-association. The whole heroic artist and priceless object syndrome makes me nauseous, and the thought of creative expressions of our humanity being horded away, or having the public paraded before them like pieces of the true cross, gives me vertigo. Let artists grovel for their bread but spend millions to protect ART? Well, the Norton Simon had a modest entrance fee, but the Getty was free! If you reserved parking.
| | |
| --- | --- |
| Getty Mosaic | While we were in Pasadena we saw crews preparing the route for the Rose Parade, and heard tales about all the community activities surrounding the event. It is pretty remarkable that there is a civic celebration of beauty which involves thousands of community participants in this jaded burg. Then we took "surface routes" through Hollywood to be reminded of the huckster heart of Gomorrah. Times Square glitter, billboards, and sleaze with the tingle of stargazing. "Ooo, I think that's Steven Spielberg!" says Peggy, as we are nudged past a sidewalk cafe by the pulsing traffic. "Want to go back?" But there's no parking, of course. |
On another night we creep through Hollywood at midnight, and it's full of police with lights going, beating in sync with the dazzling displays. A jostling parade of leather-and-exposure couture is marching back and forth between nightclubs, some of them so hot they had no names out front, only mobs of wouldbes begging admittance. And the crawling cars are full of rubbernecking gazers. Us too. Nope, we don't see Elvis.
| | |
| --- | --- |
| We spend another evening in the first house that Peggy remembers from her childhood, which is a gem of California Spanish, with heavy wood beams, carved interior gates, gleaming blue and white tilework, and whitewashed walls. Fruit trees surround the courtyard pool. And it is the private homes which are most heavenly about Angeltown. Everywhere we went Peggy was playing real estate prospective. "Could we afford to live in this?" And some of the modest neighborhoods look like real communities, with charming bungalows and extraordinary plantings. You could easily imagine reclining in the yard under the California sun with fresh fruit hanging close to hand. Until you tried to find parking. | Getty Courtyard |
I had a back trail to cross in this burg, too, and managed to find the chance one foggy morning. I visited a college classmate of my father's, with whom I've corresponded for some time. Larry has lived the life of a bachelor poet all these years, and ekes in a one-room apartment in Santa Monica, surrounded by manuscripts. A gentle spirit, Larry has kept alive his enthusiasm for crafted language among the jangle of tongues, while working as a watchman, draftsman, and elsewise honest laborer. We hadn't been face-to-face since I was a babe in arms, and finding my way to his door was something of a pilgrimage to someone who has kept faith with his true nature, despite the winds howl round. I still remember the strange and wonderful letters Larry would write my father in the 50s, full of terrible puns and loony cartoons, and his apartment walls were covered with the samestyle lyrics and images, stuck up with pushpins. It was like being inside a comipoetic chapbook.
| | |
| --- | --- |
| Fountain Detail | But our converse leapt over 400 years, into the obscure portrait iconography of Shakespeare's day. Larry, with the sharp eyes of a draftsman, has perceived a formal, structural, affinity between various portraits of that era, including the familiar one of The Bard (and one of Marlowe!); and his acute scrutiny has revealed a magic symbolism, in fact a demonic iconography, hidden in the related works (presumably by the same artist). To explain his ideas Larry marshaled a stack of scaled reproductions and closeups, and set my head spinning. Here was a conspiracy theory connecting Marlowe's assassination with Netherlandish double agents who belonged to the boho artist community in London, as revealed by the pentimenti in forgotten portraits. It had all the makings of a great movie, hidden in a poets garret in Tinsel Town. |
Larry is much too shy to push his theory into the public eye. I attempted to interest Nina in this historical mystery out of left field, but sensed that her academic hackles went up at such amateur meddling. Ironically, her current research is directed at the evolution of iconic portraiture featuring a woman of the French Revolution. I thought the resonances would make her ears perk up. Then, I always was academically tonedeaf. Will Larry's lyric go unheard?
| | |
| --- | --- |
| On our last morning in town we had an hour to kill before we made our last meet, and I decided to attempt to navigate crosslots to Venice, depending on my integrating intuitive map of west LA. Yes! We zigged and looped through the maze like experienced rat racers and came sniffing out at the beach on a balmy Saturday morning. And the Saturday morning Venice IS a fun show. All the sandy lotion-smelling bulge of lookatme under a Mediterranean sky on the city's front step, with twisting alleystreets of tiny houses, cafes, storefronts, and the familiar cottage-honky feel of Provincetown. The kind of place you can slide into your leather pants, go for morning cappuccino, and maybe get lucky. | Greek Torso |
We were lucky in our final visit. Eva is Nina and Bill's 20-year-old daughter, living in a studio apartment with her boyfriend, and now enrolled in art school at Otis, after a couple of years "dropped out." Her digs are a cozy nest in a tripledecker around a courtyard and pool, and she has made a home that tells volumes about her maturity and esthetic sensibility. She had asked that we come and see her work, and bring mine to share. Her paintings are full of representational images, but she says that her instructors sneer at any sort of realism. And her work is about people, which we gathered was another nono. Ah the canons of culture. And her eyes are sharp. She immediately grasped the technical problems of my materials, and appraised my solutions, saw what each piece was about and asked penetrating questions. There are Nina and Bill up on the hill worried about this wayward daughter, while down here on the flats she is finding her way into an artist's life with keen perception and gentle grace. She let us play with her lizards, which was a bit strong for Peggy, though well meant. And asked us to please write her, because we were so akin, which we will, of course.
| | |
| --- | --- |
| Eva's Lizard | So you start out being muddled and insulted by Los Angeles, and you end up finding pockets of delight and kindred spirits. For me, the radiant face of a young artist showing you her student works outshines any museum. Buoyed up by this last encounter we took flight onto the freeway, and it only took us two hours to get out of the city. Next stop: San Diego. |