American Sabbatical 007: 9/4/96
Chautauqua
---
9/4 (continued).. Chautauqua.
We escaped the interstate maze at the lake, where the canalized ambitions of an earlier Clinton finally dug their way to deep water. Lackawana is eerie in its deathlike stillness. Bethlehem Steel (an American concept if there ever was one) seems to have met its Calvary. Bluecollar marinas and FishFry houses are interspersed with abandoned cruise ships and windowsmashed factory buildings along the lake. We kept looking for an eatery that didn't advertise FRY, and finally got so low on petrol we pulled into a QwikGas for fuel and local knowledge. We were directed to an Italian joint in the next town: DeSorba's.

Ah ambiance. We hadn't even imagined that this was Little Vegas-by-Erie. We were on the Seneca Indian Reservation, and DeSorba's offered Native Casino Cuisine. Imagine your familiar dingy roadhouse, old chrome and oilcloth with worn linoleum and homemade art (by that talented niece who went off to Pittsburgh with the Jones boy) WITH the added attraction of multi-screen bingo, flashing lotto machines, AND big-screen soap opera behind the bar. WOW. While we masticated our manicotti and cacciatore, one bruised and frizzled floozie at the bar poured her coins, and her dreams (?), into the Insta-money game. Alongside her a beachboy blond and mustached gent, in muscle-shirt and toos, sucked down his mid-day suds, and eyed her shortshorts. All that pulsating addiction made the spaghetti slither down all the smoother. (The food was quite good, and cheap!) We decided to turn inland, away from the gay lights of the waterfront.

Chautauqua County, New York, and we were swimming upstream to the intellectual font. The trail led through wineland. Old Leif and the boys knew what they were talking about when they told of the New World as Vinland, that is if they got to Chautauqua County. Miles and miles of cultivated vine, but nary a grape at the roadside stands. We finally were informed that it was too early for the crop, and Farmer Bobs' highly advertised cherry cider stand was closed till Friday. At a competitor's stand we bought some sparkling Grape, juicy tomatoes, and a couple of goatmilk fudge samples. (Tasted like fudge.) The sultry air cooled as we rose out of the Erie depression, and we were back in middleclass resort turf: antique shops, condos for sale, and other amenities. Then: The Chautauqua Institution, our shrine to culture in the wilderness. Through a security gate that looked like the New Rochelle tolls, into a world out of time.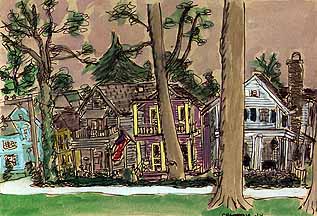 Chautauqua (Bryce)
Sort of Martha's Vineyard and a Midwest college campus crushed together on the shore of Lake Chautauqua. Stark white Greek Revival temples jamsided with four-decker gingerbread cottages in vivid pastels, a riot of Victorian gewgaws and classical pillars all higglepiggle under towering maples and oaks. A pedestrian village, very intimate and incestuous, very sheltered away from the world -- and a wonderful respite for questers on a Korean steed (Yup, our buyAmerican Ford was made south of the 38th parallel).

Peggy was goggleyed with delight, reveling in the company of the shades of William Jennings Bryant and other big trees. We decided to try and stay in this neverneverland for the night, and after touring a high-end estab, we were directed to our proper level of aspiration, a humbler cot: the "Englewood", home of Jean and Woody.
---
(Memo #7)
Sept. 4 - CHAUTAUQUA

Who? Methodists at first, now diverse participant-residents

What? summer program community

Where? Lake Chautauqua, New York

When? began over 100 years ago, still going

How? people own houses or attend short-term programs

Topics: artificial communities, summer places, a chautauqua.

Questions: What can/should a Maine Chautauqua offer? Can you create a summer eduction-vacation plan?


Cottages
In far western New York State on a beautiful blue lake, there is a summer place out of time.

Chautauqua started over a century ago as a summer camp meeting for Methodists, and has evolved into a yearly summer program of lectures and music and dance and art. The original tents have been replaced by streets and lanes crammed with Victorian cottages in pastels and gingerbread three-deckers and four-deckers (Worcester and Pawtucket should take note). Every summer there is a nine week Institute with weekly themes - this year one week was alternative medicine. While there are some religious themes, it is a non-sectarian place. A number of churches maintain guest houses, but you don't have to be at all religious (I suspect it just provides extra richness). Chautauqua was copied in other places, and educational lectures and lecture tours were sponsored by the institution around the turn of the century. "Chautauqua" is now a noun and has to do with an educational/lecture activity. There were/are other Chautauquas around the country - there was one in Maine (we wondered if Harborside near Camden was one, it looks so like this one). There is one in Boulder, Colorado.
| | |
| --- | --- |
| Grand Old Pile | There are fifth generation Chautauquans who come every year. You can stay in the huge Victorian pile on the lake for $300 a night, or find a bed on a porch in a small inn for $15. Or you can buy an uninsulated cottage (a few are winterized) for incredibly high prices. |
It is highly urban in a way - a very intellectual feeling with fabulous bookstore, people toting books under their arms, posters for discussion groups. Interspersed around the houses are the institute buildings - a Grecian amphitheater and brick lecture halls, the world's largest outdoor organ. There are also boutiques, antique stores, an art gallery. It's a mixture of Martha's Vineyard, Greenwich Village, Smith College, and a summer resort. There are tennis courts and volleyball nets and a yacht club and, down by the lake, a three-dimensional outdoor reproduction of the Holy Land (the Dead Sea was a small scummy pond, the mountains rock piles).
It's not all academic. Garrison Keillor has broadcast twice from stage there, and rock groups perform as well. They will have 12,000 people at a performance.

There is a self-conscious and slightly self-satisfied feeling to it - quaint and pretty. They have a very active tree and bird and garden clubs, and there are flowers throughout - beds and planters and window boxes and hanging baskets. There are plaques everywhere - a fountain erected "in memory of Archibald Canfield, a loyal Chautauquan, by his grandson Archibald Canfield III," or a small ornamental bridge.
| | |
| --- | --- |
| Our major acquaintance had endless stories. One was that Chautauqua introduced bats to keep the insects down. We were told to expect to see them at dusk and, sure enough, we did. Also only one mosquito - as opposed to three million at last night's campground, so it worked. | Triple Deckers |
We were there off-season, it was quiet and closed down, only three or four inns were still running, a few houses still open. Cars were allowed in - they aren't in season, but each inn has a few bicycles for guests. Really it is all walkable. I loved it, but am not sure if I would with the crowds. Still I like the idea of combining ideas and recreation. Why have lectures only in stuffy halls? Why not outdoors?

From what I saw I would highly highly recommend it to families and older couples.
---
9/4 (continued)..Chautauqua.
| | |
| --- | --- |
| Humble Lodgings | We were enchanted by Chautauqua, a place out of time, and decided to try and stay. The first Inn we tumbled on that looked plausible proved to be way out of our range, but the proprietor pointed us to the low-rent district. Chautauqua is that funny mix of upper-middle self-satisfaction and underclass intellectual that happens in cornfed college towns. A place with great bookstores and classy dress boutiques. So there was a cot for poor pilgrims. After Woody checked us out and Jean checked us in, we suited up and strolled to the shore for a dip. |
I chatted up a housepainter who was working on the Bell Tower by the beach. Chautauqua is the sort of ville where talk turns to metaphysics without taking a breath, and we were soon stargazing in full daylight. He turned out to be a Bahai infiltrator trying to establish a beach-head at Chautauqua. On the side he was interested in the occurrence of scientific discovery as an expression of divine revelation. Turns out that T.A.Edison's second wife (did the first die of neglect?) was daughter of the Chautauqua's founder, and his (prefab) cottage was just a stone's throw from our parle. This mystic housepainter was nosing into the inner life of Tom A.
| | |
| --- | --- |
| Just behind us as we spoke was a miniature replica of the Holy Land, with a (real) Dead Sea (real dead), and above us the carillon played the quarter hours. | On the grounds |
Back at Englewood cot Woody enthralled us with tales of the town. Anthropologists always meet the local outsiders first, because they live on the fringe, the outskirts where strangers contact a place, and the two are lumped together as misfits, those who don't know how to act properly. In the Magdalens (in 1974) it was drunken Gary from Old Harry who welcomed us to town, here we met Woody. His patrician face ravaged with the broken capillaries and watery eyes of a bacchanalian, an aloof posture but a compulsive garrulity, a lurid Hawaiian shirt, but dress shoes. Woody was a mass of contradictions, but a real sweet guy withal. When you let yourself get carried along with the flow of interactions you can get in over your head, or you can find yourself in the hidden backwaters of a gentle soul. We had an idyllic evening sitting on the porch in wicker, sipping local grape juice, playfully batting bad puns, and hearing the talk of the town. Chautauqua is an incestuous enclave, five generations deep, and it must be smothering in high season with 12,000 pilgrims at the shrine, but in early September it's a magic island in a sea of flatlanders. We got up at dawn and tiptoed out into a light rain.