American Sabbatical: 5/12/97
Last Legs
---
5/12.. Kingston.

Hanover, Pennsylvania, lived up to its promise Monday morning. A thriving mill town, making shoes, pretzels, and snack foods, among other essentials. Standing at sketch on a back street I was approached repeatedly by curious locals, who offered friendly chatter and proud boasts about this urblet. The owner of the buildings I was drawing asked for a copy, and the crew from a local cafe came round the corner to check me out. Only one sour note was a proper lady who was affronted I wasn't drawing the church around the corner. As usual, the hand-eye therapy cooled me, and we Owled out of Hanover smiling broadly.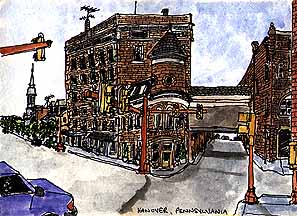 Downtown Hanover


Why did this town survive the ups and downs which killed so many villes of the same vintage in New England. Was it closer to market? More diversified? Hanover doesn't seem to be longing for tourist galleries or state intervention. It's alive and well. The townsman in me might be content here.
| | |
| --- | --- |
| Peggy's View | The next milltown up the pike was another story. Just as visually attractive and busy, it was a wood products town, and the smell of money was a bit intense. We'd followed a trailer-load of pine across Maryland last evening, wondering what use all those young butts were being put to. There wasn't anything over a foot in diameter in the bunks. The log piles at the mill answered the question. An articulated loader was grabbing bundles of small pine and feeding it into a hopper headed into the plywood operation. Peelers. The other end of the plant was making pulp and sulfuring the air. I had Maine flashbacks. Waterville of my infancy. Rumford and Westbrook today. Following your nose home might get confusing in Pennsylvania. |
Trying to choose between high road and low was a toss-up in the Keystone State. Every major highway is under reconstruction. They've been that way for a couple of years now. A job-creation project, the signs brag, and probably not a minute too soon. Vermont has just discovered that every bridge in the state is the same age, and on its last girders. Instead of maintaining our infrastructures as designed, we've postponed the inevitable until it eevits. We stuck to the secondaries in PA, as has half the truck traffic. US secondaries, in general, are in better shape than the superhighways, incidentally. America is beating the high speed pavement hard with rolling freight, and the old roads are holding up better. Another reason to avoid the fast lane.

York. Lancaster. Across the mighty Susquehanna. Mennonite Country. Bearded men in hats and dark suits working mule teams. We saw one 8-mule plow team cutting the soil beside a picture postcard farmstead. Old ways and new are interleaved here. Tractor farms next to horse-and-buggy spreads. They all look rich and fruitful. The foursquare stone houses and immense barns proclaim a love of this life which endures. A trio of traditionally clad schoolgirls racing across a plowed field toward home, hand-in-hand, had us believing in cultural durability. Pretty stubborn folk to have survived the American Century without electric can openers, or nose piercing.

Peggy had plotted one more side excursion to amuse a colleague. We've stopped at the alma mater of everyone on the Freeport HS staff, I think, and sent them a postcard. This time it is East Stroudsburg State. Do you know how hard it is to find a postcard of East Stroudsburg? I trailed the symbolic jester along main street as she visited every likely shop. Believe it or not, we actually found one, and dropped it in the big blue box. Leo used to talk to pigeons in the park. Peggy sends you a postcard from your distant past. I'm just speechless.

Having performed the absolutely essential homage, we returned to Rt. 209, headed for my moldy past. First we drove along the Delaware Water Gap. Except for a brief stretch where the highway runs between the river and the foot of the black slate bluffs (reminiscent of the banks of the Missouri), this parkland has little grandeur, and has been thoroughly tourist-trampled. This part of the Poconos has been a destination resort for New York and Philly since the days of Bierstadt and Church. I was hoping to see one of their grand landscapes, but all I saw were ads for funparks and casinos.

The Owlers crossed the Delaware at Port Jefferson in spitting showers, admired the gingerbread townhouses on the side streets, some tarted up with garish colors and subtle ornamentation, and boogied on up 209. I was determined to make Kingston, NY, on the Hudson, before we dropped.

My buddy John moved to Hurley, on the edge of Kingston, when we were in 5th grade, and I visited him here until we both were well away from home. Broke my arm sledding on a local hill. Got a taste for bebop from his jazzmates. Had a lot of those adolescent revelations here.

"BRYCE!", Peggy objects, "You're driving like John used to." Sure enough. These Catskill Mountains just seem to demand sidesliding speeds. I dutifully slowed down. Drove past that hill, and John's old house. Pointed out the curve where I crashed my BSA the summer of 65. Spring is just starting to happen here, and I'm glad the seasons of our lives cycle round, so we all get second chances. Back at the childhood scenes it all seems possible again. A good place to rest on the last night of this odyssey.
---
5/13.. Home.

Mild and overcast, promising Spring rain, on a morning in Kingston. We stuffed the bird for the last time and fluttered across the Rhinebeck Bridge. The Hudson is still one of America's grandest rivers, cutting a broad path between the hills. We can get hohum about familiar scenes, and forget to enjoy the power of a landscape. Crossing the Hudson ought to cure anyone.

From here on out we would be on well-trodden ground. The roads across the Berkshires are deep in memories for us both. I came here often as a child to visit my Grandparents in the house they built on top of one of these hills, before my grandfather died and was buried here. Peggy went to camp up here, and this is where we started our honeymoon. Before we went to Canada in 74, the Berkshires were our refuge of last resort, where we planted our first garden and fumbled with the early woodwork. We might have stayed here, but for Peggy's intellectual hunger. Only happenstance set us down on the end of the Maine coast instead of up Town Hill Road in Sandisfield.

We hadn't been here in early Spring for over 20 years, though, and the apples in blossom, and the red haze of the maples in bud, were good to be reminded of. We didn't go up Town Hill, or visit my grandparents on their hill in Otis. We were too eager for home now. We had intended to meander into Southern Vermont and New Hampshire, and go home yet another new way, but the Owl had other ideas. He could smell the nest. Once on the Mass Pike he refused to veer from the familiar flyway.

The Owlriders talked about the nature of perception, as we often have along the road. With our eyes wide open from such intent LOOKING, the same old scenes we were now racing through were full of novel nuances. A pattern of settlement here, an architectural detail there, a surprising play of colors, a bit of human absurdity. A bumpersticker reading: JESUS IS COMING -- LOOK BUSY. For all the novelties, however, these were places we knew well, and only half saw because seeing them was habitual.

It will be good to be in a place where the least details are known, the smallest changes notable, but it would be nice to be able to open our eyes and take it all in anew, even here. That's part of artistic perception, of course. Some fellow-travelers have pointed out that much of this log has been self-conscious. It was meant to be. I think part of art is reporting our response to what we see. Looking over our own shoulder. I haven't attempted to be objective about America. I hoped to recapitulate my response to it. I think that kind of observation inevitably results in a self-conscious kind of prose. It's too late in the 20th century to pretend naivete, or objectivity. But there is a pure kind of seeing, an unprejudiced first response, which approaches the innocent eye. If we're lucky it catches us unawares.

Crossing the Piscataqua Bridge I suddenly realized what a beauty it is. A graceful trussed arch, just as sweet as the Hell Gate, and I'd never noticed. How the State of Maine has planted forsythia on the embankments of all the highway overpasses, so it can give us bright yellow joy in this drab season. Spring is just starting in earnest in Maine. The willows and alders teasing with green, the red buds and first broadleaves tinging the hills. The evergreen pines and spruces and firs and hemlocks give shape to the woods, as they start to flesh out. The Blue Ridge heights were absolutely stark without the needle trees, and I'd forgotten how friendly a clump of hemlock can be in a bare season.

And the people aren't really standoffish, either. Along the road and in the supermarket lot Mainers look a bit wan and seedy, a raffish crew by-and-large, and they give you a thorough once-over as you go by. But they smile and give you the chin-up when you nod and lift a hand. We've been in other howdy-gesture country this episode: hill country Oklahoma, backwater Georgia and Mississippi, sideroad Missouri, places where a Festiva is the local kind of car you tip a nod to. But I learned the rules of the saluting game in Maine, and I'm glad to be playing on home turf. And there's the turnoff for Bowdoinham.

Bagel and Cream Cheese were glad to see us this time. No recriminations. Just wiggles and wags and a bark or two. Maybe they know we're home for good at last. Ready to plant seeds and paint the boat. Ready to settle back into Bowdoinham.
| | |
| --- | --- |
| Traveling to the point of exhaustion may wear out the eavesdroppers in the back seat, as well as the gabblers up front. I can't resist wordplay, because it helps keep me awake, but I think I've heard some snoring in the back the last few weeks, or were those snorts of disgust? We'll probably have some summing up to do. But for now we're home and dry, and about gushed out. You can unfold yourselves from the backseat. I swear we heard a sigh when we unstuffed the Owl. | Our Back Yard |