American Sabbatical 94: 4/15/97
GRACELAND
---
4/15.. Elvis.

Memphis is a hard town. There was a squad car in the motel lot on Tuesday morning, and two officers taking notes. The Cherokee Wagon parked next to Owl had the driver's window smashed, and they'd lost some contractor's tools. Makes you nervous. We don't have much of value in the red bird at night, but it IS full, and having to replace a window would be a nightmare, as we discovered last year, after that little girl crashed her bicycle through one (she and the bike were ok). So far our industrial gray tubs have worked as nondescript luggage. They don't seem worth tossing, we hope.
| | |
| --- | --- |
| Sun Records | Homer was with us in bed, of course. We've finally settled on that name for our beloved laptop. He, after all, is the bard of this Odyssey. "You got Homer?" is our lockup mantra. |
Even in the workaday AM, Memphis has an edge. Too much lateral motion. Too much opportunistic sizing-up. Too many beat cars and decaying neighborhoods. A heavy police presence. Seth had cruised through here last year, balked at the cost of visiting Graceland, and kept on rolling. All he'd seen was a cop beating on someone with a nightstick in front of the mansion. Memphis has all the charm of Newark, with a Southern exposure.
| | |
| --- | --- |
| But we were excited. Going to Graceland... "For some reason I can't explain a part of me wants to see Graceland." We jacked the ELVIS LIVES tape into Owl's musicbox rolling into town last night, and He was crooning again this morning: CRAWFISH, and I'LL BE BACK.. "I'm coming back." HEARTBREAK HOTEL. ARE YOU LONESOME TONIGHT? We are moving into the mythos here. Your breath comes a little faster. Break out the crying towels. | The Young Elvis |
| | |
| --- | --- |
| Later | Graceland is a theme park assembly-line operation. We were there just after the gates opened, and the place was already starting to jump. Huge hot-topped parking lot across Elvis Presley Boulevard from the mansion, and you are directed along maroon-canopied walkways, past Elvis' personal aircraft, to the air-conditioned airport style departure lounge. The musak is that lush voice calling. Goosebumps. $10 per for the Mansion Tour, and you are herded into a plush shuttle bus for the ride across the street. I'll let Peggy give you the inside look. |
---
(Memo #89)
April 15 Graceland, Memphis

Who? Elvis Presley

What? his home

When? 1957-1977

Where? Memphis, Tenn.

How? becoming the first rock and roll superstar

Topics: Rock & Roll, superstars, images and image makers

Questions: What kind of a person was Elvis Presley? Why was he so attacked? What did he accomplish?


Graceland
"..the image is one thing and the human being is another...it's very hard to live up to an image." - Elvis Presley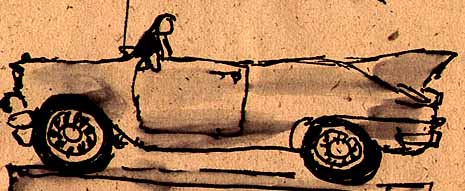 I was about ten when Elvis hit big time. He was incredibly controversial and I was not to watch or listen to such trash! The gyrating hips, the greasy ducktail haircut, the sneer, the lyrics, the beat were all inappropriate for young female ears. I wasn't really sure why, except that there was something radically different here from the Everly Brothers and Johnny Mathis and Pat Boone who were safe and allowed. Remember this was the fifties. On TV married couples wore loose pajamas and slept in twin beds. Unmarried couples dated in a highly ritualized form and went to dances and kissed awkwardly at the front door afterwards. The American Dream was a pretty house in the suburbs, a family like the one on Ozzie and Harriet. Hemlines were below the knee and we weren't allowed to wear pants to school except when it was VERY cold. The bikini (modest in comparison to today's thong) had just made its appearance. Marilyn shocked America when she stood over a grating and her skirt flew up. Of course there were the beatniks spouting poetry with their beards and sandals and black. And the outlaws in black leather and long haircuts. It was a very different and quite chaste world.
| | |
| --- | --- |
| Embarcation to an icon | Elvis crossed lines and broke down barriers. He mixed music that was considered "black" with music that was "white". He did it all - rhythm and blues, country, gospel. He seemed both outlaw and good boy. And - never quite spelled out to me - he moved in openly sexual ways with smoldering looks and suggestive lyrics. All this was taboo. Yet.. Elvis joined the Army and served his time, loved his parents, was good to his fans. And bought his dream house, Graceland. |
In the 1960's rock went in another direction carrying me along (The Beatles, The Rolling Stones, Jefferson Airplane, the Who). Elvis seemed on the periphery, playing Las Vegas. He got heavier and his costumes got sillier. His death was one of a rash of celebrity drug overdoses.
| | |
| --- | --- |
| Quite often on golden oldies radio, songs will come that I like, a lyric and "true" voice with good timing. It's Elvis. Intriguing. The references and accolades continue - Elton John, John Lennon, Paul Simon all said Elvis was a key influence, the King. When we got to Memphis, Graceland was at the top of our must-see list. | King Cars |
Graceland is big business, run by the Elvis Presley Corporation. There are huge parking lots and covered walkways to the complex that looks like an upscale airport with large open spaces and ticket sellers behind a glass wall. The complex has the museums, a restaurant, a small movie theater, several concessions. It is bright and clean and modern. Two of his airplanes sit behind an adjacent fenced area in what was obviously a gas station lot. There are five different tour possibilities (the mansion tour, the automobile museum, the airplanes tour, Sincerely Elvis - personal items, and the all-inclusive Platinum Tour). It was $2 for parking and $10 apiece for only the house tour. We were early and got right on a tour with a group of fifteen. By eleven, the loud speaker was announcing the departure of a minivan every 3-5 minutes for the mansion across the street. You get an individual tape player. There are two traffic lights - one to allow cars into the lot, one to stop traffic for the vans to go up to the mansion.
| | |
| --- | --- |
| Grand Piano | It seems silly at first, it's only a hundred yards up the curving drive anyway. Then you realize how smoothly it's all going. At the mansion's front door, a guide meets you and ushers you in. The tape (and a dark carpet) moves you steadily from viewing the livingroom and music room to the diningroom, the kitchen, the family room, downstairs to the basement TV room and pool room, up and out to the carport, his father's office, the shooting gallery, the horse pasture, then the mementos rooms (with his high school diploma, the costumes, the gold and silver records, the movie posters, the awards and tributes), then the racquetball court, the swimming pool, and - finally - the meditation garden with the fountain and the graves. |
In many places there are TV monitors showing films of Elvis - giving interview to the press, joining the army, giving a show in Las Vegas. His music plays throughout. The tape gives many anecdotes (for example, Elvis practiced karate in the hall). Priscilla Presley is warm and personal on tape describing family life in the mansion. The numerous staff are quiet and courteous.

| | |
| --- | --- |
| Well. The house is smaller than I thought and homey, obviously lived in for all its glitter, the couches look comfortable, the kitchen is central (not a distant space inhabited by servants down a long hall ). It doesn't have the formality or huge spaces I associate with wealthy people's homes. The ceilings are normal. There are no stiff public rooms set apart. The furnishings are a bit glitzy, a lot of chrome and velvet and deep rugs, glass shelves with "objets". The furniture is modern department store sets. The music room has a well-used grand piano. The family room (complete with indoors waterfall wall) has an outlandish set of carved "jungle" furniture that Elvis picked out. The bright yellow and black and white TV room has three huge TVs (installed after Elvis saw a picture of LBJ watching all three news networks) and a one hundred tune jukebox. | TV Room |
Graceland was Elvis' home for half his life, he bought it when he made it big and added on. It tells you a lot about the person behind the image. Elvis was a poor Southern boy and this house with its white columns, bright new furniture, and pool was very much his dream. He was also a passionate rock and roll musician, he sang and played the piano constantly. He liked fried chicken, bright cars, sequined costumes, Las Vegas. This not the world of French antiques, Riviera villas, Gucci and Dior, coq au vin, British butlers, and private clubs. He did not aspire to the WASP establishment upper class. Elvis was very much a lowerclass hero who made it and didn't forget it.

Elvis' Pool

It was a smooth, professional tour operation that moves thousands of people a week through his house. Yet I came away really LIKING the person behind the image.


The stories and interviews make him out to be bright and funny and down to earth, honest and unfailingly polite to journalists and fans alike. The tour accomplishes something quite remarkable. Both the private person and the image were described clearly. And Elvis' incredible contribution to popular music was thoroughly analyzed without academic- music history formalism. It was just great!
---
4/15.. cont.

"What is it about Elvis," my father asked me not long ago. How do you describe color to a blind man? Elvis is THE KING. Of course some of us come to his palace late and unwashed, but there's hope for all.

Elvis is the American dream come true, then self-destructing. The choirboy from Tupelo, Mississippi, who mimics his way into the bright lights to become a pop idol. The innocent vehicle for a cultural transformation. The White boy who brought the Black sound and body language into the mainstream. And the tragic victim of self-indulgent materialism. The pawn of a short-sighted manager (The Colonel), who couldn't see past the fast buck. Another artist swallowed by the chemicals of inspiration. Dead at 42.
| | |
| --- | --- |
| In my pantheon of American Heroes, Elvis is our Adonis. The beautiful innocent raised to immortality who is killed by the altitude. Adulation is a jealous mistress, and a false lover. The King is a cautionary tale. Be careful what your American Dream is. | Graceland Horse |
Then there's the music. I was too young to be a devout Elvis fan. My babysitters seemed nauseously enamored of this wriggly thing with his schmaltzy delivery. By the time I was swept into Rock and Roll by the Beatles and the Stones it was too late for me to be smitten by The King. That came later. About the time we discovered lawn ornaments as an art form.

| | |
| --- | --- |
| Elvis' Grave | Now I'm an unabashed fan. I love the dramatic extremes of his vocals. Of course he wades in treacle. To hell with genteel sophistication. Music is to emote, exalt, wallow in. That delicious tremolo lets you yearn right up to the point of absurdity. You can cry and laugh at the same time with Elvis. It isn't just camp 50s nostalgia, although that gives the music a special flavor. His music IS still alive, because it's the singing of eternal hope. I kid you? Not. |
I mean who would climb to the very top and then choose to stay in Memphis? Forty years ago this part of town was a upscale suburb. The American Dream again. Elvis bought this place for Vernon and Momma, to finally rescue them from the shotgun shacks. He decorated it in Woolworth Moderne, a million dollars worth. I especially liked the shag rug wall to wall.. on the ceilings. Yet it's still surprisingly modest. A glorified suburban palace. So what his taste was in his mouth, that's where his money was, too. To a sophisticated eye Graceland and the Elvis phenom are hopelessly outre. Well, isn't that the American essence?

Now Graceland has been overrun by urban blight. It's an enclave in the strip sprawl that makes Memphis feel like a post-industrial sci-fi movie. You expect to see robotic armored vehicles crunching through the crumbling infrastructure. This is where our dreams have brought us. The successful are all in gated communities in South Florida, but Graceland is still the heart of Memphis. ARE YOU LONESOME TONIGHT?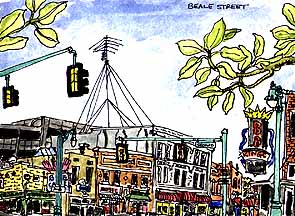 Beale Street
Starry eyed from touching the hem, we headed downtown. When you finally can see the skyline, it's uninspired. Urban redevelopment by demolition and parkinglot hasn't accomplished a renaissance here. Beale Street is two remaindered blocks of 19th century tawdry, surrounded by empty lots. A freefire zone, to judge by the heavy police presence. Live blues spills out onto the neoned pavement, but the school groups from Kansas are hardly lowdown. Memphis seems to be trying hard to forget where the music came from, while making a buck on visitors looking for the place. It isn't hard to find what makes a guitar moan here. This town would give Candide the blues.
| | |
| --- | --- |
| There are lines of horse cabs by the central hotels. An electric trolley clicking up and down the high-rent commercial district, such as it is. We go into a touted luncheon place and encounter our first inhospitable service in the South. Slow, pro-forma, unresponsive. A shock after the unfailing warmth elsewhere in Dixie (except So. Florida, of course, but that's part of greater New York). We leave before dessert ever comes, hoping to get out before midnight. | B.B.King's |
| | |
| --- | --- |
| Memphis Rising | I'm hot to check out the pyramid and the "New Bridge." The pyramid is a black glass replica of the Egyptian originals, glistening ominously near the Mississippi banks, a statue of Ramses the Whatever stands out front, and the lone and level parkinglots stretch far away. An exhibition of artifacts from the Titanic is on display within. A bit too deep for us. One tragic sinking is enough for today. |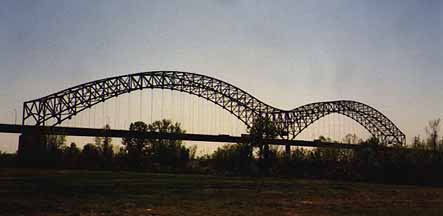 | | |
| --- | --- |
| The Hernando DeSoto Bridge crosses the mother river just beside the black pyramid, and is just as astonishing a symbolic object. A double trussed-arch suspension bridge playing leapfrog over the big waters. I just can't get enough of these steel synapses. And we had more steel on our agenda. The National Ornamental Metal Museum.. but it ain't easy to find. It's hidden downstream of the "Old Bridge" (the "Memphis-Arkansas Bridge", a more mundane truss and girder affair) deep in an industrial neighborhood, which is apt. | Ramses ? |
| | |
| --- | --- |
| M-A Bridge | The rich effluvia of manufacturing hangs in the air in Memphis, but it stings your eyes at the riverbend below E.H. Crump Blvd. The National Ornamental Metal Museum is in an old Marine Hospital nextdoor to a pair of Chickasaw mounds, once converted into arsenals and dug out on top for gun emplacements. It's said that DeSoto first viewed the Mississippi from atop the big one. He wouldn't recognize the view. |
| | |
| --- | --- |
| The National Ornamental Metal museum is a gem. Struggling for funding, and as spare and threadbare as the botanical gardens.. and the rest of the city.. it's on a spectacular site. Perched on the Chickasaw Bluffs, it's just the beginning of a collection, but a hoot and a holler. Playful oxy-aceteline creatures (my favorite was a dragon barbeque grill), metal bells, fancy fencing, abstract gestures with the mighty Mississippi as backdrop. The gallery show was of modern Jewish ritual objects. In the working smithy apprentices were repairing ironwork doors. The place seems to survive by being the local fixit shop for antique metalwork. They redid the Graceland gates, and are refurbishing the big Elvis statue from the Beale Street Plaza. All the metal sculptors we know should have work here, get paid residencies. The museum should blossom with metallic delight. When arts funding flows freely.. and pigs have wings. | Museum Gate |
| | |
| --- | --- |
| | Peggy did see an ad in the Memphis free paper: "LOCAL ARTISTS -- Wealthy eccentric seeks fresh work by regional artists to fill large new home. Will purchase work very soon." Doesn't that sound like fun? |
| | |
| --- | --- |
| We got lost in the machinery again trying to get back downtown, but finally toted our bale up to cotton row.. the few old warehouse buildings not renewed, and now housing law offices. Haul that barge. We were searching for some history of King Cotton. All we found were condominiums. So we carried on to our cheap hotel on Union Street. Horse carriages were lined up opposite. Magnificent dray horses in front, and shaggy dogs on the drivers' seats. Like Maine bow dogs. | Museum Furniture |
| | |
| --- | --- |
| Metal Fence | The Owl went below into secure, we hope, parking, while we spruced up for dinner, and went down to the levee to meet our friends Richard and Carolyn who were driving in from Piggott, Arkansas. (You remember Piggott. You don't? There WILL be a test at the end of the semester.) Incidentally, our historic passage through Piggott has not been without effect. Since then the Hemingway barn has been donated to the state and funds provided to create a small museum there. Carolyn has proposed Peggy as a consultant. We suggest they ship some of those Hemingway cats from Key West to give the place the proper aroma. |
Back on the waterfront, I sat and drew a row of paddlewheelers with Hernado DeSoto in the background, while Peggy wandered the cobbled foreshore. Then our hosts arrived, and whirled us away to a dinner fit for a King. Ribs and pork sandwiches at the International Barbecue House. I'VE BEEN TO HOG HEAVEN, it says on their T-shirts. Smoked and sauced ribs. That's what's the smell we've been catching around town tingles of. DAMN.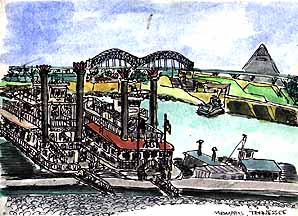 Memphis Waterfront
And that was enough rich entertainment for one day. We hobbled back to our hotel, and listened to some crazed stickman pounding riffs and runs on metal surfaces in the alleyway below until after midnight. We hoped he wasn't playing on poor Owl.