American Sabbatical 83: 4/2/97
Manatees
---
4/2.. Manatees.

It's so easy to take a pass on roadside attractions. The chain flop we were dossed down in had its own bridge to the Homosassa State Game Reserve, and we tossed a coin in the morning. Captive critters or cool miles before noon? So many of the tourist traps are bogus, but the promise of manatees! It landed flipper side up.
| | |
| --- | --- |
| The springs and headwaters of the Homosassa are enclosed to make a rescue station for wounded sea cows, and a small zoo has been attached, unfortunately. But the experience of spending time underwater with these big bovines is truly grand, and Peggy never got beyond the manatee basin. | Young Manatee |
My riding companion goes quite limp in the company of sea-mammals. She urfed along with the sea lions in their Oregon cave, and in San Francisco harbor, and has to be restrained in a boat in Maine when the seals come alongside. I could feel her sinking down to her point of buoyancy and beginning to ruminate as she kept company with the Homosassa clan. Here are her ruminations:
---
(Memo #75)

Manatee

April 2 Manatees

Who? government + private donors

What? SAVE THE MANATEE 1-800-432 JOIN

Where? Homosasso Spring, Florida

When? now

How? wounded and abandoned manatees brought for rehabilitation

Topics: manatees, sea mammals, conservation

Questions: Is the manatee still an endangered species? Why?

At Homosassa Springs, ten manatees are being rehabilitated in a large enclosed area right around the spring. Visitors can see them from as little as three feet away as they feed in a float full of lettuce and kale (labeled the Manatee Salad Bar) or swim in the warm water. They are slowmoving, ponderous. They rise and sink slowly through the clear water with languid movements of their flippers and tail. The guide-volunteer said they are gentle and affectionate, one young manatee clutched his leg with her flippers as he fed them their vitamin biscuits.
| | |
| --- | --- |
| There are only 2229 manatees left in the state of Florida and that number is shrinking (the population grows 5% a year, but is decreasing at 20% a year). In fact, 1996 had the most manatee deaths (383 recorded) since 1974. Only 158 of these deaths were from natural causes (the red tide). The rest are the result of habitat loss (specifically the disappearance of sea grass) and boating accidents. The jet skis and motorboats that throng in Florida's rivers and bays collide with the gentle giants. Every adult manatee I saw at Homosassa had visible scars. | |
| | |
| --- | --- |
| | There are speed regulations in the rivers (often disregarded) and the Florida legislature is apparently considering a law that would require covers on outboards. This would help but there would still be injuries from the shock of collision. The manatee favor a few river routes from the salt water to Florida's warm springs (where they winter), but the government won't close these off to humans. Habitat will continue to disappear to provide for the thousands of new gated communities we saw under construction. And Americans need their lawn grass (another import from England) which drives out the native grasses. The sea grass loss is also threatening Native American basketmakers. |
There are four species of manatees: the West Indian (represented here), the Amazonian, the West African, and the Pacific (or "Dugong" identified by a forked tail).
One species (the stellar sea cow which grew to three and a half tons) was extinct by 1741. Manatees are also called sea cows and do have a bovine look as they placidly chew their vegetables.


Feeding Time
| | |
| --- | --- |
| | Columbus thought they were mermaids. They grow to ten to twelve feet and may weigh 1000 pounds. We saw pups and adults of all sizes. The guide noted that sea cows are related to elephants with similar body hair, skin, toenail, and teats under their front "legs"(flippers). They can see forward and have good hearing. Their squeaks could be heard over a speaker. |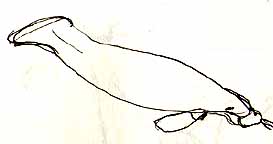 | | |
| --- | --- |
| Cabbage Eating | Manatees must have water over sixty degrees and they move up the rivers, as the ocean cools, to the hot springs (Homosassa is a spring thirty-five feet deep which produced two million gallons a day at seventy-two degrees year-round). Salt and fresh water each create problems. In the warm water, their skin becomes covered with algae. Moving to salt water removes the algae, but then barnacles attach to them. The rehabilitating manatees are scrubbed for algae. |
| | |
| --- | --- |
| The manatees at Homosassa are all injured or abandoned females. Pups have been born here although the formal manatee breeding program is at Sea World and Sea Aquarium. They calf every three to five years. The Homosassa manatees are each named (ex. Rosie, Amanda, Star) and are known as distinctive individuals by the devoted staff. | |
| | |
| --- | --- |
| Salad Bar | Rudyard Kipling made them central characters in his story "The White Seal". I remember Kipling's description of the seas cows bowing in the water and moving placidly (like elderly gentleman) while the frustrated white seal zipped around them and harried them.The sea cows provide the answer for the white seal, who sought to find a place safe from man's killing of sea mammals. I watched the lovely quiet giants for hours wishing they still knew the way through the tunnel to the beautiful island where man couldn't go. |
---
| | |
| --- | --- |
| | While Peggy was entranced, I roamed the park with a sketchpad. The big alligators hauled up on their sunny sand bank were sufficiently evil-looking to wake a cold-blooded shiver. Watching the small children amble noisily past the cyclone fence, with slit-eyed Jurassic nightmares a foot away, made me wonder at our hubris, once again. |
| | |
| --- | --- |
| The family parties all shouting at the black bear, and the panther, to get them to DO something, reminded me of the dissonances at Yellowstone. Zoos, wildlife parks, call then what you will, ultimately diminish all of us by denying us the dignity of fearful respect. The owls and eagles stared right through me, exiled to a scientific curiosity. A captive panther is no more awesome than a Unitarian god. Give me that old time religion. | |

Shag

I could honor the rescue mission, however. Peggy was wise to wallow with the sea beasts. The company of jovial sea-giants makes you float, and slowly rotate. Hey buddy, toss that cabbage.

Puffy hunks of humidity were pluming in off the Gulf and the glare was playing hide-and-seek when we spun rubber at last. More wildflowers painting the margins: tall red clovers and the spikes of mullien blooming yellow, purple pansy-like carpets, and a full palette of novelties. The rolling topology had us smiling, and the oak parks, leafing out sallow green at the tops, while draped in smoky moss below, cooled the air around us.
We stopped to break bread and make a salad on the banks of the Suwanee, down near its mouth. We gave it a rousing chorus of "Way down upon..." in honor of ol' Steve Foster, then segued into "Deck us all with Boston Charlie" to recognize those mythic denizens of the Okefenokee (where these waters rise), Porkey Pine and Churchy LaFemme. The Suwanee bisects canoeing backcountry for much of its length, and is at the edge of the great geezer-sprawl. We entered Florida by crossing this watershed, and it feels like new country back north of the Suwanee. Salad was good, too: fresh spinach and tomato and orange with herbal feta and key lime dressing from Margaritaville.

Then we put the hammer down for Tallahassee. The pavement a wide swath through the pines. The undergrowth changing from palmettos and tropicals to spring hardwoods just bushing out in leaf. We've back-tracked from high summer to late spring. Robins are cavorting in the trees.

We hoohawed as we climbed up a real hill and looked down on the state capitol, with a mini skyscaper looming behind it. The exact image of how governance relates to business. We'd hoped for a budget motel in this burg, but they were full of legislators and lobbyists. In fact, politicos in shirt-sleeves were out in the parking lots clotted in bunches, glad-handing and working their cell phones. We had to go slightly upscale to stay here at all. Another government town. Shake your hand and pick your pocket.

The Owl and Co, cruised the nearest strip, and found a good bookstore and a better music outlet. We've about worn out the road music we started with, and are hunting for local vibes. Came away with a Jimmy Buffet tape, to congeal that South FLA feel. We're open for suggestions about Southern music. What should we be playing besides Marching Through Georgia?

Tallahassee seemed comfortably integrated to our cursory inspection. It's the first place where ALL the staff has been black in stores and restaurants, management included. The clientele was a rainbow, all melded together. I haven't had any of those awkward encounters, where I've broken some invisible rule, which I remember from Norfolk in the 60's. Of course I notice race. I'm from Maine where the only kind is the one Joanie Benoit runs. Tallahassee may be color-blind, I can't tell.. but I'm just a Yankee in a strange land, and it feels good to me to treat everyone with cautious optimism and not get slapped down for it.

It was still hot enough to loll by the pool with a pot boiler and let the chlorine dry on us. I forgot to mention that Salvador Dali wrote a book listing the 50 secret keys to painting. Rule #23 is to take your clothes off. It was warm enough to have a surreal evening.