American Sabbatical 73: 3/18/97
Georgetown
---
3/18.. Georgetown and Charleston

Georgetown, South Carolina, has a sleepy town center all in two-story brick and pastel stucco, with a brick belltower poking up beside great straggly oaks. But the sharp tang to the fragrance reminds you there's a pocket steel mill at the end of the main street, and an IP plant spewing that money smell on the edge of town. Georgetown's salvation is that Myrtle Beach siphoned all the residential and mall sprawl across the causeway, leaving the Southern charm to this backwater.

I was still hunting for Horry and the Waccamaw, and figured this would be the likely spot, seeing as Frank's canoe trip in the yarn ended hereabout. The Waccamaw empties into the Pee Dee just above town. But nobody about here ever heard of it, and the only bookstores in the county are the Christian variety. There's only one Good Book in these parts, I guess. I don't recommend moving your book business to the tidewater South. Although the secondhand book bins we encountered in population centers seem to price any old hardback at $15, which inflated rates might appeal to a Yankee peddler. So far the South is in a dead heat with the high West in the bibliophilia sweepstakes.. dead last.

While Peggy steeped herself in the rice museum (no it isn't covered in colored rice-by-numbers like the corn palace, this is the gracious South), I strolled the waterfront and found a scenic view to sketch. I think you could make a living as a gypsy sketch artist. Every couple of minutes someone looks over your shoulder, and half of them ask "do you sell these?" Drawing is apparently as unthreatening as playing with toys on a street corner. Everyone feels it's just fine to crowd into your personal space and watch you: little old ladies, kids, whoever. In Georgetown one rough-looking black guy with a broken nose chatted me up for 10 minutes or so. Said I should be a court illustrator. "I seen them working," he said, "you could make money at that." But he had to hurry off to court. After he left I realized that the gleam around his wrist and neck, and in his mouth, had been gold. Ah, the fictions we can imagine.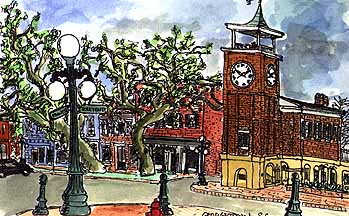 Georgetown
I had a parle with an elderly Georgian, who responded to my saying I hadn't expected it to be this warm (high 70s) until we got to Florida with, "Oh, we Southerners stopped going to Florida 20 years ago, we all have places at Myrtle Beach." One of those customers at Geezers, I surmised.

I also hadn't expected the bugs to be quite as hungry. Carolinians may call them gnats, but they bite like black flies to me.. and on me. Funny how you forget all the joys of Spring. I must have donated half a pint to the ecology of Georgetown before I got all those bricks drawn in.

Peggy had gotten drawn in to one of the planter's houses, and we didn't slip back into the piney corridor until early afternoon. We had scored a fresh loaf of buttermilk bread and some exotic cheese at the Kudzu Bakery on a sidestreet, however, so we were purring along with Red.
| | |
| --- | --- |
| Live Oak Sketch | Purring right up to another rice plantation. Peggy was determined to flood her paddy to the dike, but Hopsewee House was shallower than a well-finished belle. Another MomandPop show. You rang a bell and they rushed out to give the tour.. of their own house, decorated with "period" items they find at antique fairs. (Quick, Motha, shove it under the bed.) I'm thinking of the Bowdoinham Mill Housing Tour at the Old Robinson House (circa 1890). |
| | |
| --- | --- |
| I sat on a swing under a huge water oak and admired the massive old vegetables festooned with Spanish moss, tree ferns, and (I'm told) orchids.. not yet in bloom. These arching oak and tupelo parks, leafing out in delicate sprays of yellow-green on top, but trailing thick veils of pale gray moss, cast mottled shadows on the walkways, and conjure up another age, before mom and pop's time, even. | Sketch Artist |
---
(Memo #66)

Canal Work

March 18 RICE - Coastal S.C.

Who? planters and enslaved people

What? rice plantations (Hopsewee, Orton, Drayton Hall)

Where? marsh lands on the coast of South Carolina

When? 1700s-1860

How? major engineering project to create and maintain rice fields.

Topics: rice agriculture, tidal flood farming, plantations, images of plantations

Questions: Why has American history so neglected rice plantations
The classic image of the South does not include black slaves in rice paddies. Yet rice farming was central to the economy of South Carolina. The plantation life of the coastal lowlands, the gracious mansions and lovely towns of eastern South Carolina especially, were based on rice paddies.
| | |
| --- | --- |
| As you drive the coastal highway south into North and then South Carolina you become aware of wild rice in the vast marshes and low fields. If you look with careful eyes you begin to see the marks of the rice cultivation that made this the "Rice Coast" before the Civil War - straight canals that cut through the marsh land, diked fields and the remains of the intricate sluice systems. In one motel our room looked out on marsh that stretched unbroken to a distant woods line. | Model of Rice Mill |
The center of the rice cultivation was eastern S.C., the county and town of Georgetown. By the 1840's Georgetown had 40,000 acres of rice fields that produced one half of the U.S. crop. It exported more than any other port in the world! South Carolina, as a result, was the second richest of the thirteen colonies (after Massachusetts).
| | |
| --- | --- |
| Georgetown Waterfront | The "tidal flood method" of rice farming was invented in 1758 by McHugh Johnstone and Jonathan Lucas. The rivers (Waccamaw, Pee Dee) and tidal marshes were harnessed in what one historian calls the greatest engineering feat in colonial history. Another compares the manpower required to that used creating the great pyramids. Coastal swamps were drained, cleared, leveled, diked. Canals and backwaters (storage reservoirs) were created. Water had to be carefully controlled, with the fields drowned part of the growing season, drained dry at other times. Efficient sluice ("trunk") gates and canal systems were a key to success. Rice was hand sown, hoed, winnowed. The canals and dikes required constant maintenance, work that was impeded by heat, animals (snakes, alligators etc.) and malaria. One rice plantation records 28 slave deaths in a year. Medical costs for plantation owners were huge. |
Rice planters were among the South's largest slave owners. In 1850 the 2,193 whites of Georgetown County owned 18,253 slaves. Rice plantations (Chicora, Hopsewee, Waverlee, Matanzas, Nightingale Hall etc.) stretched up the west side of the Pee Dee and the east side of the Waccamaw. One great Georgetown family (the Allstons) owned 7 plantations, and 637 slaves. One quarter of their land was in rice. The Allstons produced 51,629 bushels of rice in 1859 as well as huge amounts of corn, sweet potatoes, peas, turnips, and oats.
The fortunes made in "Carolina Gold" (as rice was called) funded great mansions on the plantations as well as town houses in Georgetown and Charleston and summer houses at the beach or inland. After the Civil War ended slavery, the rice economy declined, it was simply not profitable - as a number of guides have pointed out - if you had to pay the workers. The area's very soft soil (mules were sometimes fitted with rubber boots!) prevented the use of harvesting machinery. Texas, Arkansas, Mississippi, Louisiana, even California, became/remain the U.S. rice producing areas. Southeastern South Carolina was also hit by ten hurricanes in fifteen years and affected by runoff from the logged forest areas.
The rice agriculture made planters value most the slaves from western Africa - Gambia and Sierra Leone - who had experience growing rice. One aspect of African culture - basketmaking - has remained a traditional craft among Afro-American women in South Carolina. The highway from Georgetown to Charleston is lined with rough stands where women sell their sweetgrass baskets. One of the most expensive African derived designs is the "fanner" basket used to separate the chaff from the rice.

The rice story is told in dozens of sites in North Carolina and South Carolina, Georgia and even Florida. There are many rice plantations you can visit - Somerset Place, Orton Plantation near Wilmington, N.C., Drayton Hall near Charleston, S.C. Also Middleton Place, Boone Hall Plantation, and Magnolia Plantation near Charleston, S.C. Private homes that were rice plantations are thrown open during special spring house and garden tours (Charleston has one and Georgetown has one at the end of March which includes a house tour given by Mrs. Jane Turner - i.e. Ted Turner's Hollywood wife).
| | |
| --- | --- |
| The Rice Museum is in a beautiful red brick building in the center of Georgetown. There is a superb introductory film on rice agriculture with early footage of Afro-Americans at work in the rice fields.The displays show the cultivation techniques, tools, milling, trade in rice with a variety of dioramas, artifacts, statistics, maps. It was neat to see the stenciled names of the rice companies, and different types of rice in jars. There are also several excellent displays on indigo (the blue dye that was an important product of South Carolina before the Revolution). The museum store sold African baskets, rice steamers, rice spoons and a variety of books and souvenirs. The Kaminski House in downtown Georgetown was built in 1789. It is full of gorgeous furniture provided by the last owner and his mother. | Basketwork |
On the way south to Charleston we stopped at Hopsewee, a rice plantation owned originally by Thomas Lynch. (He and his son were both delegates to the Constitutional Convention). It is a privately owned estate, the charming elderly owners showed me through. The white Georgian house is only fifty feet from the water, in a grove of cypress and live oaks with the rice fields across the river. The Lynches started with a 13,000 acre land grant. Only 4 families have owned the estate. The present owners have lovingly restored it. The house has the traditional layout of two rooms on either side of a great hall both upstairs and down. There are lovely screened porches on the river side. Many of the house's features were adopted from Caribbean plantation houses designed to shed water (ex. rounded edges on the clapboards). The house has the original floors, handcarved overmantles and decorations of cypress and heart pine, and many of the original hand blown glass windows.
| | |
| --- | --- |
| Oaks at Hopsewee | In Charleston, one of the great rice mills has become shops and restaurants. |
---
3/18.. cont.
| | |
| --- | --- |
| The woods by the roadway are thicker with foliage down in South Carolina, and the wisteria has gotten out of hand. Vast expanses of pine woods are overwhelmed with the dangling lavender blooms, and you drive through forests of wisteria trees. Maybe it was the chain gangs in North Carolina that keep down the vines. Back there we passed two prison work crews (without chains) in blaze orange safety suits cutting back roadside thickets with brush-hooks, under the cold eyes of shotgun-ready guards.. studies in orange and black and white. | Wisteria in the Woods |
Commercial opportunities thickened up as we neared Charleston, too. Basket shacks on the shoulder of Rt. 17, with resident weavers constructing sweetgrass baskets in "traditional" patterns.. at contemporary prices. We kept our hands in our pockets. Now if it had been shrimp, or blueberries... and it WILL soon be strawberries. The only field ag we've seen down here are rows of strawberries on black-plasticed ridges, looking ready to blossom. MMMM.
Approaching Charleston from the east, the road funnels up over two narrow double-cantilevered arches (the Grace Memorial Bridge) which run parallel to a duplicate pair of double-cantilevers (the Silas N. Pearman Bridge). In this lowlying metropolis these great balancing acts and their undulating elevated causeways dominate the skyline. From the two-lane heights greater Charleston is as ugly an industrial smear as you could wish, smoking and glittering to the west and north, while the confluence of the Ashley and the Cooper Rivers below the old town widens out past Sumter to the sea.

Descending onto the Charleston peninsula, a right turn takes you out into the modern urb, pulsing along its commercial arteries, while a left leads you into the narrow streets of a leisurely colonial city. We hung a left onto King Street. In no time we were creeping between ornamented storefronts crowding brick sidewalks. Beautiful women in their Spring scanties were coming and going from such antique emporia as Talbots and Victoria's Secret, and close-cropped college boys jockeyed for position in their shortbed pickups and ragtops. We zigged and zagged our way to the bottom of the balmy town, getting turned around by the oneway mazes, pausing while the horse carriages clopped past, owl-necking at each corner and alleyway, hooting at the views.

Old Charleston isn't interrupted by 20th century buildings. The farther you delve into its congested antiquity the more entranced you get, moving out of time. Modest 18th century brick and stucco houses are jammed behind great balconied, pillared, and porticoed antebellum piles, with Georgian churches and institutional Greek temples (Custom House, City Market, Methodist Church) on the corners, and everywhere you turn there's another architectural encrustation. And the flowers. The whole city is in bloom. The fragrance of camellias, the explosions of azaleas, and the gaudy dangles of wisteria paint the town in petals. The concentration of photo-ops makes a camera beside the point. You are immersed in sensory profusion.

It was too much to swallow, and we had to retreat uptown and regroup. I spotted a bookstore during our withdrawal, and paused long enough to capture their last copy of Frank's book.. all the amenities of civilization. Then we beat wings for strip city and the cheap motels. I mean B&Bs start around $150 a night in Old Charleston. They aren't behind the times in everything.

Up where the big jets are on final and the semis howl we found a slightly different city. Like the Golden Banana, and drive-thru pawn shops, Quik-Liquor, and Huddle House.. and Super8. Peggy had called ahead to register, because we needed an express mail drop, and she'd insisted on the catalog low price. Maybe that was why we were relegated to the back alley rooms where a Catfish Row scene was in full swing. Ten-wheel tractors and old caddies were jacked into the slots, and there was a coming and going of taxis. Slinky young women with hard faces were following dudes into rooms, and next to us, in the end unit, the door thunked open and closed every half hour. Howling parties of drunks spilled out into the lot, folks were grilling chops on hibachis on the sidewalk in front of their rooms in the humid darkness, and rap music throbbed and shuddered through the walls all night.

Peggy, fortunately is deaf to the low freqs, so she slipped off to dreamland, no problem. I've just lost the highs, though, and the insistent beat pummeled me steady. I might have pounded on doors, or called the desk, except the party was all around us. Somebody left a TV on in earshot till dawn, whether to deaden the other din, or just as familiar company I couldn't guess. By 2AM I was actually getting into the cultural experience, thinking about coffee brandy and maybe a swisher sweet, maybe calling a cab. I woke up feeling like the morning after.