American Sabbatical 044: 11/2/96
Santa Cruz
---

11/2.. Palo Alto

You may have noticed that we got through Samhain (Halloween) without freaking out this year. Maybe that's because the freaks are out already on this coast. It was a treat to see so many historic episodes being acted out, from berets to spandex, and they weren't just Halloween costumes. We've felt right at home since we struck the coast.. lots of funny hats and facehair.

Saturday awoke fuzzyheaded, with the TransAmerica disappeared to its knees. Real San Francisco fog, so we wouldn't get fooled. Yesterday it was seascent, this morning the aromatic medley of Chinatown inhaled you at the door. I dogpaddled into the exotic air looking for breakfast bakegoods. Even early on a Saturday North Beach was jumping. The natives were jockeying for parking spaces (our chalkwipe tactics hadn't worked yesterday... cost us a $33 ticket to park on the street for 46 hours), shopping for stir-fry, picking through garbage, street-mending, taichi-ing, doing the jostle-dance, 'scuse me. O I could be polygluttonous for the dizzy array of diversity. O let me sing of the multibody electric. What a buzz. Got a case of the rural dulls? Go sit at the corner of Columbus and Vallejo.

We packed up after croissants and the raspberry twist, putting Red Owl's feathers back on. It will always be too soon to leave San Francisco, but the road suction was on us again. Much gratitude to John and Kina for harboring two drifty sailors, and we pitched headlong into the city. Made a quick stop at City Lights, then just opening, to make a ritual genuflection and touch the hip hem. Bought my holy souvenirs from the grumpy doorkeeper. Is there a union rule about growling bookmen? Anyhow this IS the hippest of bookstores.. we snapped our fingers, and away.

Curious to know where Peggy's sister-in-law grew up, we climbed Washington out of Chinatown's red and gold glitter, and ascended to more lofty reaches of Cantonment. Just like everyone else in California, the successful Chinese moved uphill. We dodged the cablecars clanging past and topped out in a very elegant neighborhood, indeed. It's great to hopscotch across class lines within blocks, and across cultures in a stonesthrow.

We wanted to find our way to Golden Gate Park and a show about the Beat Generation, another hook for the student trawl, but the park parking was parked up, and the entrance line round the block, so we cruised the grounds in the fog. All the in-line gliders, peddlepowered perspirators, and jiggling joggers looked like Central Park on a weekend. Only the trees are magnificent... and there's a lot less fat in California. And not just among the body beautifuls, which cult is legion here. Maybe its the fresh food. Even back in the days of Clyman, when everyone in California subsisted on beef and chili peppers, he reported that there was no market for salt on this coast. Everything is fresh. Whatever the cause, the lumpen proletariat ain't got no lumps here.

We took our lumps and limped onto Route 1 south, no more bongo music for us. San Francisco fades off to southard into modest row bungalows in ruddy tile and salmon stucco. We had imagined this city to be one of the giants, but it's smaller than Boston, and you are back into barren hills in 4 or 5 country tunes. Coastal 1 is another cliffhanger, with pocket beaches below and blond surfers catching their waves. Are there really more blonds in California? Yes. It is a state law that your first born child be blond, or it's shipped out of state. Cupid's bow lips, curly blond hair, bodybeautiful clingsuits, a 4-wheel pickup, and a surfboard are standard issue.

But we couldn't linger in the endless summer. We were on a double quest in Palo Alto, and the big curl would have to run ashore without us. We turned inland, cutting through the coast range again, here not so altitudinous, but still barren and beige, and the traffic was bumper to bumper at tire-traction speed. The charm of this sensuous landscape is considerably diminished by running through it in a river of steel. On the ridge tops and bay side (the south arm of San Francisco Bay runs parallel to the mountains as far as Palo Alto) the greenery erupts again, and every squarefoot of bottomland is under cultivation.

We merged into the freeway funnel under sweeping U-shaped highway bridges that would have made Henry Moore weep with joy, put on our shades to cut the hazy glare, and did the internal combustion boogie toward the sun. Yes, we were getting into chrome-plated California, where the glitter is forever... and the fog had turned to a thin smutch.

We were hunting for Peggy's nephew Alex at Stanford and the once peripatetic Pat Grinager, now rooted in Big Tree (that's English for Palo Alto). We'd been unable to contact either before arriving, but were determined to give it the college try. But first we had to find Palo Alto. The freeway ended abruptly and the byway terminated in a megamall. I'm sure that's where everyone wanted to go, because they were all there, But twenty minutes later we were still trying to get out of the Neiman Marcus parking lot. Yes there ARE California Girls, and they are all blond and carrying designer shopping bags to their BMWs. We carried on, looking for a phonebooth.

Pat DID finally answer the phone, and her shaky directions mostly worked. Pat has been an inspiration for this adventure. She was Margaret Mead's assistant for some years, and a professor of Antho for others, and upon "retirement" set out to write a book of reminiscence about her mentor. The two big bios which came out after Margaret's death didn't really catch the power of her personality. Jane Howard's book was a straight ahead clinical biography without emotional texture, while her daughter Kathy's was too closeup to convey her impact on outsiders. Her own book is fascinating, of course, but when someone looks in the mirror it's hard to see their face. Pat had managed, in the first draft, to sit you down in front of the most powerful teacher you ever imagined, and have her rock you. It was Margaret to the life.

But Pat couldn't leave it alone. Margaret's life and family history became a mission, and this little old lady with penetrating eyes (and a good deal of Margaret's manner) set off on the road to visit every American place Margaret's past had crossed. Pat's license plate says GODOBE, and she has. Pat turned up in our dooryard in Jonesport years ago, regaled us with Mead family lore, pumped us dry painlessly, and has kept in touch ever since. Every birthday, anniversary, and occasion has brought a long note from her, and she has appeared in the flesh every couple of years.

As Pat continued to chase this phantom, her book became more about "Margaret and Me", and the me became as footloose as Margaret. Pat has stood in Magaret's childhood bedrooms and looked out the window, spoken to neighborhood friends, turned libraries upside down, and logged hundreds of thousands of miles on her subcompact cars. She knows more about Peggy's family background than anyone in it, and we've come to feel she is a part of our clan, too. We loved to have her blow in, both for her freespirited company, and for the aura of Margaret she carries with her. She was touched by that force, and carries the charge yet. And she has such great nuggets to tell.

Pat had a quadruple bypass a couple of years ago (she must be in her 80s), and had to give up the road. A very savvy lady who raised four boys as a single mother, Pat had her later years all scoped out. She'd bought a house in Palo Alto when she professed here in the 50s, rented it out for the years she lived elsewhere and roamed, had her contractor son remodel it for a geriatric lady (and nurse, when that's necessary), and is now comfortably settled among her piles of notes and manuscripts. She says she's "fading", but she's as sharp as tacks (though her tongue slithers sometimes), and her bullshit detector is working just fine. [Pat's book, UNCOMMON LIVES, was published last fall, just a month before her death.]

We had a heartwarming time eating fruit off her trees, spinning yarns, and taking a tour of Stanford under her navigation (I drove her car). She insisted we take the tour to the top of "Hoover's Last Erection", the bell tower which dominates the Valley Skyline, and hear the Grinager version of university history. It is the biggest U in America, in acreage, and quite glorious in Spanish tiles and arches and salmon stucco. Enclosed courtyards, and verdant gardens, aisles of palm trees and fullblown evergreens, all laid out beneath us into the hazy distance. But for all its formal beauty it feels chilly to us. One of those "high powered" places without the common touch.

And we did find Alex. Up to his neck in mid-terms, but quietly attentive to his aunt who believes in maintaining family connections however tenuous, because they are important. Margaret's namesake to be sure. And Alex had a new wrinkle to feed the lady anthros. He was wearing a sunvisor backwards and UPSIDE DOWN. Like some kind of raincatcher. OK America: this is next!

Our next was to take Pat home, obviously winded from the whirl, and set off for Santa Cruz. Our niece Pamela has an apartment on the beach there, and had invited us to stay a couple of days on the Pacific edge. To do so we had to cross the coastal cordillera again, this time on a fourlane serpentine, clogged to the max. Along the crest we reentered dense second-growth, but couldn't admire the vegetation for the automotion. We pulled up at Pam's as the last gleaming faded on the waters, and the ladies did their hugging dance and hoot.
---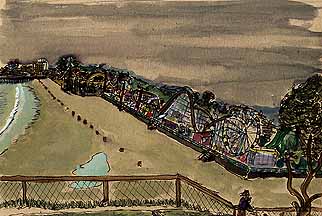 Santa Cruz Carnival
11/3... Santa Cruz.

Pam's apartment is situated on the cliff road, just across the river mouth from the big beach at Santa Cruz. Her tower bedroom looks out onto the O, and into the honkytonk carnival. When I got up in the gray Sunday AM all you could hear was the rolling surf and the barking of sea lions. I went down onto Seabright Beach, just across the road, and walked the waters edge among the morning joggers. I was glad of my sweatshirt in the cool seabreeze. Clyman reported that you might need a coat in the morning even on sultry days, and we've been surprised to find the golden state so various in temps. The layered look might have been invented here, although most of the bodyBs would rather let it show than admit to discomfort. Or is it all the chili they eat? (Last night in another Chinese rest. we were assured the "hot" garlic eggplant wasn't really HOT. Ptui.)

Santa Cruz is apparently a lowrent beachparty town, like Hampton Beach, NH., as well as being home to UCSC, one of the newer branches of the system. A young town for sure, and segregated by altitude as usual. The homeless huddle near the beach while the profs live on the hills. Pam reports that the town is full of "voluntary homeless", street kids who'd rather live off the gummint than labor manfully. Lots of them living in vans, cars, and trucks. I encountered half a dozen on my morning ramble. Knowing what a treadmill low-wage, deadend jobs, can be, I'm not entirely unsympathetic with the voluntary homeless. I just couldn't endure the grimy esthetics. No romance in my soul, I guess.

The ladies wanted to go off to Monterey to the aquarium, but I wanted to sit still, get this logrolling up to date, do a sketch or two, and wander the boardwalk. So we did. Peggy and Pam get all girlish together, and talk teachertalk, and it's best to leave the other half home. When I finally poked my head out of cyberspace it had turned colder, as the wind was rising. That didn't seem to dampen the spirits of Santa Cruzers. The carnival was going strong: ferris wheels spinning, rollercoasters loopthelooping, spinouts, whoopies, nausea-makers, waterslides and Yahoos. Bundled up, I walked across the river on the railroad bridge and meandered through the holiday-makers on the boardwalk. Mostly blue-collar Hispanic in family groups, they were screaming on the joyrides, getting out the aggro in bumpercars, shooting for teddybears, throwing baseballs at bottles, eating taffy, caramel apples, chilidogs and tacos, getting face paints, getting hustled, getting bellyaches, having fun. The arcades bleeped, gonged, revved, squealed, buzzed and flashed fantastically. Above all the loudspeakers played Winchester Cathedral and Wimowey.. In the jungle, the mighty jungle.. Musak to win a kewpie doll to.
| | |
| --- | --- |
| It's somehow reassuring that the nature of seaside attractions persists through time and space. Santa Cruz could be Brighton Beach in the 50s, saltwater taffy and all. And you don't want to look too close at the paintwork, it dates back to the 50s, too. | Monterey Jellies |
Beyond the boardwalk the municipal wharf juts out for a quarter mile of spin casting and gullstrut. Here are fancier tourist traps and seafood emporia at the end of a gated roadway. And fewer smiles. It's too expensive to be funny. I saw a BMW sportscar, parked out by the swank eateries, which must have cost a king's ransom. It sneered at me.

Chastened, I walked back along the sands, with pipers skittering before the surges and terns twisling round in flocks. Longlegged striders poking into the sand with reversed beaks.. anti-curlews? I recrossed the RR bridge and reentered digitopolis... nobody was home but us laptoppers. When the ladies returned we were treated to homemade pizza and pumpkin pie, and sat down to watch a Star Trek episode. They know how to treat you in Santa Cruz.